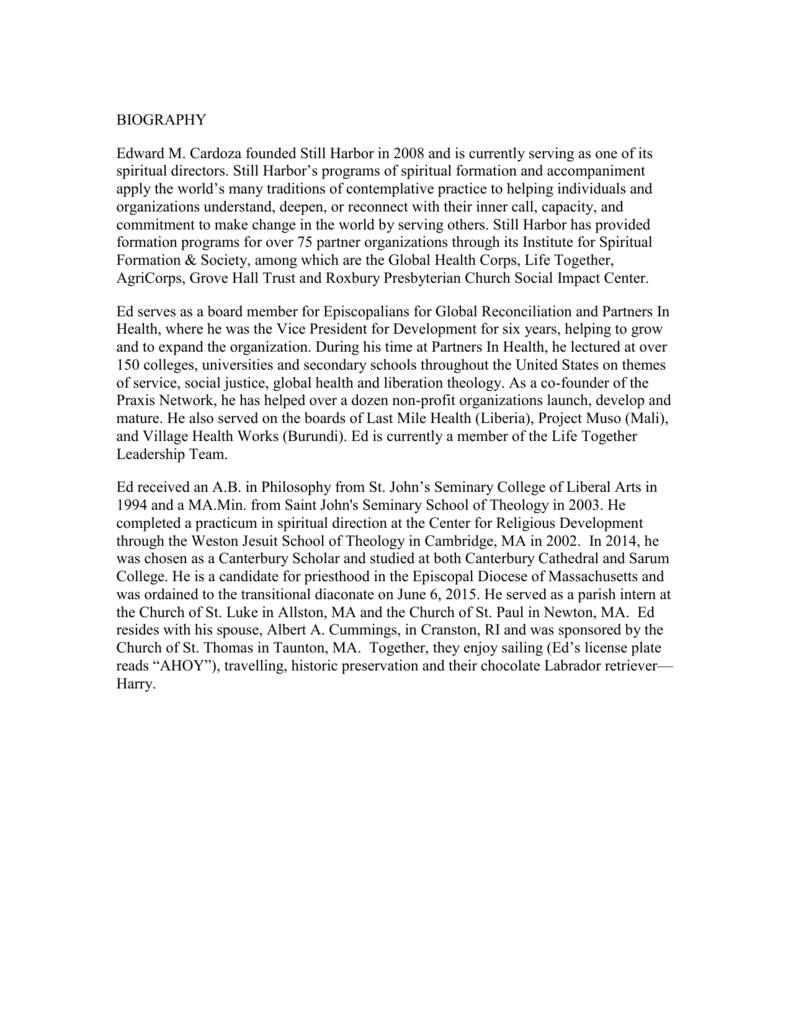 BIOGRAPHY
Edward M. Cardoza founded Still Harbor in 2008 and is currently serving as one of its
spiritual directors. Still Harbor's programs of spiritual formation and accompaniment
apply the world's many traditions of contemplative practice to helping individuals and
organizations understand, deepen, or reconnect with their inner call, capacity, and
commitment to make change in the world by serving others. Still Harbor has provided
formation programs for over 75 partner organizations through its Institute for Spiritual
Formation & Society, among which are the Global Health Corps, Life Together,
AgriCorps, Grove Hall Trust and Roxbury Presbyterian Church Social Impact Center.
Ed serves as a board member for Episcopalians for Global Reconciliation and Partners In
Health, where he was the Vice President for Development for six years, helping to grow
and to expand the organization. During his time at Partners In Health, he lectured at over
150 colleges, universities and secondary schools throughout the United States on themes
of service, social justice, global health and liberation theology. As a co-founder of the
Praxis Network, he has helped over a dozen non-profit organizations launch, develop and
mature. He also served on the boards of Last Mile Health (Liberia), Project Muso (Mali),
and Village Health Works (Burundi). Ed is currently a member of the Life Together
Leadership Team.
Ed received an A.B. in Philosophy from St. John's Seminary College of Liberal Arts in
1994 and a MA.Min. from Saint John's Seminary School of Theology in 2003. He
completed a practicum in spiritual direction at the Center for Religious Development
through the Weston Jesuit School of Theology in Cambridge, MA in 2002. In 2014, he
was chosen as a Canterbury Scholar and studied at both Canterbury Cathedral and Sarum
College. He is a candidate for priesthood in the Episcopal Diocese of Massachusetts and
was ordained to the transitional diaconate on June 6, 2015. He served as a parish intern at
the Church of St. Luke in Allston, MA and the Church of St. Paul in Newton, MA. Ed
resides with his spouse, Albert A. Cummings, in Cranston, RI and was sponsored by the
Church of St. Thomas in Taunton, MA. Together, they enjoy sailing (Ed's license plate
reads "AHOY"), travelling, historic preservation and their chocolate Labrador retriever—
Harry.