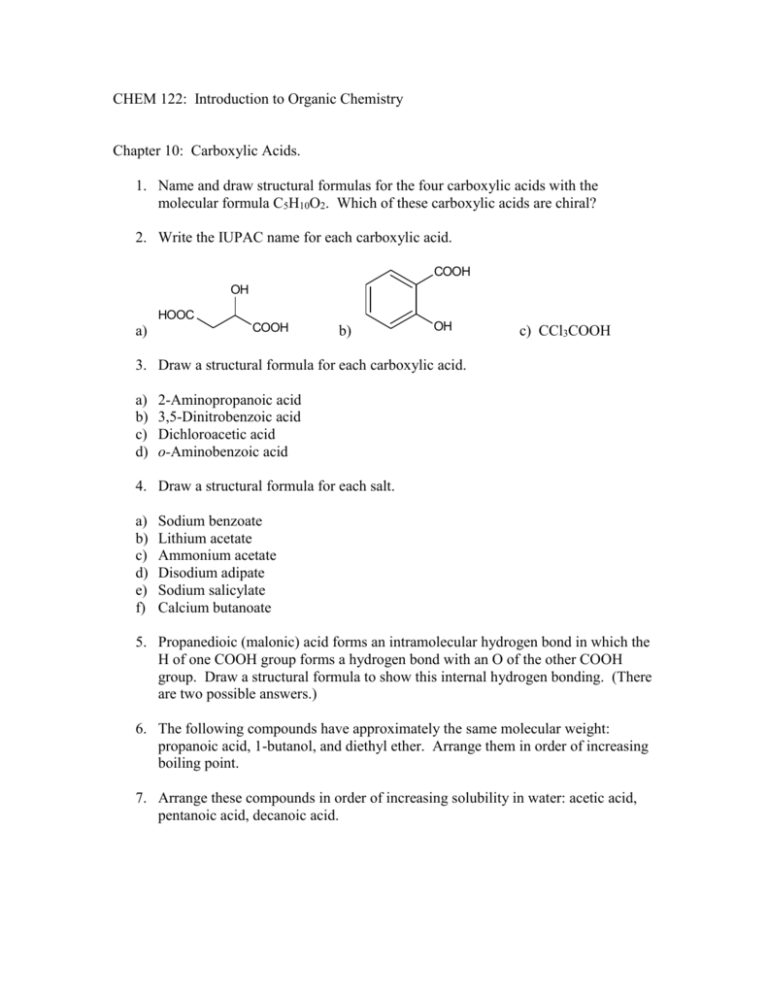 CHEM 122: Introduction to Organic Chemistry
Chapter 10: Carboxylic Acids.
1. Name and draw structural formulas for the four carboxylic acids with the
molecular formula C5H10O2. Which of these carboxylic acids are chiral?
2. Write the IUPAC name for each carboxylic acid.
COOH
OH
HOOC
a)
COOH
b)
OH
c) CCl3COOH
3. Draw a structural formula for each carboxylic acid.
a)
b)
c)
d)
2-Aminopropanoic acid
3,5-Dinitrobenzoic acid
Dichloroacetic acid
o-Aminobenzoic acid
4. Draw a structural formula for each salt.
a)
b)
c)
d)
e)
f)
Sodium benzoate
Lithium acetate
Ammonium acetate
Disodium adipate
Sodium salicylate
Calcium butanoate
5. Propanedioic (malonic) acid forms an intramolecular hydrogen bond in which the
H of one COOH group forms a hydrogen bond with an O of the other COOH
group. Draw a structural formula to show this internal hydrogen bonding. (There
are two possible answers.)
6. The following compounds have approximately the same molecular weight:
propanoic acid, 1-butanol, and diethyl ether. Arrange them in order of increasing
boiling point.
7. Arrange these compounds in order of increasing solubility in water: acetic acid,
pentanoic acid, decanoic acid.
8. Complete the equations for these acid-base reactions.
OH
+
NaOH
CH3
a)
COO-Na
+
+
HCl
OH
b)
COOH
+
H2NCH2CH2OH
OCH3
c)
COOH
+
NaHCO3
d)
9. Formic acid is one of the components responsible for the stinging of biting ants
and is injected under the skin by bee and wasp stings. The pain can be relieved by
rubbing the area of the sting with a paste of baking soda (NaHCO3) and water,
which neutralizes the acid. Write an equation for this reaction.
10. The normal pH range for blood plasma is 7.35 to 7.45. Under these conditions,
would you expect the carboxyl group of lactic acid (pKa 4.07) to exist primarily as
a carboxyl group or as a carboxylate anion? Explain.
11. The pKa of ascorbic acid is 4.10. Would you expect ascorbic acid dissolved in
blood plasma, pH 7.35-7.45, to exist primarily as ascorbic acid or as ascorbate
anion? Explain.
12. Complete the equations for the following acid-base reactions. Assume one mole
of HCl per mole of amino acid.
CH3CHCOO-Na+
a)
+
HCl(aq)
+
HCl(aq)
NH2
CH3CHCOO-Na+
b)
NH3
+
13. Complete these examples of Fischer esterification. In each case, assume an
excess of the alcohol.
H+
CH3COOH
+
HO
CH3COOH
+
HO
a)
H+
b)
COOH
+
CH3CH2OH
H+
COOH
c)
14. From what carboxylic acid and alcohol is each ester derived?
O
O
O
O
O
a)
O
b)
O
O
c) CH3OCCH2CH2COCH3
d)
15. Methyl 2-hydroxybenzoate (methyl salicylate) has the odor of wintergreen. This
compound is prepared by Fischer esterification of 2-hydroxybenzoic acid
(salicylic acid) with methanol. Draw a structural formula for methyl 2hydroxybenzoate.
16. Show how you could convert cinnamic acid to each compound.
O
OH
O
OH
OH
O
trans-3-Phenyl-2-propenoic acid
(Cinnamic acid)
OCH 2 CH 3
17. Give the expected organic product formed with phenylacetic acid,
C6H5CH2COOH, is treated with each of the following reagents:
a)
b)
c)
d)
e)
f)
g)
NaHCO3, H2O
NaOH, H2O
NH3, H2O
LiAlH4 then H2O
NaBH4 then H2O
CH3OH + H2SO4 (catalyst)
H2/Ni
18. Procaine (its hydrochloride salt is marketed as Novocaine) was one of the first
local anesthetics developed for infiltration and regional anesthesia. It is
synthesized by the following Fischer esterification:
O
OH
+
N
HO
Fischer
esterification
Procaine
H2N
4-Aminobenzoic acid
a)
b)
c)
d)
2-Diethylaminoethanol
Draw the structural formula of Procaine.
Which of the two nitrogen atoms in Procaine is the stronger base?
Draw the structural formula of Novocaine (the hycrochloride salt of Procaine).
Would you predict Procaine or Novocaine to be more soluble in blood?
19. Methylparaben and propylparaben are used as preservatives in foods, beverages,
and cosmetics. Show how each of these preservatives can be prepared from 4aminobenzoic acid.
O
OCH 3
H2N
Methyl-4-Aminobenzoate
(Methylparaben)
O
OH
O
H2N
O
4-Aminobenzoic acid
H2N
Propyl-4-Aminobenzoate
(Propylparaben)
20. When 5-hydroxypentanoic acid is treated with an acid catalyst, it forms a lactone
(a cyclic ester). Draw a structural formula for this lactone.