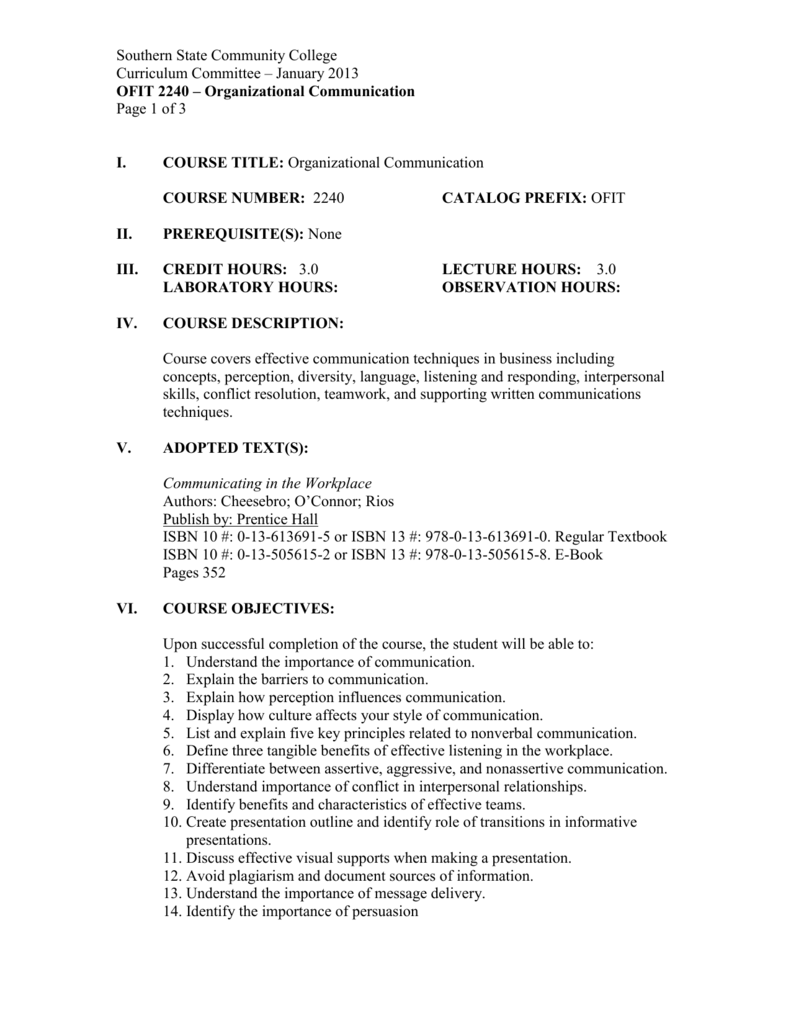 Southern State Community College
Curriculum Committee – January 2013
OFIT 2240 – Organizational Communication
Page 1 of 3
I.
COURSE TITLE: Organizational Communication
COURSE NUMBER: 2240
II.
PREREQUISITE(S): None
III.
CREDIT HOURS: 3.0
LABORATORY HOURS:
IV.
COURSE DESCRIPTION:
CATALOG PREFIX: OFIT
LECTURE HOURS: 3.0
OBSERVATION HOURS:
Course covers effective communication techniques in business including
concepts, perception, diversity, language, listening and responding, interpersonal
skills, conflict resolution, teamwork, and supporting written communications
techniques.
V.
ADOPTED TEXT(S):
Communicating in the Workplace
Authors: Cheesebro; O'Connor; Rios
Publish by: Prentice Hall
ISBN 10 #: 0-13-613691-5 or ISBN 13 #: 978-0-13-613691-0. Regular Textbook
ISBN 10 #: 0-13-505615-2 or ISBN 13 #: 978-0-13-505615-8. E-Book
Pages 352
VI.
COURSE OBJECTIVES:
Upon successful completion of the course, the student will be able to:
1. Understand the importance of communication.
2. Explain the barriers to communication.
3. Explain how perception influences communication.
4. Display how culture affects your style of communication.
5. List and explain five key principles related to nonverbal communication.
6. Define three tangible benefits of effective listening in the workplace.
7. Differentiate between assertive, aggressive, and nonassertive communication.
8. Understand importance of conflict in interpersonal relationships.
9. Identify benefits and characteristics of effective teams.
10. Create presentation outline and identify role of transitions in informative
presentations.
11. Discuss effective visual supports when making a presentation.
12. Avoid plagiarism and document sources of information.
13. Understand the importance of message delivery.
14. Identify the importance of persuasion
OFIT-2240-Organizational Communication
Page 2 of 3
15. Define and apply the importance of interviewing.
VII.
COURSE METHODOLOGY:
Can include any of the following:
1. Portfolio of documentation representing skills and knowledge gained
2. Hands on textbook applications and exercises for creating and working
within various presentation and communication tools and features.
3. May include but not limited to: lecture, independent and group projects,
in-class and at-home assignments, discussions, portfolios, tests and
quizzes.
VIII. GRADING
A = 90 – 100
B = 80 – 89
C = 70 – 79
D = 60 – 69
F = 0 - 59
IX.
COURSE OUTLINE:
Week 1 – Chapter 1: Communication Concepts
Week 2 – Chapter 2: Perception
Week 3 – Chapter 3: Cultural Diversity
Week 4 – Chapter 4: Language
Week 5- Chapter 5: Listening and Responding
Week 6 – Chapter 6: Interpersonal Relationship Skills
Week 7 – Chapter 7: Conflict Resolution
Week 8 – Chapter 8: Teamwork
Week 9 – Chapter 9: Preparing the Informative Presentation
Week 10 – Chapter 10: Organizing Informative Outlines
Week 11 – Chapter 11: Verbal and Visual Supports
Week 12 – Chapter 12: Gathering Information
Week 13 – Chapter 13: Delivering Presentations
Week 14 – Chapter 14: Persuasive Speaking
Week 15 – Chapter 15: Interviewing Skills
Week 16 – Final Test
X.
OTHER REQUIRED TEXTS, SOFTWARE, AND MATERIALS:
Word processing software or as assigned by the instructor.
OFIT-2240-Organizational Communication
Page 3 of 3
XI.
EVALUATION:
1. Students will complete multiple exercises required to reflect business
communications and comprehension
2. Other assignments, projects, exercises, discussions, portfolios, quizzes, and
tests may be assigned and graded at the discretion of the instructor.
XII.
SPECIFIC MANAGEMENT REQUIREMENTS:
Assignments will be evaluated according to instructor directives.
XIII. OTHER INFORMATION:
FERPA: Students need to understand that your work may be seen by others.
Others may see your work when being distributed, during group project work, or
if it is chosen for demonstration purposes.
Students also need to know that there is a strong possibility that your work may
be submitted to other entities for the purpose of plagiarism checks.
DISABILITIES: Students with disabilities may contact the Disabilities Service
Office, Central Campus, at 800-628-7722 or 937-393-3431.