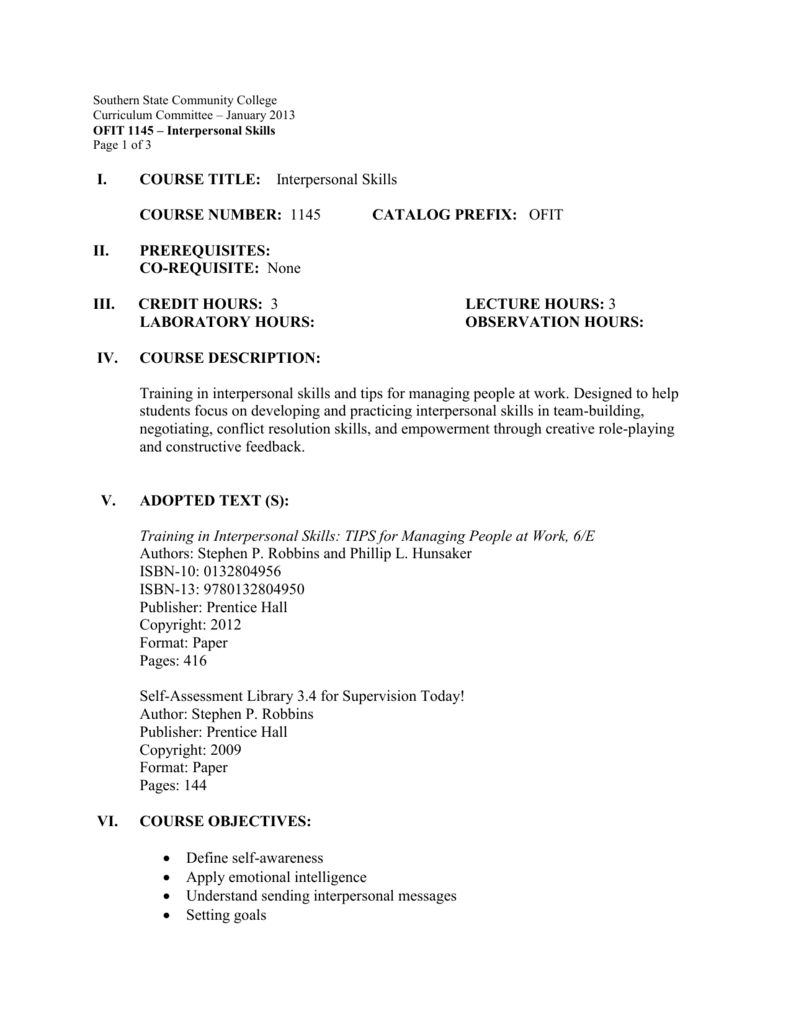 Southern State Community College
Curriculum Committee – January 2013
OFIT 1145 – Interpersonal Skills
Page 1 of 3
I.
COURSE TITLE:
Interpersonal Skills
COURSE NUMBER: 1145
II.
PREREQUISITES:
CO-REQUISITE: None
III.
CREDIT HOURS: 3
LABORATORY HOURS:
IV.
COURSE DESCRIPTION:
CATALOG PREFIX: OFIT
LECTURE HOURS: 3
OBSERVATION HOURS:
Training in interpersonal skills and tips for managing people at work. Designed to help
students focus on developing and practicing interpersonal skills in team-building,
negotiating, conflict resolution skills, and empowerment through creative role-playing
and constructive feedback.
V.
ADOPTED TEXT (S):
Training in Interpersonal Skills: TIPS for Managing People at Work, 6/E
Authors: Stephen P. Robbins and Phillip L. Hunsaker
ISBN-10: 0132804956
ISBN-13: 9780132804950
Publisher: Prentice Hall
Copyright: 2012
Format: Paper
Pages: 416
Self-Assessment Library 3.4 for Supervision Today!
Author: Stephen P. Robbins
Publisher: Prentice Hall
Copyright: 2009
Format: Paper
Pages: 144
VI.
COURSE OBJECTIVES:




Define self-awareness
Apply emotional intelligence
Understand sending interpersonal messages
Setting goals
OFIT-1145 – Interpersonal Skills
Page 2 of 3
 Show how to manage change
 Develop team-working skills
 Define conflict resolution processes
VII.
COURSE METHODLOGY:
Can include the following:





Portfolio of documentation representing skills and knowledge gained
Ability to use Microsoft Word and Microsoft PowerPoint
Terminology quizzes and tests
Hands on textbook applications and exercises
Lectures, presentations and examples of training in interpersonal skills
VIII. GRADING:
A = 90 – 100
B = 80 – 89
C = 70 – 79
D = 60 – 69
F = 0 - 59
IX.
COURSE OUTLINE: SAMPLE WORK SCHEDULE
WEEKLY SCHEDULE
Week #
1
2
3
Chapter(s)
1
2 and 3
4 and 5
4
5
6
6 and 7
8 and 9
10 and 11
7
8
9
10
11
12
13
14
12 and 13
14 and 15
16 and 17
18 and 19
20 and 21
I
II
III
Topic
Skills – an introduction
Self-awareness and self-management
Applying emotional intelligence and sending interpersonal
messages and listening.
Reading nonverbal messages and providing feedback
Communicating across cultures and goal setting
Coaching, counseling, and mentoring and empowering
people through delegation
Politicking and persuading
Applying leadership style and managing change
Facilitating teamwork and valuing diversity
Ethical decision making and creative problem solving
Resolving conflicts and negotiating
What about me
Working with others
Life in organizations
OFIT-1145 – Interpersonal Skills
Page 3 of 3
15
IV
16
New assessments and personality
Final
*Instructors hold the rights to rearrange and maintain a different schedule of work to
fulfill the objectives of the course.
X.
OTHER REQUIRED BOOKS, SOFTWARE AND MATERIALS:
At the discretion of the instructor
XI.
EVALUATION:
* Students will complete multiple exercises in human resource assessment formats
* Other assignments, projects, exercises, and quizzes may be assigned and graded
at the discretion of the instructor.
XII. SPECIFIC MANAGEMENT REQUIREMENTS:
Assignments will be evaluated according to instructor directives.
XIII. OTHER INFORMATION:
FERPA: Students need to understand that your work may be seen by others. Others
may see your work when being distributed, during group project work, or if it is chosen
for demonstration purposes.
Students also need to know that there is a strong possibility that your work may be
submitted to other entities for the purpose of plagiarism checks.
DISABILITIES: Students with disabilities may contact the Disabilities Service Office,
Central Campus, at 800-628-7722 or 937-393-3431.