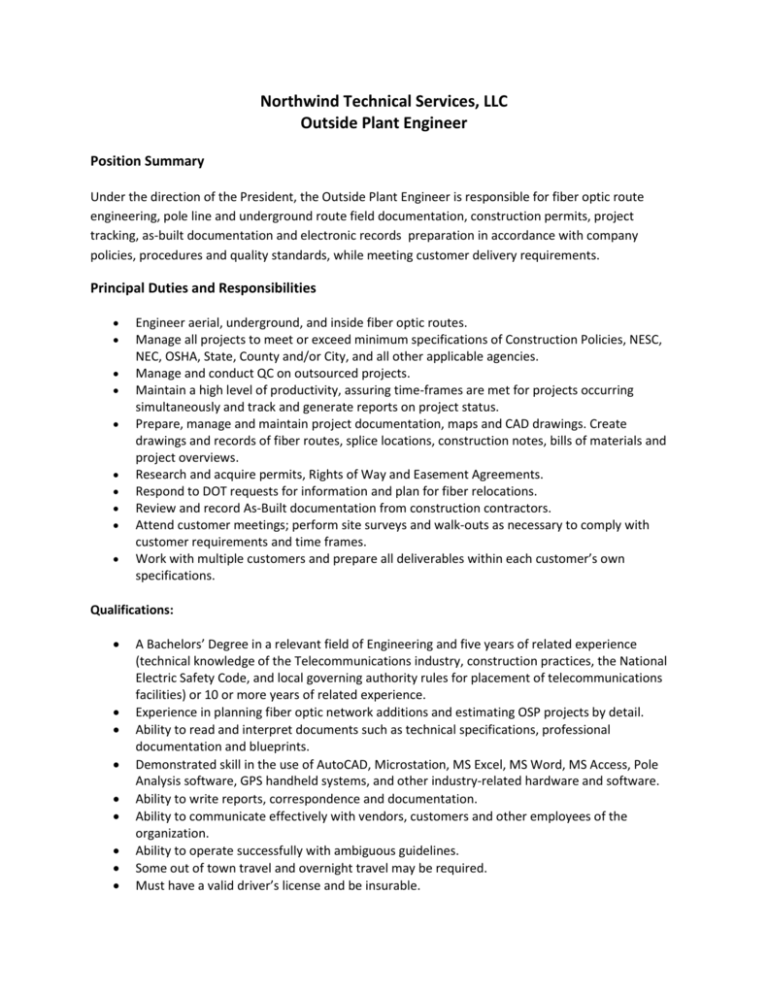 Northwind Technical Services, LLC
Outside Plant Engineer
Position Summary
Under the direction of the President, the Outside Plant Engineer is responsible for fiber optic route
engineering, pole line and underground route field documentation, construction permits, project
tracking, as-built documentation and electronic records preparation in accordance with company
policies, procedures and quality standards, while meeting customer delivery requirements.
Principal Duties and Responsibilities










Engineer aerial, underground, and inside fiber optic routes.
Manage all projects to meet or exceed minimum specifications of Construction Policies, NESC,
NEC, OSHA, State, County and/or City, and all other applicable agencies.
Manage and conduct QC on outsourced projects.
Maintain a high level of productivity, assuring time-frames are met for projects occurring
simultaneously and track and generate reports on project status.
Prepare, manage and maintain project documentation, maps and CAD drawings. Create
drawings and records of fiber routes, splice locations, construction notes, bills of materials and
project overviews.
Research and acquire permits, Rights of Way and Easement Agreements.
Respond to DOT requests for information and plan for fiber relocations.
Review and record As-Built documentation from construction contractors.
Attend customer meetings; perform site surveys and walk-outs as necessary to comply with
customer requirements and time frames.
Work with multiple customers and prepare all deliverables within each customer's own
specifications.
Qualifications:









A Bachelors' Degree in a relevant field of Engineering and five years of related experience
(technical knowledge of the Telecommunications industry, construction practices, the National
Electric Safety Code, and local governing authority rules for placement of telecommunications
facilities) or 10 or more years of related experience.
Experience in planning fiber optic network additions and estimating OSP projects by detail.
Ability to read and interpret documents such as technical specifications, professional
documentation and blueprints.
Demonstrated skill in the use of AutoCAD, Microstation, MS Excel, MS Word, MS Access, Pole
Analysis software, GPS handheld systems, and other industry-related hardware and software.
Ability to write reports, correspondence and documentation.
Ability to communicate effectively with vendors, customers and other employees of the
organization.
Ability to operate successfully with ambiguous guidelines.
Some out of town travel and overnight travel may be required.
Must have a valid driver's license and be insurable.
At Northwind Technical Services, we strive to provide a challenging and rewarding atmosphere for our
employees. We offer a competitive salary and benefit plan including 401(k) with profit sharing, health,
dental, vision, and life insurance, short and long-term disability insurance, a generous paid-time off
(PTO) program, and much more!