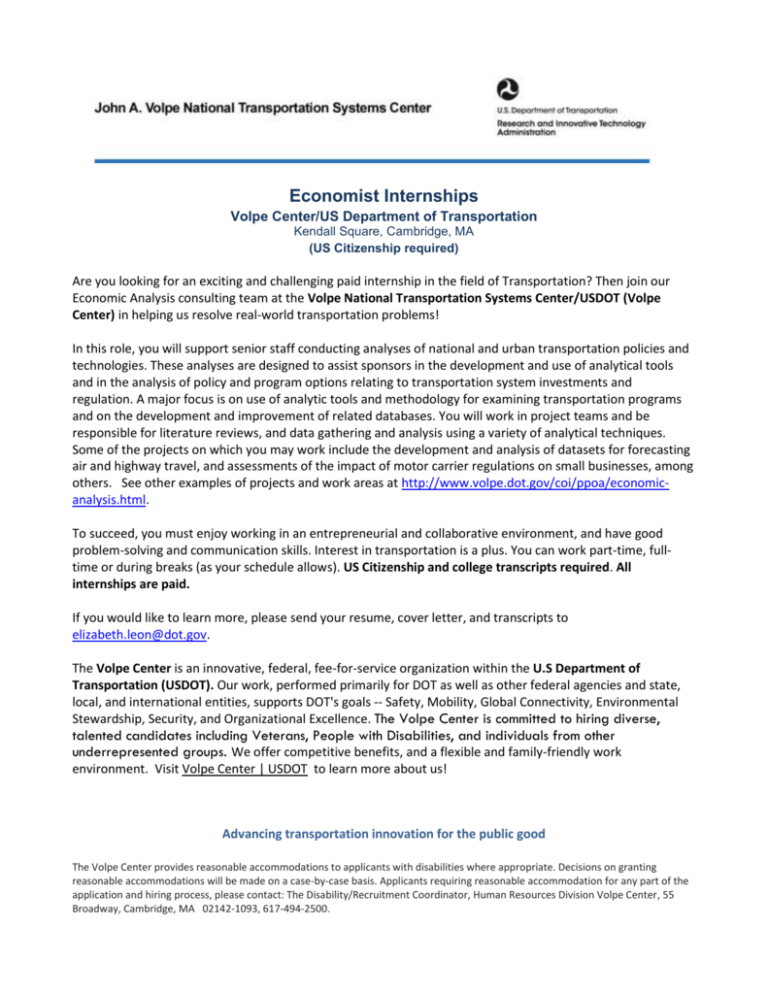 Economist Internships
Volpe Center/US Department of Transportation
Kendall Square, Cambridge, MA
(US Citizenship required)
Are you looking for an exciting and challenging paid internship in the field of Transportation? Then join our
Economic Analysis consulting team at the Volpe National Transportation Systems Center/USDOT (Volpe
Center) in helping us resolve real-world transportation problems!
In this role, you will support senior staff conducting analyses of national and urban transportation policies and
technologies. These analyses are designed to assist sponsors in the development and use of analytical tools
and in the analysis of policy and program options relating to transportation system investments and
regulation. A major focus is on use of analytic tools and methodology for examining transportation programs
and on the development and improvement of related databases. You will work in project teams and be
responsible for literature reviews, and data gathering and analysis using a variety of analytical techniques.
Some of the projects on which you may work include the development and analysis of datasets for forecasting
air and highway travel, and assessments of the impact of motor carrier regulations on small businesses, among
others. See other examples of projects and work areas at http://www.volpe.dot.gov/coi/ppoa/economicanalysis.html.
To succeed, you must enjoy working in an entrepreneurial and collaborative environment, and have good
problem-solving and communication skills. Interest in transportation is a plus. You can work part-time, fulltime or during breaks (as your schedule allows). US Citizenship and college transcripts required. All
internships are paid.
If you would like to learn more, please send your resume, cover letter, and transcripts to
elizabeth.leon@dot.gov.
The Volpe Center is an innovative, federal, fee-for-service organization within the U.S Department of
Transportation (USDOT). Our work, performed primarily for DOT as well as other federal agencies and state,
local, and international entities, supports DOT's goals -- Safety, Mobility, Global Connectivity, Environmental
Stewardship, Security, and Organizational Excellence. The Volpe Center is committed to hiring diverse,
talented candidates including Veterans, People with Disabilities, and individuals from other
underrepresented groups. We offer competitive benefits, and a flexible and family-friendly work
environment. Visit Volpe Center | USDOT to learn more about us!
Advancing transportation innovation for the public good
The Volpe Center provides reasonable accommodations to applicants with disabilities where appropriate. Decisions on granting
reasonable accommodations will be made on a case-by-case basis. Applicants requiring reasonable accommodation for any part of the
application and hiring process, please contact: The Disability/Recruitment Coordinator, Human Resources Division Volpe Center, 55
Broadway, Cambridge, MA 02142-1093, 617-494-2500.