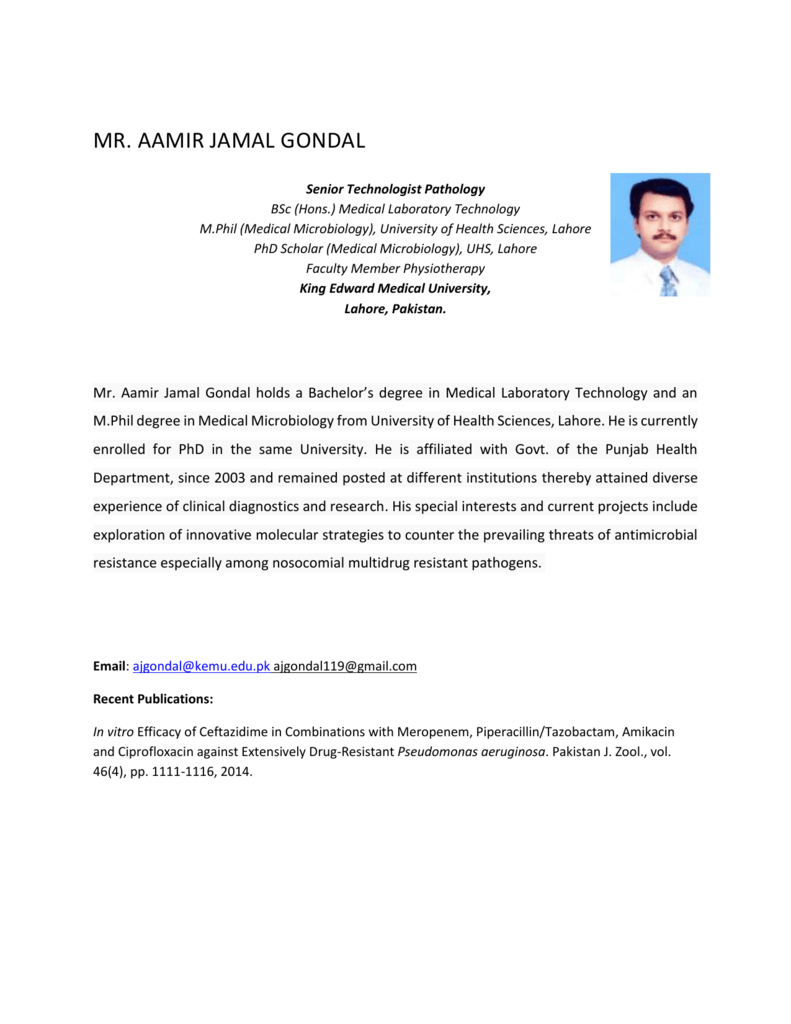 MR. AAMIR JAMAL GONDAL
Senior Technologist Pathology
BSc (Hons.) Medical Laboratory Technology
M.Phil (Medical Microbiology), University of Health Sciences, Lahore
PhD Scholar (Medical Microbiology), UHS, Lahore
Faculty Member Physiotherapy
King Edward Medical University,
Lahore, Pakistan.
Mr. Aamir Jamal Gondal holds a Bachelor's degree in Medical Laboratory Technology and an
M.Phil degree in Medical Microbiology from University of Health Sciences, Lahore. He is currently
enrolled for PhD in the same University. He is affiliated with Govt. of the Punjab Health
Department, since 2003 and remained posted at different institutions thereby attained diverse
experience of clinical diagnostics and research. His special interests and current projects include
exploration of innovative molecular strategies to counter the prevailing threats of antimicrobial
resistance especially among nosocomial multidrug resistant pathogens.
Email: [email protected] [email protected]
Recent Publications:
In vitro Efficacy of Ceftazidime in Combinations with Meropenem, Piperacillin/Tazobactam, Amikacin
and Ciprofloxacin against Extensively Drug-Resistant Pseudomonas aeruginosa. Pakistan J. Zool., vol.
46(4), pp. 1111-1116, 2014.