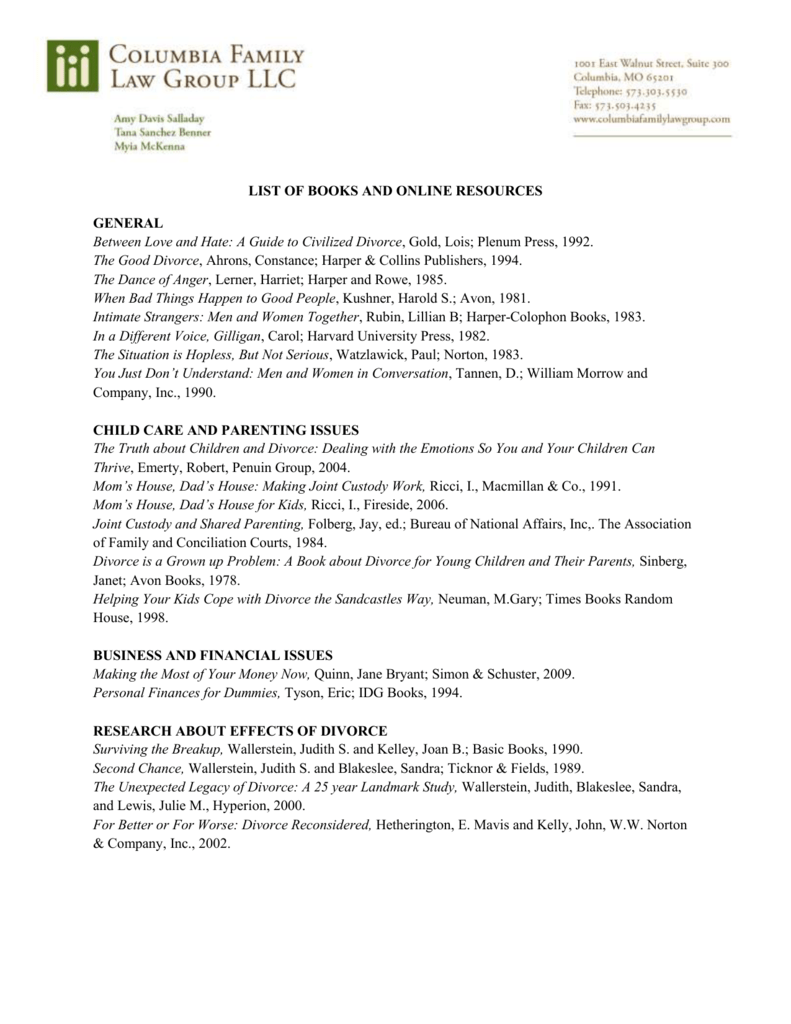 LIST OF BOOKS AND ONLINE RESOURCES
GENERAL
Between Love and Hate: A Guide to Civilized Divorce, Gold, Lois; Plenum Press, 1992.
The Good Divorce, Ahrons, Constance; Harper & Collins Publishers, 1994.
The Dance of Anger, Lerner, Harriet; Harper and Rowe, 1985.
When Bad Things Happen to Good People, Kushner, Harold S.; Avon, 1981.
Intimate Strangers: Men and Women Together, Rubin, Lillian B; Harper-Colophon Books, 1983.
In a Different Voice, Gilligan, Carol; Harvard University Press, 1982.
The Situation is Hopless, But Not Serious, Watzlawick, Paul; Norton, 1983.
You Just Don't Understand: Men and Women in Conversation, Tannen, D.; William Morrow and
Company, Inc., 1990.
CHILD CARE AND PARENTING ISSUES
The Truth about Children and Divorce: Dealing with the Emotions So You and Your Children Can
Thrive, Emerty, Robert, Penuin Group, 2004.
Mom's House, Dad's House: Making Joint Custody Work, Ricci, I., Macmillan & Co., 1991.
Mom's House, Dad's House for Kids, Ricci, I., Fireside, 2006.
Joint Custody and Shared Parenting, Folberg, Jay, ed.; Bureau of National Affairs, Inc,. The Association
of Family and Conciliation Courts, 1984.
Divorce is a Grown up Problem: A Book about Divorce for Young Children and Their Parents, Sinberg,
Janet; Avon Books, 1978.
Helping Your Kids Cope with Divorce the Sandcastles Way, Neuman, M.Gary; Times Books Random
House, 1998.
BUSINESS AND FINANCIAL ISSUES
Making the Most of Your Money Now, Quinn, Jane Bryant; Simon & Schuster, 2009.
Personal Finances for Dummies, Tyson, Eric; IDG Books, 1994.
RESEARCH ABOUT EFFECTS OF DIVORCE
Surviving the Breakup, Wallerstein, Judith S. and Kelley, Joan B.; Basic Books, 1990.
Second Chance, Wallerstein, Judith S. and Blakeslee, Sandra; Ticknor & Fields, 1989.
The Unexpected Legacy of Divorce: A 25 year Landmark Study, Wallerstein, Judith, Blakeslee, Sandra,
and Lewis, Julie M., Hyperion, 2000.
For Better or For Worse: Divorce Reconsidered, Hetherington, E. Mavis and Kelly, John, W.W. Norton
& Company, Inc., 2002.
AFTER DIVORCE: SINGLE PARENTING, REMARRIAGE AND STEPPARETING
Stepfamilies: A Guide to Working with Stepparents and Stepchildren, Visher, Emily B. and John S.;
Mazel Books, 1979.
Going It Alone, Weiss, Robert S.; Basic Books, Inc. 1979.
Rebuilding: When Your Relationship Ends, Fisher, Bruce; Impact, 1985.
NEGOTIATING AGREEMENTS AND THE MEDIATION PROCESS
Getting to Yes, Fisher, Roger; Ury, William; and Patton, Bruce; Penguin Books, 1991.
Getting Past No, Ury, William; Bantam Books, 1993.
Mediate, Don't Litigate, Lovenheim, P.; McGraw-Hill Publishing Company, 1989.
Before You Sue How to Get Justice Without Going to Court, Knebel, F. and Clay, G.S.; William Morrow
and Company, Inc., 1987.
OTHER HELPFUL BOOKS
The Divorced Dad's Survival Book
Helping Children Cope With Divorce
Divorce Busting
Dear Dad...
Coping: A Survival Manual for Women Alone
Women in Transition
Part Time Father
The Boys and Girls Book About Divorce
The Courage to Divorce
By David Knox
By Edward Teyber
By Michelle Weiner-Davis
By Lee Shapiro, J.D.
By Martha Yates
By Carol Kott Washburne
By Edith Atkin and Estelle Ruben
By Richard A. Gardner M.D.
By Susan Gettleman and Janet Markowitz
ONLINE RESOURCES
www.UpToParents.org
www.mediate.com
http://focusonkids.missouri.edu/
http://education.missouri.edu/orgs/parentlink/index.php - ParentLink has a lending library
http://www.rainbowhousecolumbia.org/
http://www.dbrl.org/
http://www.courts.mo.gov/page.jsp?id=5240 (Representing Yourself in Missouri Courts)
There are many books available at the Daniel Boone Public Library.
Be sure to look for books specifically for young children.