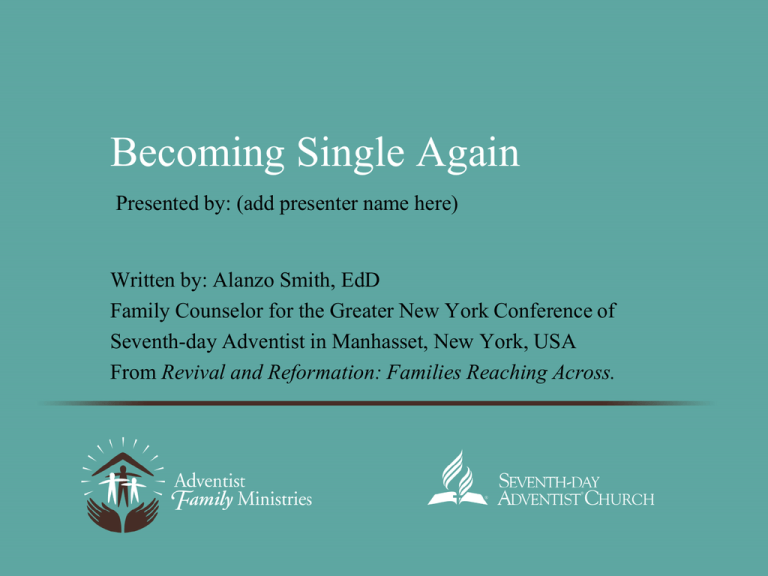 Becoming Single Again
Presented by: (add presenter name here)
Written by: Alanzo Smith, EdD
Family Counselor for the Greater New York Conference of
Seventh-day Adventist in Manhasset, New York, USA
From Revival and Reformation: Families Reaching Across.
The Reality of A Divorce
• Divorce rate in the USA
• 50% of all marriages end in divorce
• Highest divorce rate in the world
• Impacts of a divorce
• Profound and long lasting
• Affects couple, family members, friends,
church and community
Emotional Impact
• Mourning alone – emotional pain of
being single again (Forrest, 1981)
• Feelings of loneliness, devastation
•
•
•
•
Victimized by labeling of others
Rejection by others
Physical and emotional consequences
Coming to grips with the reality of being
single again
Loss of Spouse to Death
• Widowhood may demand major life
adjustments.
• Dual dilemma of having to reorganize
and restructure the management of life
• When children are involved, the dynamics
of the family adjustments can be
challenging.
• When the surviving parent is involved in a
new relationship it can cause conflicts.
Being single again
• Singleness is not a dysfunction.
• It marks the loss of a "socially valued
status."
• It is not the loss of your valued self.
• The majority of singles lead respectful,
honest and wholesome lives.
• As a child of God, singles can face their
reality with determination and dignity.
Emotions
• Undifferentiated
•
sadness
• Episodic anger
•
• Feelings of loneliness •
• Irrational
helplessness
•
• Shock and Awe
•
Preoccupation with
revenge
Excessive guilt
Heightened sense
of spirituality
Social withdrawal
Absentmindedness
Managing Your Emotions
• Provide time for grieving. Grief is normal. Give
yourself sufficient time to return to basic
functioning such as going back to work and
household tasks.
• Recognize your emotional feelings. There should be
no rationalization or suppression of emotions.
• Explore defenses and coping style. Defense
mechanisms are often used to obscure reality. For
example you may shift uncomfortable feelings to a
child.
Accept the circumstances
• Find meaning to the loss. (Romans 8:28)
• God is working with us in every good or bad
situation.
• Let go and let God
• God has ultimate control over your life. Re-invest
the emotional energy of the separation in self and
God.
• Get professional help. Sometimes you will not be
able to mitigate every situation yourself.
• Improve social competence.
Steps for Growth
• Get involved in meaningful hobbies and
activities.
• Attend and participate in church activities.
• Let go of negative emotions and forgive yourself
and your ex-spouse.
• God is waiting to partner with you to open new
doors.
See Handout 2
Remarriage
• It is a healing gift when done in harmony with
God's Word.
• Watch for quick rebounds and the desire to
compensate for one's immediate apprehension.
• The Bible warns against cohabitation.
• Society seems to have become more tolerant to
couple living together.
• It is still against the will of God. Place yourself in the
center of God's will.