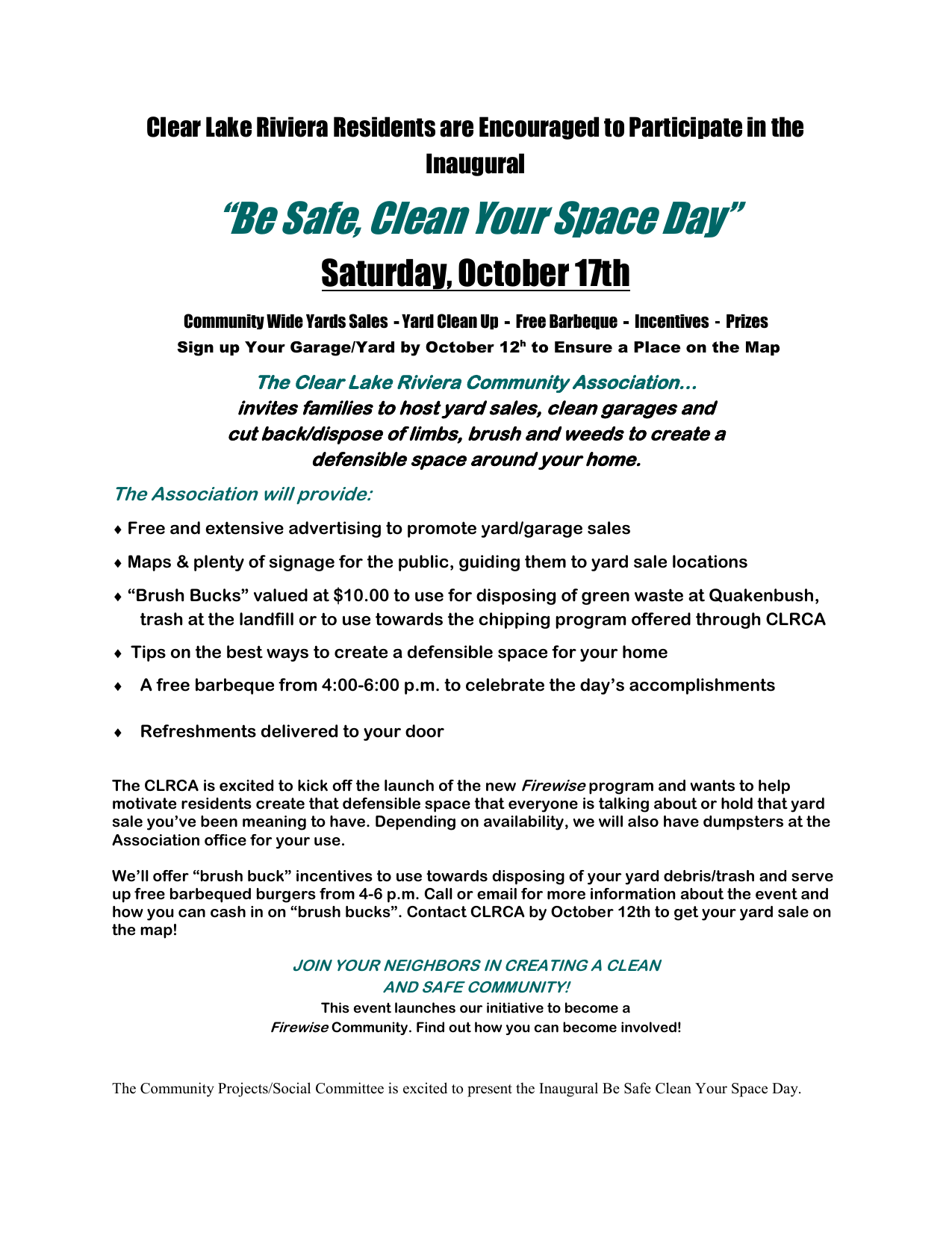 Clear Lake Riviera Residents are Encouraged to Participate in the Inaugural
"Be Safe, Clean Your Space Day"
Saturday, October 17th
Community Wide Yards Sales - Yard Clean Up - Free Barbeque - Incentives - Prizes
Sign up Your Garage/Yard by October 12 h to Ensure a Place on the Map The Clear Lake Riviera Community Association… defensible space around your home. invites families to host yard sales, clean garages and cut back/dispose of limbs, brush and weeds to create a The Association will provide:

Free and extensive advertising to promote yard/garage sales

Maps & plenty of signage for the public, guiding them to yard sale locations

"Brush Bucks" valued at $10.00 to use for disposing of green waste at Quakenbush, trash at the landfill or to use towards the chipping program offered through CLRCA

Tips on the best ways to create a defensible space for your home
 
A free barbeque from 4:00-6:00 p.m. to celebrate the day's accomplishments Refreshments delivered to your door The CLRCA is excited to kick off the launch of the new motivate residents create that defensible space that everyone is talking about or hold that yard sale you've been meaning to have. Depending on availability, we will also have dumpsters at the Association office for your use. Firewise program and wants to help We'll offer "brush buck" incentives to use towards disposing of your yard debris/trash and serve up free barbequed burgers from 4-6 p.m. Call or email for more information about the event and how you can cash in on "brush bucks". Contact CLRCA by October 12th to get your yard sale on the map! JOIN YOUR NEIGHBORS IN CREATING A CLEAN AND SAFE COMMUNITY!
This event launches our initiative to become a Firewise Community. Find out how you can become involved!
The Community Projects/Social Committee is excited to present the Inaugural Be Safe Clean Your Space Day.