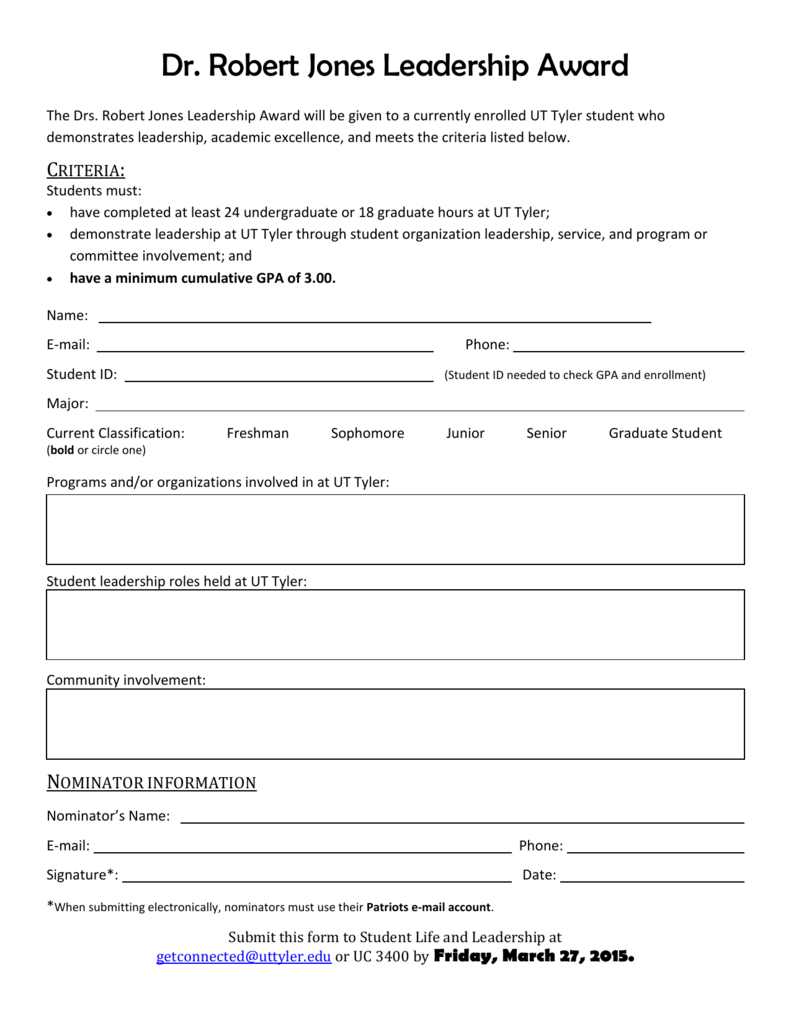 Dr. Robert Jones Leadership Award
The Drs. Robert Jones Leadership Award will be given to a currently enrolled UT Tyler student who
demonstrates leadership, academic excellence, and meets the criteria listed below.
CRITERIA:
Students must:
 have completed at least 24 undergraduate or 18 graduate hours at UT Tyler;
 demonstrate leadership at UT Tyler through student organization leadership, service, and program or
committee involvement; and
 have a minimum cumulative GPA of 3.00.
Name:
E-mail:
Phone:
Student ID:
(Student ID needed to check GPA and enrollment)
Major:
Current Classification:
Freshman
Sophomore
Junior
Senior
Graduate Student
(bold or circle one)
Programs and/or organizations involved in at UT Tyler:
Student leadership roles held at UT Tyler:
Community involvement:
NOMINATOR INFORMATION
Nominator's Name:
E-mail:
Phone:
Signature*:
Date:
*When submitting electronically, nominators must use their Patriots e-mail account.
Submit this form to Student Life and Leadership at
[email protected] or UC 3400 by Friday, March 27, 2015.