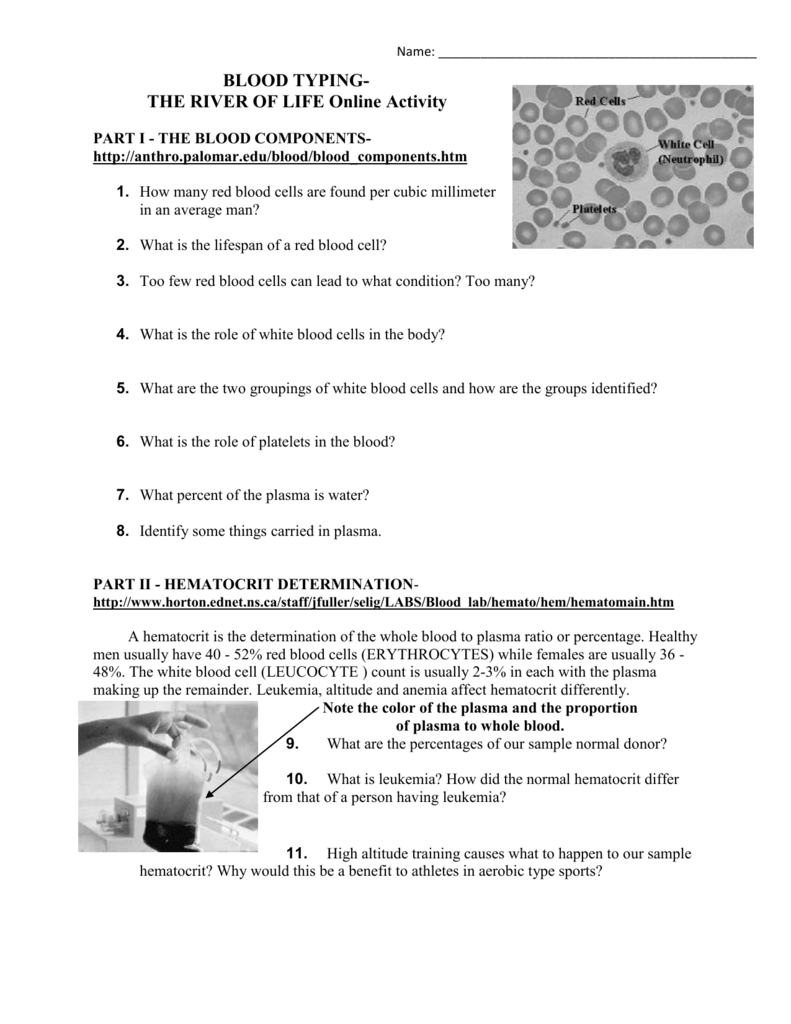 Name: _____________________________________________
BLOOD TYPINGTHE RIVER OF LIFE Online Activity
PART I - THE BLOOD COMPONENTShttp://anthro.palomar.edu/blood/blood_components.htm
1. How many red blood cells are found per cubic millimeter
in an average man?
2. What is the lifespan of a red blood cell?
3. Too few red blood cells can lead to what condition? Too many?
4. What is the role of white blood cells in the body?
5. What are the two groupings of white blood cells and how are the groups identified?
6. What is the role of platelets in the blood?
7. What percent of the plasma is water?
8. Identify some things carried in plasma.
PART II - HEMATOCRIT DETERMINATIONhttp://www.horton.ednet.ns.ca/staff/jfuller/selig/LABS/Blood_lab/hemato/hem/hematomain.htm
A hematocrit is the determination of the whole blood to plasma ratio or percentage. Healthy
men usually have 40 - 52% red blood cells (ERYTHROCYTES) while females are usually 36 48%. The white blood cell (LEUCOCYTE ) count is usually 2-3% in each with the plasma
making up the remainder. Leukemia, altitude and anemia affect hematocrit differently.
Note the color of the plasma and the proportion
of plasma to whole blood.
9.
What are the percentages of our sample normal donor?
10. What is leukemia? How did the normal hematocrit differ
from that of a person having leukemia?
11. High altitude training causes what to happen to our sample
hematocrit? Why would this be a benefit to athletes in aerobic type sports?
12. What is anemia and how does it affect the normal hematocrit? Why is the color of the
blood a light red to orange color?
PART III - THE BLOOD TYPES
http://www.horton.ednet.ns.ca/staff/jfuller/Selig/LABS/Blood_lab/blood_typing.htm
The identification of blood types is the result of a simple antigen-antibody reaction. Blood
type A cells placed in antibody A will clump as will blood type B in antibody B. If there is
clotting on both slides the type is AB and if there is no clotting it is type O.
This is what an actual blood typing would look like. This is blood
type B.
13. Identify the blood types of the four unknown samples in the
Virtual Lab (list in order).
14. Blood type O is considered a universal donor and can be transfused into people having
the other blood types. Why?
15. Blood type AB is considered a universal receiver and can receive other blood types.
Why?
PART IV- Blood Donation- www.redcrossblood.org
16. How often is one allowed to donate whole blood in the United States?
17. How many liters of blood are found in the human body?
PART V - Rh FACTORS- http://www.umm.edu/ency/article/001298.htm
Rh factors are another group of antigens found on the surface of red blood cells. There are
eight possible antigens that may be found in this group. A person having the antigens is Rh+ and
those not having the antigens are Rh-. It is tested the same way as the ABO blood types with the
solution being anti-Rh antibodies. If the drop of blood clumps the subject is Rh+ and no
clumping indicates Rh-. Rh+ subjects can receive Rh- blood but Rh- subjects cannot receive Rh+
blood.
18. What is erythroblastosis fetalis?
19. Why is it a problem? Who will it affect?
20. What happens to cause it?