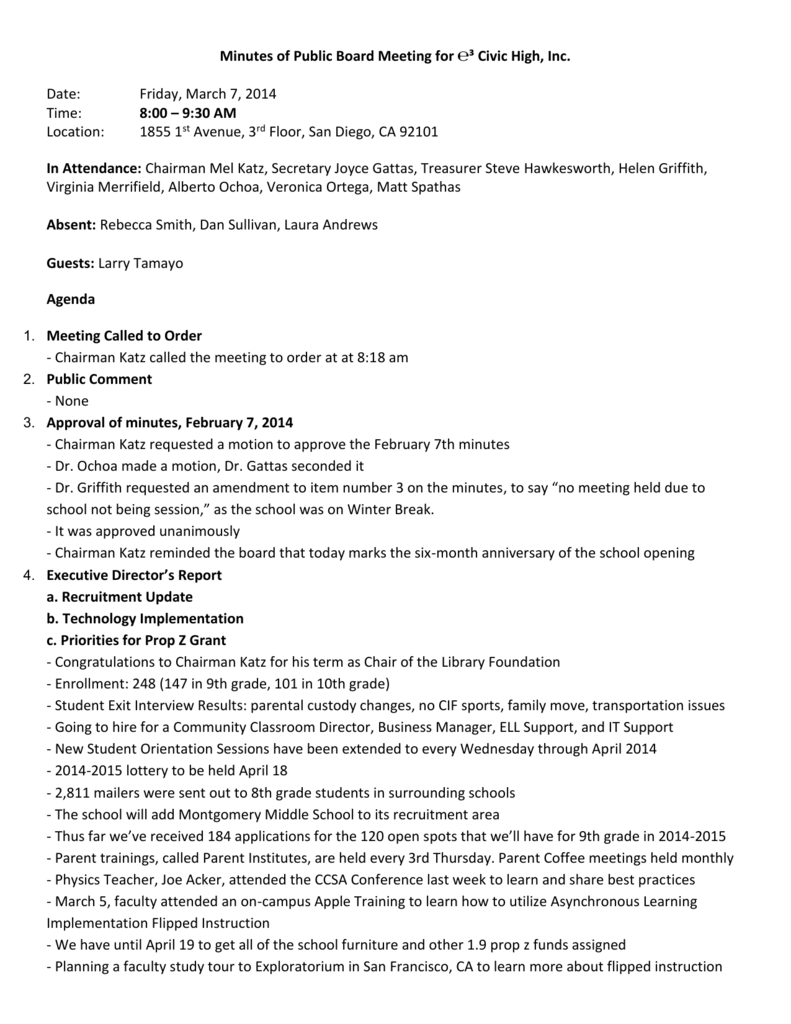 Minutes of Public Board Meeting for ℮³ Civic High, Inc.
Date:
Time:
Location:
Friday, March 7, 2014
8:00 – 9:30 AM
1855 1st Avenue, 3rd Floor, San Diego, CA 92101
In Attendance: Chairman Mel Katz, Secretary Joyce Gattas, Treasurer Steve Hawkesworth, Helen Griffith,
Virginia Merrifield, Alberto Ochoa, Veronica Ortega, Matt Spathas
Absent: Rebecca Smith, Dan Sullivan, Laura Andrews
Guests: Larry Tamayo
Agenda
1. Meeting Called to Order
- Chairman Katz called the meeting to order at at 8:18 am
2. Public Comment
- None
3. Approval of minutes, February 7, 2014
- Chairman Katz requested a motion to approve the February 7th minutes
- Dr. Ochoa made a motion, Dr. Gattas seconded it
- Dr. Griffith requested an amendment to item number 3 on the minutes, to say "no meeting held due to
school not being session," as the school was on Winter Break.
- It was approved unanimously
- Chairman Katz reminded the board that today marks the six-month anniversary of the school opening
4. Executive Director's Report
a. Recruitment Update
b. Technology Implementation
c. Priorities for Prop Z Grant
- Congratulations to Chairman Katz for his term as Chair of the Library Foundation
- Enrollment: 248 (147 in 9th grade, 101 in 10th grade)
- Student Exit Interview Results: parental custody changes, no CIF sports, family move, transportation issues
- Going to hire for a Community Classroom Director, Business Manager, ELL Support, and IT Support
- New Student Orientation Sessions have been extended to every Wednesday through April 2014
- 2014-2015 lottery to be held April 18
- 2,811 mailers were sent out to 8th grade students in surrounding schools
- The school will add Montgomery Middle School to its recruitment area
- Thus far we've received 184 applications for the 120 open spots that we'll have for 9th grade in 2014-2015
- Parent trainings, called Parent Institutes, are held every 3rd Thursday. Parent Coffee meetings held monthly
- Physics Teacher, Joe Acker, attended the CCSA Conference last week to learn and share best practices
- March 5, faculty attended an on-campus Apple Training to learn how to utilize Asynchronous Learning
Implementation Flipped Instruction
- We have until April 19 to get all of the school furniture and other 1.9 prop z funds assigned
- Planning a faculty study tour to Exploratorium in San Francisco, CA to learn more about flipped instruction
- CAHSEE boot camp sessions are happening on Tuesdays/Thursdays for 10th grade students
- Tuesday, March 18th we're planning for 9th grade students to take a field trip to college campuses
- Prop Z Project Priorities are the following: studio furniture and blinds, common area furniture, office and
conference room furniture, audio package, nutrition kitchen, technology, outdoor signage and ground flooring
- Annual Site Visit from Charter Office will happen on April 9th.
Committee Reports
5. Governance Committee
a. Board Member Nominations and process
6.
a.
b.
c.
d.
e.
7.
a.
8.
a.
9.
- Dan Sullivan, the Governance Committee Chair, was not in attendance to give report
Finance Committee
2013-2014 Budget
Ex Ed Updates
Charter School Revolving Loan Application
501c3
Audit Committee and Process
- Ginny Merrifield and Larry Tamayo are meeting weekly
- School is not eligible for the Charter School Revolving Application ($150k reoccurring)
- The school's 501c3 status is still in progress
- School budget discussed (see handout "Cash Balance")
- A school audit committee will soon be assembled, (see handout)
- By next Board meeting the committee will be assembled
Facilities Committee
Project Completion
- School cafeteria's kitchen waiting on sneeze guard installation
Advancement Committee
Fundraising Schedule
- Grants are in progress, Sempra Energy
- Chairman Katz assured the Board that we'll be able to raise the needed $300k by May
- Chairman Katz will be contacting a few organizations this afternoon
Adjournment
- Chairman Katz requested a motion to adjourn at 9:43am. Steve Hawkesworth made a motion, Virginia
Merrifield seconded it, and it was approved unanimously.