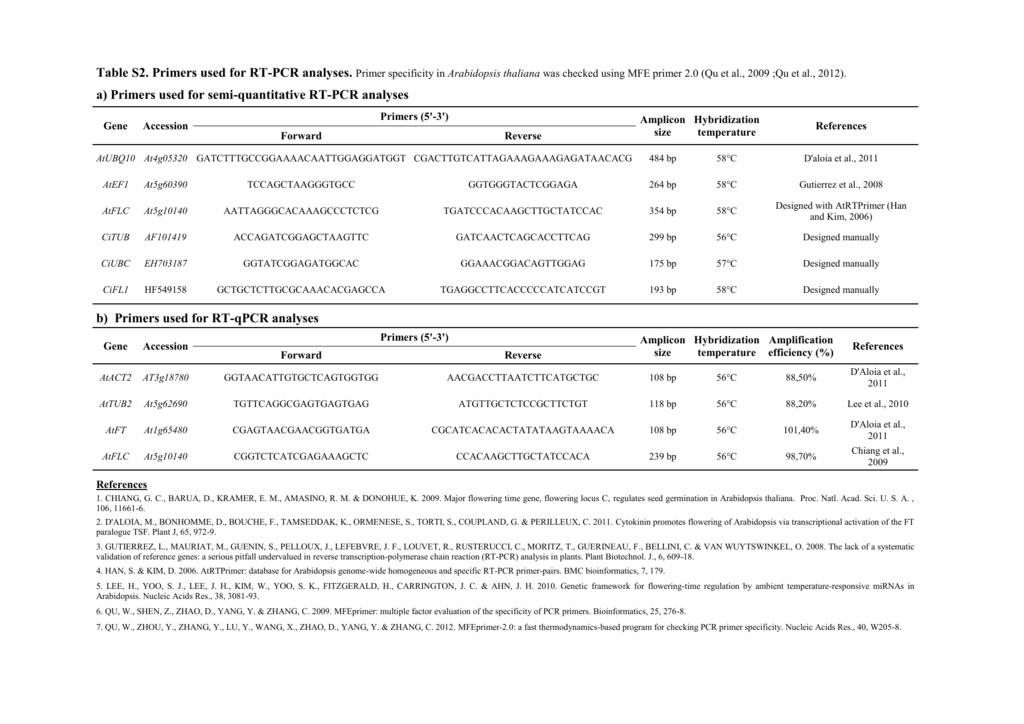 Table S2. Primers used for RT-PCR analyses. Primer specificity in Arabidopsis thaliana was checked using MFE primer 2.0 (Qu et al., 2009 ;Qu et al., 2012).
a) Primers used for semi-quantitative RT-PCR analyses
Gene
Primers (5'-3')
Accession
Forward
Reverse
AtUBQ10 At4g05320 GATCTTTGCCGGAAAACAATTGGAGGATGGT CGACTTGTCATTAGAAAGAAAGAGATAACACG
Amplicon Hybridization
size
temperature
References
484 bp
58°C
D'aloia et al., 2011
AtEF1
At5g60390
TCCAGCTAAGGGTGCC
GGTGGGTACTCGGAGA
264 bp
58°C
Gutierrez et al., 2008
AtFLC
At5g10140
AATTAGGGCACAAAGCCCTCTCG
TGATCCCACAAGCTTGCTATCCAC
354 bp
58°C
Designed with AtRTPrimer (Han
and Kim, 2006)
CiTUB
AF101419
ACCAGATCGGAGCTAAGTTC
GATCAACTCAGCACCTTCAG
299 bp
56°C
Designed manually
CiUBC
EH703187
GGTATCGGAGATGGCAC
GGAAACGGACAGTTGGAG
175 bp
57°C
Designed manually
CiFL1
HF549158
GCTGCTCTTGCGCAAACACGAGCCA
TGAGGCCTTCACCCCCATCATCCGT
193 bp
58°C
Designed manually
b) Primers used for RT-qPCR analyses
Gene
Accession
AtACT2
Primers (5'-3')
Amplicon Hybridization Amplification
size
temperature efficiency (%)
References
Forward
Reverse
AT3g18780
GGTAACATTGTGCTCAGTGGTGG
AACGACCTTAATCTTCATGCTGC
108 bp
56°C
88,50%
D'Aloia et al.,
2011
AtTUB2
At5g62690
TGTTCAGGCGAGTGAGTGAG
ATGTTGCTCTCCGCTTCTGT
118 bp
56°C
88,20%
Lee et al., 2010
AtFT
At1g65480
CGAGTAACGAACGGTGATGA
CGCATCACACACTATATAAGTAAAACA
108 bp
56°C
101,40%
D'Aloia et al.,
2011
AtFLC
At5g10140
CGGTCTCATCGAGAAAGCTC
CCACAAGCTTGCTATCCACA
239 bp
56°C
98,70%
Chiang et al.,
2009
References
1. CHIANG, G. C., BARUA, D., KRAMER, E. M., AMASINO, R. M. & DONOHUE, K. 2009. Major flowering time gene, flowering locus C, regulates seed germination in Arabidopsis thaliana. Proc. Natl. Acad. Sci. U. S. A. ,
106, 11661-6.
2. D'ALOIA, M., BONHOMME, D., BOUCHE, F., TAMSEDDAK, K., ORMENESE, S., TORTI, S., COUPLAND, G. & PERILLEUX, C. 2011. Cytokinin promotes flowering of Arabidopsis via transcriptional activation of the FT
paralogue TSF. Plant J, 65, 972-9.
3. GUTIERREZ, L., MAURIAT, M., GUENIN, S., PELLOUX, J., LEFEBVRE, J. F., LOUVET, R., RUSTERUCCI, C., MORITZ, T., GUERINEAU, F., BELLINI, C. & VAN WUYTSWINKEL, O. 2008. The lack of a systematic
validation of reference genes: a serious pitfall undervalued in reverse transcription-polymerase chain reaction (RT-PCR) analysis in plants. Plant Biotechnol. J., 6, 609-18.
4. HAN, S. & KIM, D. 2006. AtRTPrimer: database for Arabidopsis genome-wide homogeneous and specific RT-PCR primer-pairs. BMC bioinformatics, 7, 179.
5. LEE, H., YOO, S. J., LEE, J. H., KIM, W., YOO, S. K., FITZGERALD, H., CARRINGTON, J. C. & AHN, J. H. 2010. Genetic framework for flowering-time regulation by ambient temperature-responsive miRNAs in
Arabidopsis. Nucleic Acids Res., 38, 3081-93.
6. QU, W., SHEN, Z., ZHAO, D., YANG, Y. & ZHANG, C. 2009. MFEprimer: multiple factor evaluation of the specificity of PCR primers. Bioinformatics, 25, 276-8.
7. QU, W., ZHOU, Y., ZHANG, Y., LU, Y., WANG, X., ZHAO, D., YANG, Y. & ZHANG, C. 2012. MFEprimer-2.0: a fast thermodynamics-based program for checking PCR primer specificity. Nucleic Acids Res., 40, W205-8.