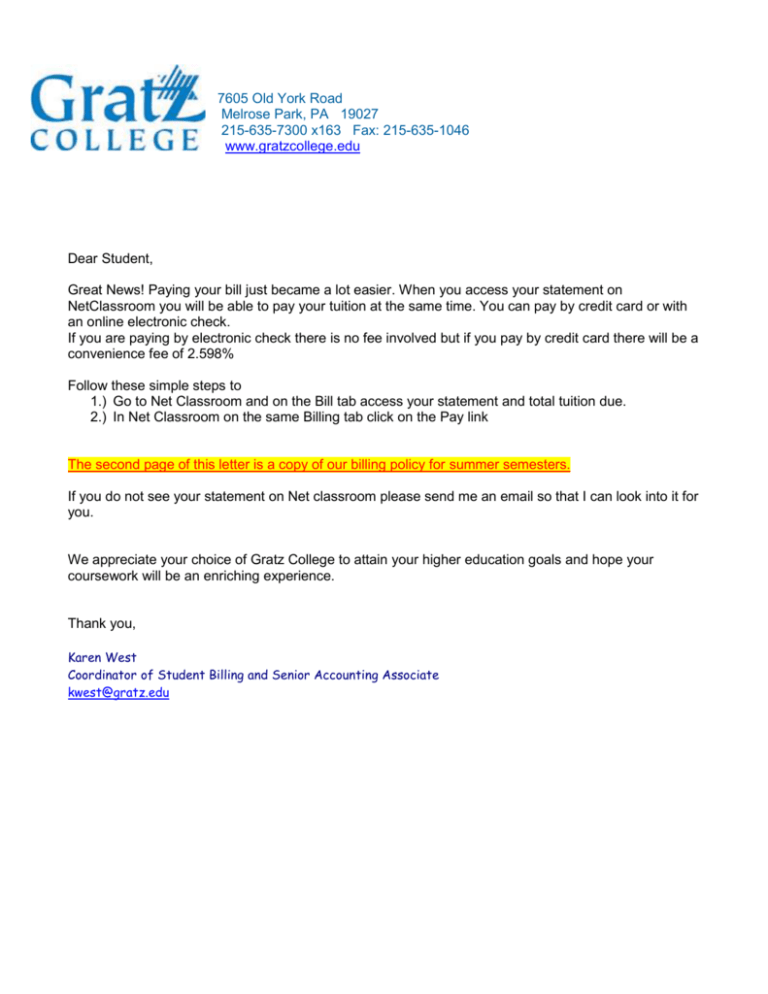 7605 Old York Road
Melrose Park, PA 19027
215-635-7300 x163 Fax: 215-635-1046
www.gratzcollege.edu
Dear Student,
Great News! Paying your bill just became a lot easier. When you access your statement on
NetClassroom you will be able to pay your tuition at the same time. You can pay by credit card or with
an online electronic check.
If you are paying by electronic check there is no fee involved but if you pay by credit card there will be a
convenience fee of 2.598%
Follow these simple steps to
1.) Go to Net Classroom and on the Bill tab access your statement and total tuition due.
2.) In Net Classroom on the same Billing tab click on the Pay link
The second page of this letter is a copy of our billing policy for summer semesters.
If you do not see your statement on Net classroom please send me an email so that I can look into it for
you.
We appreciate your choice of Gratz College to attain your higher education goals and hope your
coursework will be an enriching experience.
Thank you,
Karen West
Coordinator of Student Billing and Senior Accounting Associate
kwest@gratz.edu
Billing:
By act of registration, students accept responsibility for charges of the entire semester. Fees are not refundable.
Gratz College has partnered with Nelnet Business Solutions, a provider of web based Automated Payment Plans.
All payments and payment plans must go through Nelnet Business Solutions.
Payment Terms
A minimum of 33% of your tuition balance must be paid by the first day of class. You can pay the required 33% of
your bill by any of the following methods:



Government grants or government subsidized and/or non-subsidized loans.
Scholarship awards from private sources. (IMPORTANT: If you are awarded a Gratz College scholarship
or institutional aid, it may be used to pay the final amounts due to the College for a given semester and
may not be applied to the 33% minimum due before the start of classes.)
Credit card or e-check payments through Net Classroom Bill Payment.
If reimbursed by a third party, student is still responsible for timely payment per terms above.
Any remaining balances after 33% minimum is paid and all loans and scholarships are applied must be paid by a
payment plan setup by the first day of class. Please contact the Business Office to set this up. Students not in
compliance with payment terms will be prevented from attending class.
Late registrants are required to comply with the terms above before you will be allowed to attend class.
Students with unpaid balances from previous semesters will not be able to register for future classes and/or
receive their transcript, diploma, or certificate.
Refund of tuition is allowable on the following terms:
Students may drop and add courses as required until the end of the add-drop deadline listed in the academic
calendar. Individuals will be held financially obligated for those classes that are not dropped within the timeframe
outlined above.
Financial Aid
To assist students in obtaining Financial Aid, contact the Office of Financial Aid at 215-635-7300 x 185 9 AM to 5
PM Monday through Friday or email the director of financial aid at finaid@gratz.edu.
Payment plans
Please contact Karen West in the Gratz business office at 215-635-7300 x 163, Monday through Friday 9 AM to 5
PM: email Kwest@gratz.edu.