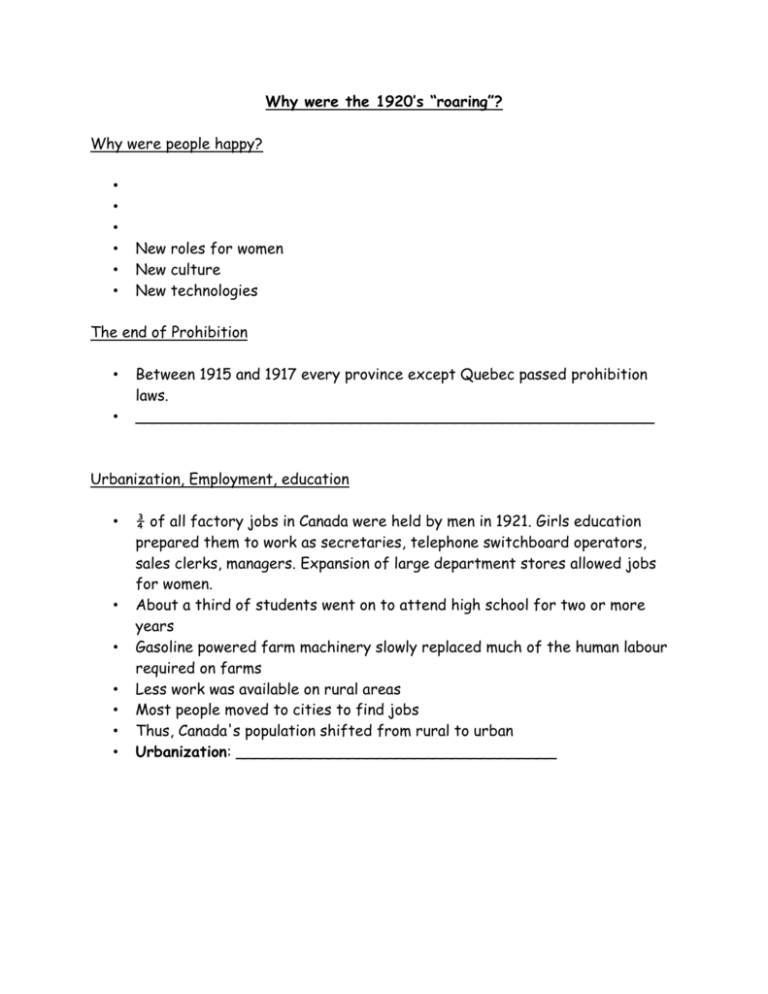 Why were the 1920's "roaring"?
Why were people happy?
•
•
•
•
•
•
New roles for women
New culture
New technologies
The end of Prohibition
•
•
Between 1915 and 1917 every province except Quebec passed prohibition
laws.
_______________________________________________________
Urbanization, Employment, education
•
•
•
•
•
•
•
¾ of all factory jobs in Canada were held by men in 1921. Girls education
prepared them to work as secretaries, telephone switchboard operators,
sales clerks, managers. Expansion of large department stores allowed jobs
for women.
About a third of students went on to attend high school for two or more
years
Gasoline powered farm machinery slowly replaced much of the human labour
required on farms
Less work was available on rural areas
Most people moved to cities to find jobs
Thus, Canada's population shifted from rural to urban
Urbanization: __________________________________
Sports
•
•
•
People in cities could even attend games nearby
Lionel Conacher was was the most popular hero o the day –won Stanley Cups
in 1930's
Women in sports
•
•
•
•
1928 Olympics marked Canada's best Olympic track and field
Women competed for the first time ever and ranked highest in the world
They set 2 new world records
Women were becoming more independent and achieving greater freedoms
(right to vote, more employment)
The famous five
 The Famous Five – led the fight for women's rights – wanted to have women
declared "persons" too.
1.
2.
3.
4.
5.
The Persons Case
•
•
Canada's laws were based on the British North America Act of 1867
Pg 71 Textbook Question 13
New roles for women
 Many women entered the workplace as nurses, teachers, librarians, &
secretaries.

New fashion
•
•
During the 1920s, a new ideal emerged for some women: the Flapper
A Flapper was an emancipated young woman who embraced the new fashions
and urban attitudes
• _____________
• Charleston dance
• Smoked cigarettes
• Wore straight dresses
• _________________
Entertainment
•
•
•
People wanted to forget the war and have some fun
Dances like the Charleston were all the rage
____________________________________
Movies
•
•
The silent film industry made instant stars out of celebrities like Greta
Garbo and Charlie Chaplin
In 1927, the first talking picture came out; "The Jazz Singer" starring Al
Jolson
Famous people
•
•
•
•
Mary Pickford was a major movie star during the 1920s and 1930s.
Born in Toronto, she was actually known as "America's Sweetheart".
She was the first woman to make over $ 1 Million per year in Hollywood.
Together with Charlie Chaplin and her husband Douglas Fairbanks she
created United Artists; a massive film recording business
New inventions and technologies
•
•
•
•
Telephone: Alexander Graham Bell
By the 1920s, only 1 in 4 families had a telephone
However, by 1929, 3 out of 4 Families had a telephone
Brought people together
Radio
•
•
•
•
Although print media was popular, radio was the most powerful
communications medium to emerge in the 1920s
News was delivered faster and to a larger audience
Ted Rogers invented alternating current radio –it could be plugged in [more
affordable]
__________________________________
The airplane
•
•
•
Dec 17th, 1903, the Wright Brothers perform the first successful flight of
an Airplane at Kitty Hawk, NC. USA.
Useful during WWI
The automobile
•
•
•
•
•
•
In 1893, Henry Ford built his first car
By 1908, he built his first "production car"; the "Model T"
Very expensive to build and as a result, Ford invented the "Assembly line"
It allowed the car to be mass produced quickly and efficiently dramatically
decreasing its cost
Canada and the United States reacted to the invention of the car by building
roads, gas stations, parking lots and drive in motels
Medicine
•
•
•
Before the 1920s, millions of people around the world had died from
Diabetes
In 1921, Frederick Banting produced insulin that successfully controlled
diabetes in dogs
In 1922, a 14 year old boy was the first patient to be injected with insulin.
Insulin was is not a cure. However, it controls diabetes and thus extends
the life of those who have the disease.