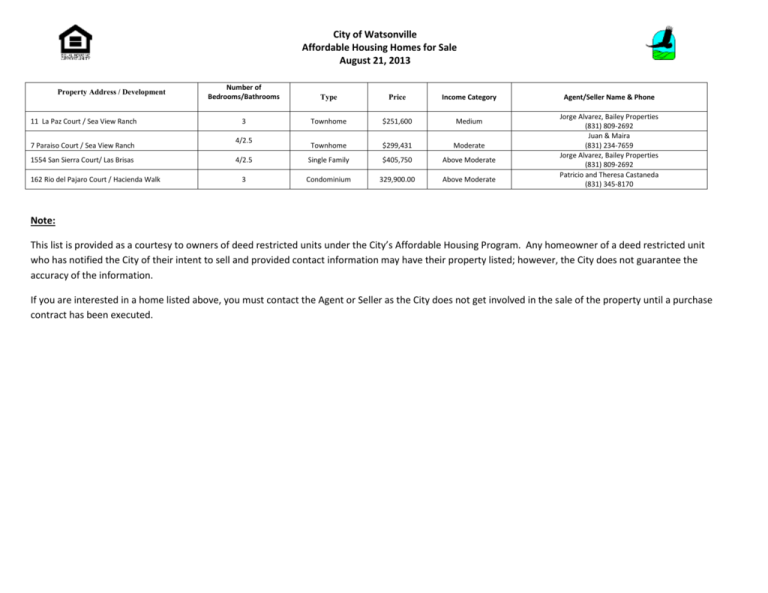 City of Watsonville
Affordable Housing Homes for Sale
August 21, 2013
Property Address / Development
11 La Paz Court / Sea View Ranch
7 Paraiso Court / Sea View Ranch
1554 San Sierra Court/ Las Brisas
162 Rio del Pajaro Court / Hacienda Walk
Number of
Bedrooms/Bathrooms
Type
Price
Income Category
3
Townhome
$251,600
Medium
4/2.5
Townhome
$299,431
Moderate
4/2.5
Single Family
$405,750
Above Moderate
3
Condominium
329,900.00
Above Moderate
Agent/Seller Name & Phone
Jorge Alvarez, Bailey Properties
(831) 809-2692
Juan & Maira
(831) 234-7659
Jorge Alvarez, Bailey Properties
(831) 809-2692
Patricio and Theresa Castaneda
(831) 345-8170
Note:
This list is provided as a courtesy to owners of deed restricted units under the City's Affordable Housing Program. Any homeowner of a deed restricted unit
who has notified the City of their intent to sell and provided contact information may have their property listed; however, the City does not guarantee the
accuracy of the information.
If you are interested in a home listed above, you must contact the Agent or Seller as the City does not get involved in the sale of the property until a purchase
contract has been executed.