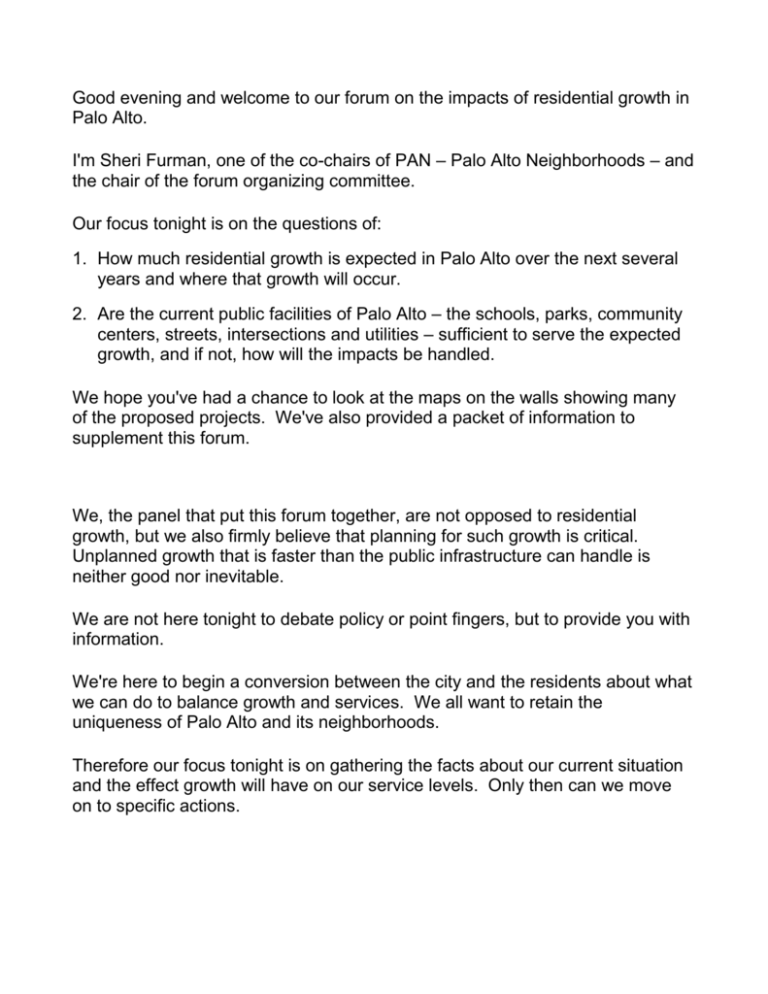 Good evening and welcome to our forum on the impacts of residential growth in
Palo Alto.
I'm Sheri Furman, one of the co-chairs of PAN – Palo Alto Neighborhoods – and
the chair of the forum organizing committee.
Our focus tonight is on the questions of:
1. How much residential growth is expected in Palo Alto over the next several
years and where that growth will occur.
2. Are the current public facilities of Palo Alto – the schools, parks, community
centers, streets, intersections and utilities – sufficient to serve the expected
growth, and if not, how will the impacts be handled.
We hope you've had a chance to look at the maps on the walls showing many
of the proposed projects. We've also provided a packet of information to
supplement this forum.
We, the panel that put this forum together, are not opposed to residential
growth, but we also firmly believe that planning for such growth is critical.
Unplanned growth that is faster than the public infrastructure can handle is
neither good nor inevitable.
We are not here tonight to debate policy or point fingers, but to provide you with
information.
We're here to begin a conversion between the city and the residents about what
we can do to balance growth and services. We all want to retain the
uniqueness of Palo Alto and its neighborhoods.
Therefore our focus tonight is on gathering the facts about our current situation
and the effect growth will have on our service levels. Only then can we move
on to specific actions.
Before I introduce our panelists, I'd like to explain a couple of things.
First, the reason only city officials make up the resource panel is that, quite
simply, they are the one with the facts about how are services are used, be it
water allocation or school enrollment.
Second, we provided the panel with the initial questions we are going to ask
then so they would have adequate time to research and provide accurate
information.
This forum consists of two parts. First, members of PAN will question the city
officials for about 45 minutes. Next we'll ask your questions. To keep the
meeting running smoothly, we ask that you write your question on an index card
and hand it to the person collecting the cards. We'll review the cards to ensure
the same questions aren't being asked repeatedly and then our PAN panel will
ask the questions of the city panel.
So, first let me introduce our panelist from the residents associations:
Betsy Allyn, Green Acres I
Annette Ashton, Midtown Residents Association
Doug Moran, Barron Park
Elaine Meyer, University South
Rich Ellson, Greenmeadow
And from the city of Palo Alto:
Steve Emslie, Director of Planning and Community Environment
Richard James, Director of Community Services
John Ulrich, Director of Utilities
Glenn Roberts, Director of Public Works
Gerry Matranga, CFO PAUSD
Finally, it is our honor and good fortune to have with us Councilwoman LaDoris
Cordell to act as our moderator.