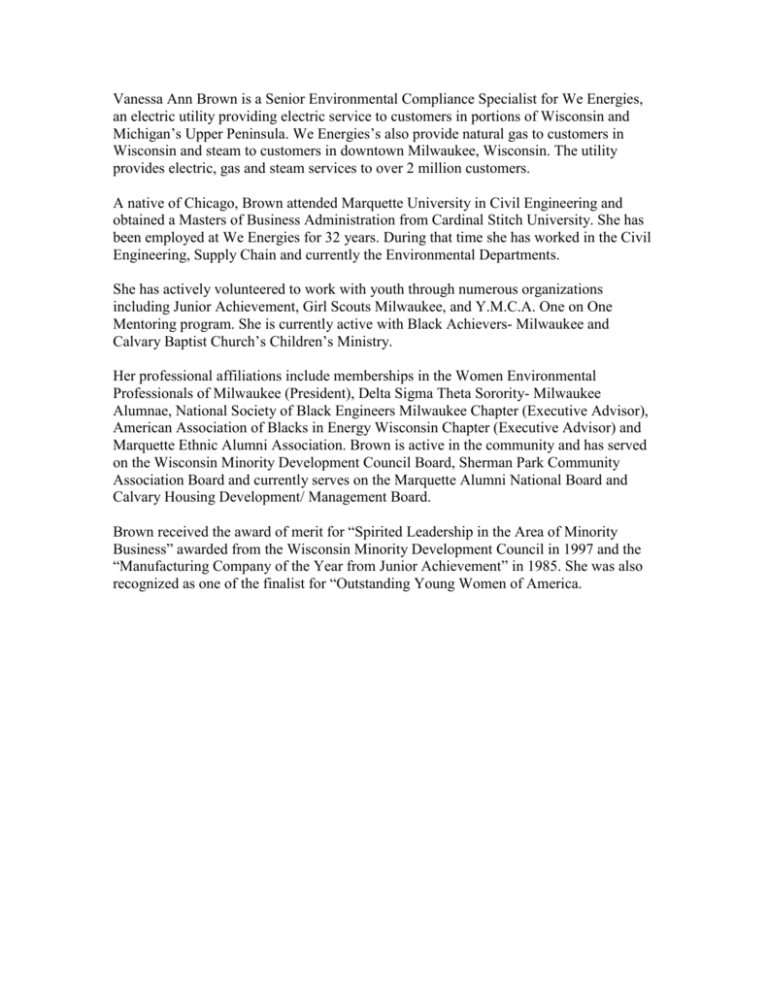 Vanessa Ann Brown is a Senior Environmental Compliance Specialist for We Energies,
an electric utility providing electric service to customers in portions of Wisconsin and
Michigan's Upper Peninsula. We Energies's also provide natural gas to customers in
Wisconsin and steam to customers in downtown Milwaukee, Wisconsin. The utility
provides electric, gas and steam services to over 2 million customers.
A native of Chicago, Brown attended Marquette University in Civil Engineering and
obtained a Masters of Business Administration from Cardinal Stitch University. She has
been employed at We Energies for 32 years. During that time she has worked in the Civil
Engineering, Supply Chain and currently the Environmental Departments.
She has actively volunteered to work with youth through numerous organizations
including Junior Achievement, Girl Scouts Milwaukee, and Y.M.C.A. One on One
Mentoring program. She is currently active with Black Achievers- Milwaukee and
Calvary Baptist Church's Children's Ministry.
Her professional affiliations include memberships in the Women Environmental
Professionals of Milwaukee (President), Delta Sigma Theta Sorority- Milwaukee
Alumnae, National Society of Black Engineers Milwaukee Chapter (Executive Advisor),
American Association of Blacks in Energy Wisconsin Chapter (Executive Advisor) and
Marquette Ethnic Alumni Association. Brown is active in the community and has served
on the Wisconsin Minority Development Council Board, Sherman Park Community
Association Board and currently serves on the Marquette Alumni National Board and
Calvary Housing Development/ Management Board.
Brown received the award of merit for "Spirited Leadership in the Area of Minority
Business" awarded from the Wisconsin Minority Development Council in 1997 and the
"Manufacturing Company of the Year from Junior Achievement" in 1985. She was also
recognized as one of the finalist for "Outstanding Young Women of America.