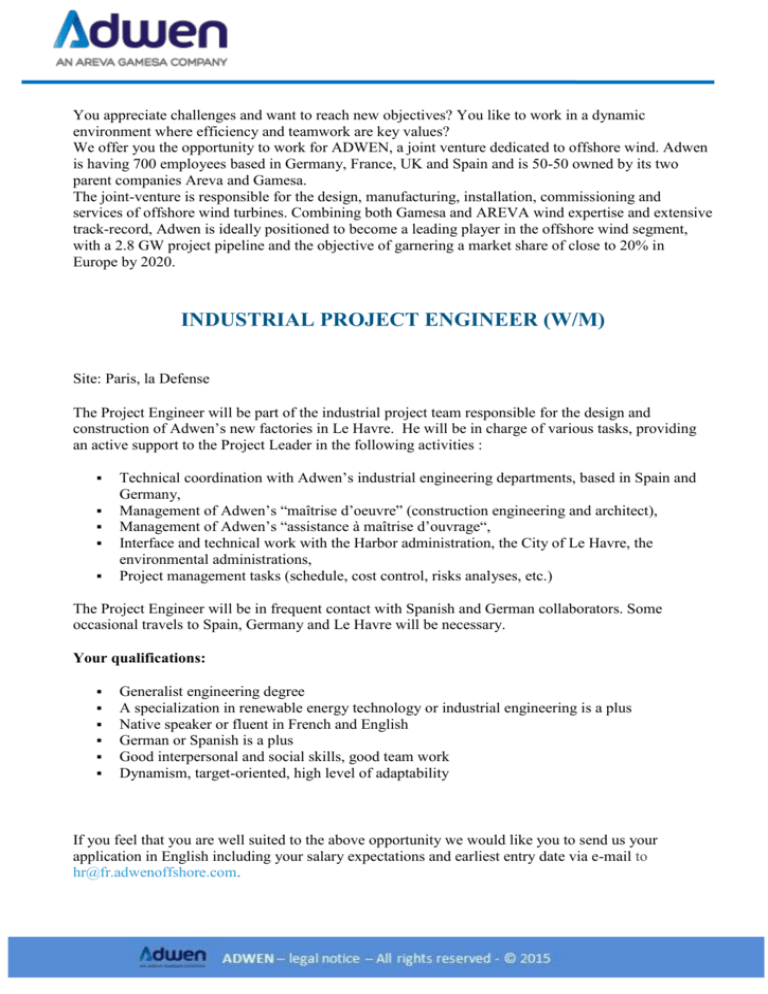 You appreciate challenges and want to reach new objectives? You like to work in a dynamic
environment where efficiency and teamwork are key values?
We offer you the opportunity to work for ADWEN, a joint venture dedicated to offshore wind. Adwen
is having 700 employees based in Germany, France, UK and Spain and is 50-50 owned by its two
parent companies Areva and Gamesa.
The joint-venture is responsible for the design, manufacturing, installation, commissioning and
services of offshore wind turbines. Combining both Gamesa and AREVA wind expertise and extensive
track-record, Adwen is ideally positioned to become a leading player in the offshore wind segment,
with a 2.8 GW project pipeline and the objective of garnering a market share of close to 20% in
Europe by 2020.
INDUSTRIAL PROJECT ENGINEER (W/M)
Site: Paris, la Defense
The Project Engineer will be part of the industrial project team responsible for the design and
construction of Adwen's new factories in Le Havre. He will be in charge of various tasks, providing
an active support to the Project Leader in the following activities :





Technical coordination with Adwen's industrial engineering departments, based in Spain and
Germany,
Management of Adwen's "maîtrise d'oeuvre" (construction engineering and architect),
Management of Adwen's "assistance à maîtrise d'ouvrage",
Interface and technical work with the Harbor administration, the City of Le Havre, the
environmental administrations,
Project management tasks (schedule, cost control, risks analyses, etc.)
The Project Engineer will be in frequent contact with Spanish and German collaborators. Some
occasional travels to Spain, Germany and Le Havre will be necessary.
Your qualifications:






Generalist engineering degree
A specialization in renewable energy technology or industrial engineering is a plus
Native speaker or fluent in French and English
German or Spanish is a plus
Good interpersonal and social skills, good team work
Dynamism, target-oriented, high level of adaptability
If you feel that you are well suited to the above opportunity we would like you to send us your
application in English including your salary expectations and earliest entry date via e-mail to
hr@fr.adwenoffshore.com.