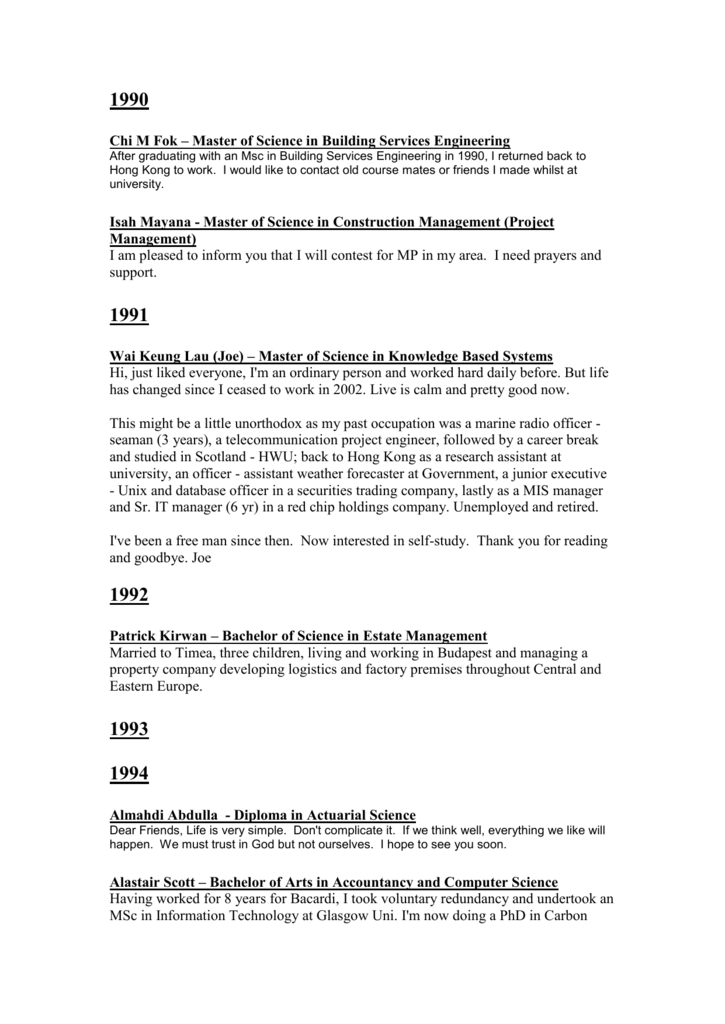 1990
Chi M Fok – Master of Science in Building Services Engineering
After graduating with an Msc in Building Services Engineering in 1990, I returned back to
Hong Kong to work. I would like to contact old course mates or friends I made whilst at
university.
Isah Mayana - Master of Science in Construction Management (Project
Management)
I am pleased to inform you that I will contest for MP in my area. I need prayers and
support.
1991
Wai Keung Lau (Joe) – Master of Science in Knowledge Based Systems
Hi, just liked everyone, I'm an ordinary person and worked hard daily before. But life
has changed since I ceased to work in 2002. Live is calm and pretty good now.
This might be a little unorthodox as my past occupation was a marine radio officer seaman (3 years), a telecommunication project engineer, followed by a career break
and studied in Scotland - HWU; back to Hong Kong as a research assistant at
university, an officer - assistant weather forecaster at Government, a junior executive
- Unix and database officer in a securities trading company, lastly as a MIS manager
and Sr. IT manager (6 yr) in a red chip holdings company. Unemployed and retired.
I've been a free man since then. Now interested in self-study. Thank you for reading
and goodbye. Joe
1992
Patrick Kirwan – Bachelor of Science in Estate Management
Married to Timea, three children, living and working in Budapest and managing a
property company developing logistics and factory premises throughout Central and
Eastern Europe.
1993
1994
Almahdi Abdulla - Diploma in Actuarial Science
Dear Friends, Life is very simple. Don't complicate it. If we think well, everything we like will
happen. We must trust in God but not ourselves. I hope to see you soon.
Alastair Scott – Bachelor of Arts in Accountancy and Computer Science
Having worked for 8 years for Bacardi, I took voluntary redundancy and undertook an
MSc in Information Technology at Glasgow Uni. I'm now doing a PhD in Carbon
Footprint Methodologies (it's accounting, but counting carbon instead of cash) at
Strathclyde. I'm still not sure how I persuaded my wife to let me be a student for
another three years. Married since 1994 to Hazel, with two sons, Iain (8) and
Alexander (3). Trying to learn to play electric guitar, but failing.
1995
Phil Dent – Bachelor of Science in Chemistry
I'd like to hear from my chemistry classmates and others that I knew at HW. My
email is listed on the Alumni directory so feel free to drop me a line.
Ronan Smyth – Bachelor of Science in Combined Studies
Married on 9/9/2006 and had first child, Oilver on 23/10/2007.
Christopher D Stoneley - Bachelor of Science in Combined Studies
Took the family to Scandinavia in the spring to pick up a new car. Able to meet up with HW
graduates . Our dear friends made us feel very welcome.
1996
Karan S Bhopal – Bachelor of Engineering in Mechanical Engineering
I have just returned from working on a £700 Million contract in Bahrain. Still
acting/modelling too.
Austen F Redman - BArch (Architecture) in Architecture **
I have recently contributed to two works of architectural history and I Hope to do further
academic work in the future,
1997
Hayley Hetherington – MA in Languages (Interpreting and Translating)
Enjoying my new carerr as an ESL teacher. Expecting my first Baby in April 2008.
Enjoying Sydney Life.
Cyril Jankoff – Master of Business Administration
I was the Australian and Oceania manager for a division of a listed UK publisher. In
2000 I went to the Philippines for training and met the Philippine manager - and we
had a workplace romance and then we married and we now have two children and
live in Melbourne Australia - a workplace merger! We now both run a training
organisation called Centre for Business Education. If in Australia look us up:
www.centreforbusinesseducation.com. All the best. Cyril
1998
Edward Jost – Master of Business Administration
Relocated to Las Vegas Nevada in 2006. Working with the Department of Leisure
Services Senior Citizen Programs Division as its Manager. This Division is rapidly
becoming known for its innovative programming for active seniors and baby
boomers.
Kirsteen Lynch – Master of Arts in Languages (Interpreting and Translating)
After working for several years as a liaison interpreter over the phone, I now do mainly
translations and precis-writing in the UN system, with a bit of singing too, now and then......
1999
Joanna Coyle – Bachelor of Science in Physics with Environmental Science**
Hello to all Physics graduates of 1999!. My news is that I got married to Paul in
September 2005 and we have had a bouncing baby boy in October 2007. We hope
you are all doing well!