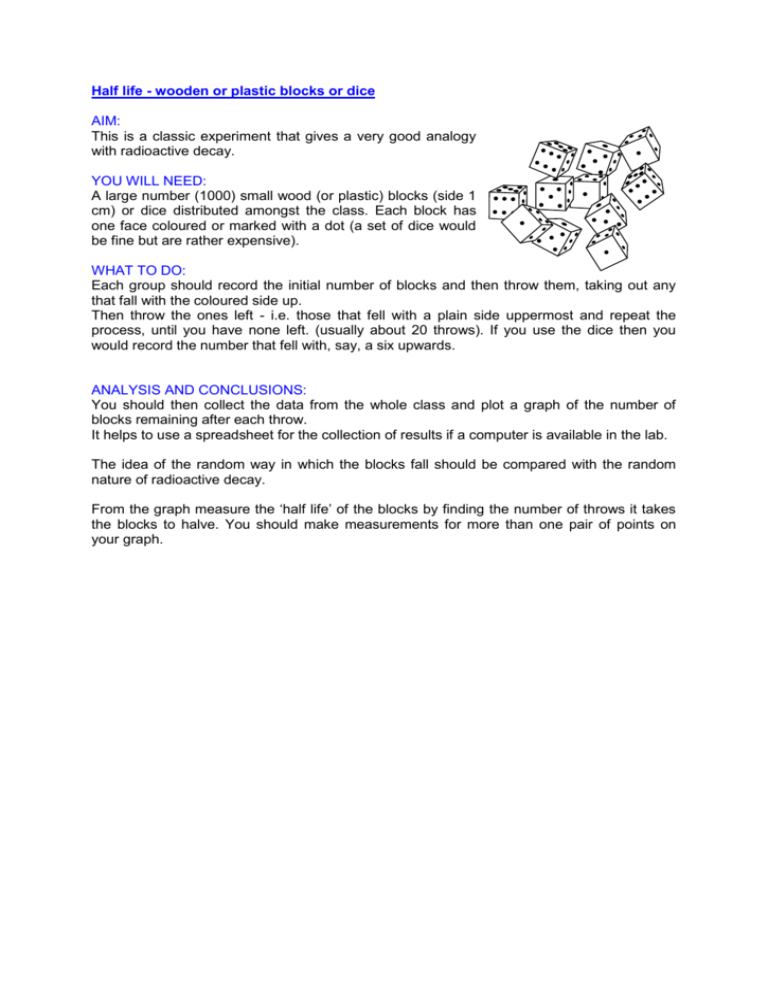 Half life - wooden or plastic blocks or dice
AIM:
This is a classic experiment that gives a very good analogy
with radioactive decay.
YOU WILL NEED:
A large number (1000) small wood (or plastic) blocks (side 1
cm) or dice distributed amongst the class. Each block has
one face coloured or marked with a dot (a set of dice would
be fine but are rather expensive).
WHAT TO DO:
Each group should record the initial number of blocks and then throw them, taking out any
that fall with the coloured side up.
Then throw the ones left - i.e. those that fell with a plain side uppermost and repeat the
process, until you have none left. (usually about 20 throws). If you use the dice then you
would record the number that fell with, say, a six upwards.
ANALYSIS AND CONCLUSIONS:
You should then collect the data from the whole class and plot a graph of the number of
blocks remaining after each throw.
It helps to use a spreadsheet for the collection of results if a computer is available in the lab.
The idea of the random way in which the blocks fall should be compared with the random
nature of radioactive decay.
From the graph measure the 'half life' of the blocks by finding the number of throws it takes
the blocks to halve. You should make measurements for more than one pair of points on
your graph.