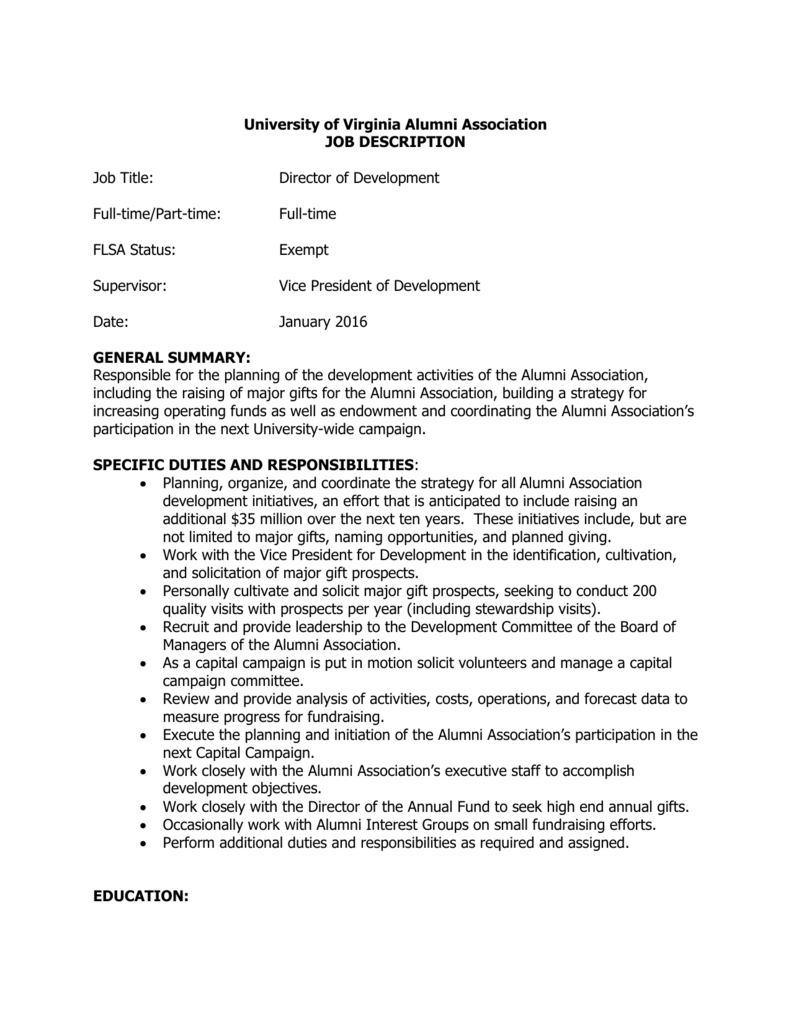 University of Virginia Alumni Association
JOB DESCRIPTION
Job Title:
Director of Development
Full-time/Part-time:
Full-time
FLSA Status:
Exempt
Supervisor:
Vice President of Development
Date:
January 2016
GENERAL SUMMARY:
Responsible for the planning of the development activities of the Alumni Association,
including the raising of major gifts for the Alumni Association, building a strategy for
increasing operating funds as well as endowment and coordinating the Alumni Association's
participation in the next University-wide campaign.
SPECIFIC DUTIES AND RESPONSIBILITIES:
 Planning, organize, and coordinate the strategy for all Alumni Association
development initiatives, an effort that is anticipated to include raising an
additional $35 million over the next ten years. These initiatives include, but are
not limited to major gifts, naming opportunities, and planned giving.
 Work with the Vice President for Development in the identification, cultivation,
and solicitation of major gift prospects.
 Personally cultivate and solicit major gift prospects, seeking to conduct 200
quality visits with prospects per year (including stewardship visits).
 Recruit and provide leadership to the Development Committee of the Board of
Managers of the Alumni Association.
 As a capital campaign is put in motion solicit volunteers and manage a capital
campaign committee.
 Review and provide analysis of activities, costs, operations, and forecast data to
measure progress for fundraising.
 Execute the planning and initiation of the Alumni Association's participation in the
next Capital Campaign.
 Work closely with the Alumni Association's executive staff to accomplish
development objectives.
 Work closely with the Director of the Annual Fund to seek high end annual gifts.
 Occasionally work with Alumni Interest Groups on small fundraising efforts.
 Perform additional duties and responsibilities as required and assigned.
EDUCATION:
Bachelor of Arts degree from a four-year college or university required. Graduate degree or
equivalent professional experience preferred. A knowledge of the University of Virginia is
preferred.
EXPERIENCE:
1. More than five years of successful fund-raising experience including the solicitation of
major gifts. Experience in capital campaign planning preferred. Knowledge of planned
giving preferred.
SKILLS/CERTIFICATIONS:
1. Intermediate proficiency working with personal computers and related
hardware/software.
2. Intermediate proficiency in word processing, spreadsheet, presentation and database
software required.
3. Proficiency utilizing the internet browsers as a resource to identify statistics, trends, and
demographic information required.
4. Proficiency utilizing Elucian's AdvanceWeb is preferred.
SUPERVISION:
The incumbent currently does not have any positions reporting to it.
ABILITIES:

Strong organizational skills.

Exceptional oral and written communication skills as well as entrepreneurial skills.

Exceptional interpersonal skills, including the ability to interact well with donors and
colleagues and to motivate volunteers.

Must be self-directed and rely on experience and judgment to plan and accomplish
goals.
CONTACTS:
1.
Alumni Association Board of Managers
2.
U.Va. Alumni Association President, department managers, and directors
3.
U.Va. Alumni Association staff and Jefferson Trust staff
4.
Alumni Association Emeritus Society members, benefactors, U.Va. alumni, and
parents.
6.
University of Virginia Development community and administrators.
ENVIRONMENTAL/WORKING CONDITIONS:
General fast-paced office environment.
OTHER:
The incumbent is required to travel extensively. Applicants must be able to commit to a
travel regimen of 50% of their normal work schedule.