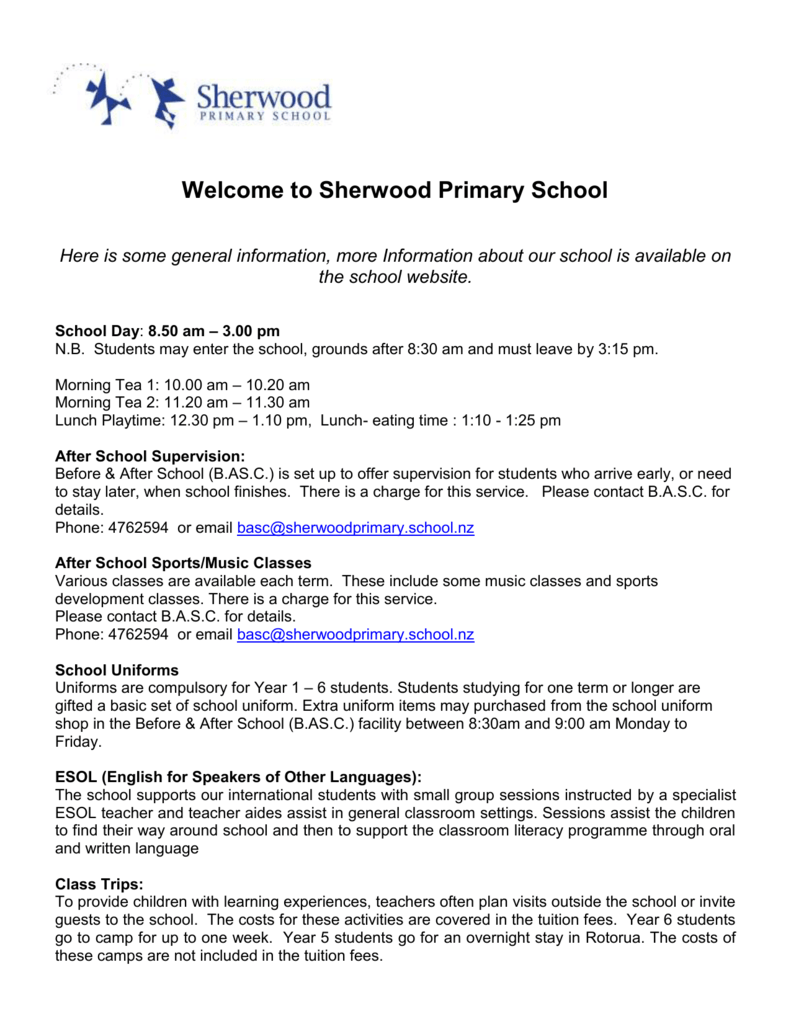 Welcome to Sherwood Primary School
Here is some general information, more Information about our school is available on
the school website.
School Day: 8.50 am – 3.00 pm
N.B. Students may enter the school, grounds after 8:30 am and must leave by 3:15 pm.
Morning Tea 1: 10.00 am – 10.20 am
Morning Tea 2: 11.20 am – 11.30 am
Lunch Playtime: 12.30 pm – 1.10 pm, Lunch- eating time : 1:10 - 1:25 pm
After School Supervision:
Before & After School (B.AS.C.) is set up to offer supervision for students who arrive early, or need
to stay later, when school finishes. There is a charge for this service. Please contact B.A.S.C. for
details.
Phone: 4762594 or email [email protected]
After School Sports/Music Classes
Various classes are available each term. These include some music classes and sports
development classes. There is a charge for this service.
Please contact B.A.S.C. for details.
Phone: 4762594 or email [email protected]
School Uniforms
Uniforms are compulsory for Year 1 – 6 students. Students studying for one term or longer are
gifted a basic set of school uniform. Extra uniform items may purchased from the school uniform
shop in the Before & After School (B.AS.C.) facility between 8:30am and 9:00 am Monday to
Friday.
ESOL (English for Speakers of Other Languages):
The school supports our international students with small group sessions instructed by a specialist
ESOL teacher and teacher aides assist in general classroom settings. Sessions assist the children
to find their way around school and then to support the classroom literacy programme through oral
and written language
Class Trips:
To provide children with learning experiences, teachers often plan visits outside the school or invite
guests to the school. The costs for these activities are covered in the tuition fees. Year 6 students
go to camp for up to one week. Year 5 students go for an overnight stay in Rotorua. The costs of
these camps are not included in the tuition fees.
Homework:
Students are usually set homework on a weekly basis. Details are available on the class wiki
(website) or from the class teacher.
Lunches:
Most students bring a packed lunch. We ask that this does not include lollies/sweets.
EZ lunch also provides a service, delivering lunches to school daily. Orders can be made at
www.ezlunch.co.nz.
Additionally lunches can be ordered through the school on Fridays.
Stationery:
Basic stationery requirements for tuition at Sherwood School are covered in the International
Student Fee. Stationery requisites will be given to the student on the first day at Sherwood Primary
School. Additional items such as pencil are provided by the parents.
Voluntary Helpers:
Parents/caregivers are always welcome to assist with a range of tasks at school. You can help by
working at school, in the library and lunchroom, or by taking work home. The school has a thriving
Parent Teacher Association where new members are welcome to attend monthly meetings.
Communication:
Communication is of vital importance in developing this partnership. We have a variety of ways of
communicating with one another. Should you wish to see your child's teacher about a matter
relating to school, please arrange for an appointment by either writing a note to the teacher,
emailing or contacting the school office to leave a message for the teacher. Please do not hesitate
to ask any questions.
If you need an interpreter please contact the office and we will try and help you find someone.
Reports:
o "Meet the Teacher' class introduction in February
o Parent/Teacher interviews in Term One or Two, to discuss progress.
o Portfolios with a range of reports are sent home at the end of each term.
o Written reports twice a year (timing depends on the age of the student – you will be
informed of the details)
o A student led sharing session in Term Three.