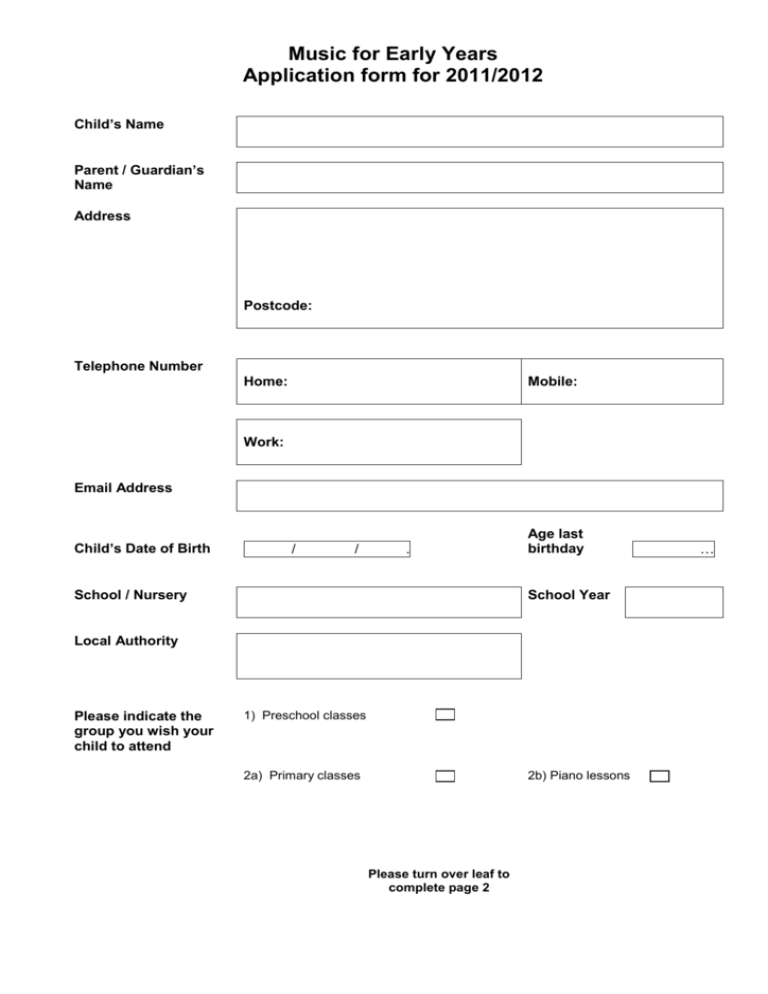 Music for Early Years
Application form for 2011/2012
Child's Name
Parent / Guardian's
Name
Address
Postcode:
Telephone Number
Home:
Mobile:
Work:
Email Address
Child's Date of Birth
/
/
.
School / Nursery
Age last
birthday
School Year
Local Authority
Please indicate the
group you wish your
child to attend
1) Preschool classes
2a) Primary classes
2b) Piano lessons
Please turn over leaf to
complete page 2
…
If your child plays any musical instruments, please state, including length of time played.
.
Please give details of any special needs arising from a disability, medical condition, or specific
learning disability that might necessitate further arrangements or facilities if offered a place.
Have you enclosed your £10 registration fee?
(please tick)
Signature of Parent/Guardian
Print Name
.....................................................................………
Date
Signature
...........................................................................
........./........./...........
Please returned to:
Administrator
The Royal Conservatoire of Scotland
Music for Early Years Course
100 Renfrew Street
Glasgow
G2 3DB
Further Information:
T: 0141 2708247
W: www.rcs.ac.uk
Application Form Guidelines and Course Notes
Music for Early Years
These classes are aimed at children from pre 1 year old to 7 years old.
Deadlines
If you wish you child to return for session 11/12 please ensure that your re-enrolment form is returned
no later than 30 August 2011.
Fees
Fees can be paid in advance of the term by cheque (made payable to the RSAMD) and also on the
first day of term (cash or cheque). All new applicants should submit a £10 registration fee.
Piano Lessons
Piano lessons are available to school aged children and must be taken in conjunction with the Early
Years musicianship course.
There is limited availability for the 30 minute individual piano lessons and some requests may have to
be put on our waiting list.
Junior Conservatoire of Music (Pre Juniors)
If this is your child's last year in the music for Early Years programme they may wish to consider
joining the Junior Conservatoire pre junior course.
The Junior Conservatoire offers classes for children between the ages of 7 and 11 years old who
have only recently started to play or are beginners. The children will have 30 minute lesson, a 30
minute theory, singing and musicianship class and a 30 minute rhythm based group activity. A
subsidiary study and ensemble work will be available if appropriate.
Most of the lessons for this preparatory course will take place in the late morning and early afternoon
each Saturday during term time. This course is only available for children up to the age of 11years
old.
The open day for the Junior Conservatoire will take place on Saturday 12 November 2011 and
prospective students and parents are welcome to attend. Tickets can be booked online via our
website or collected on the day (registration takes place at 10am).
A Family Concert will be held on that will give children and their parents/guardians an opportunity to
find out more about this special course for younger children
Application forms will be available at the open day or on our website. The closing date for our intake
in September 2012 will be the first week in December 2011.
All applicants will be auditioned by the Head of the Junior Conservatoire or his representative
together with an instrumental specialist. Children who are beginners will have a short interview that
will explore through their aural work, their musical potential and suitability for the proposed
instrumental study.
Those who have already started to play will have a short audition that will include; a performance of
two pieces, scales & arpeggios or broken chords in principal study (if known), sight reading and aural
tests.