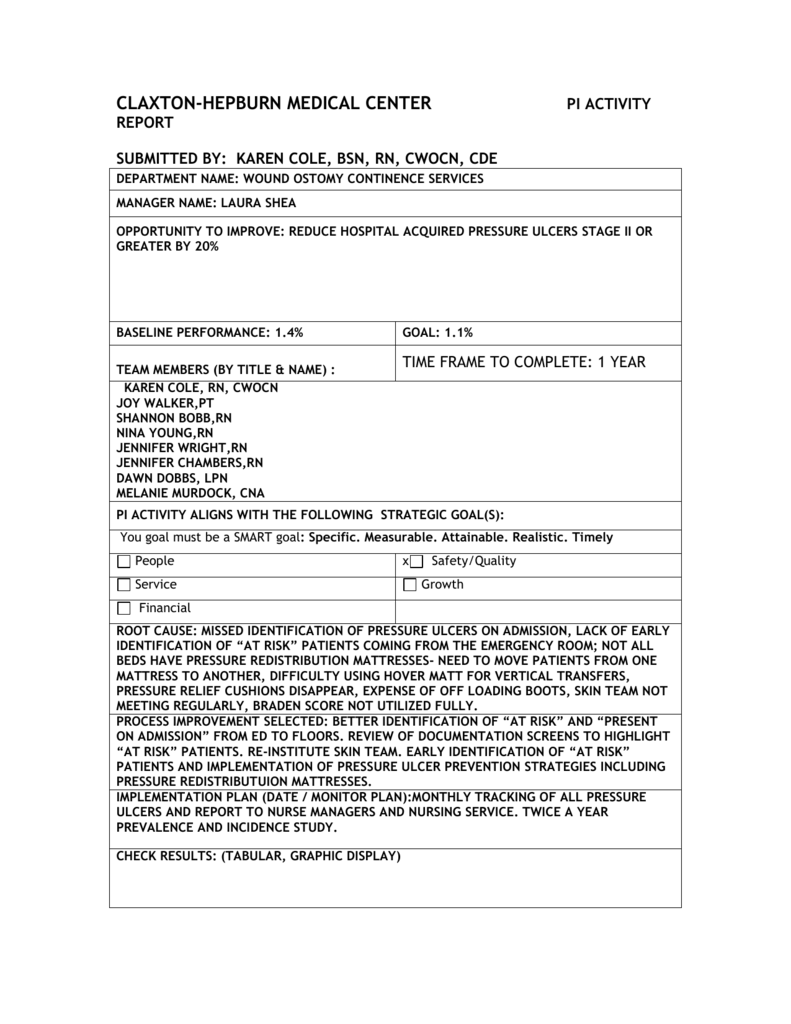 CLAXTON-HEPBURN MEDICAL CENTER
PI ACTIVITY
REPORT
SUBMITTED BY: KAREN COLE, BSN, RN, CWOCN, CDE
DEPARTMENT NAME: WOUND OSTOMY CONTINENCE SERVICES
MANAGER NAME: LAURA SHEA
OPPORTUNITY TO IMPROVE: REDUCE HOSPITAL ACQUIRED PRESSURE ULCERS STAGE II OR
GREATER BY 20%
BASELINE PERFORMANCE: 1.4%
TEAM MEMBERS (BY TITLE & NAME) :
KAREN COLE, RN, CWOCN
JOY WALKER,PT
SHANNON BOBB,RN
NINA YOUNG,RN
JENNIFER WRIGHT,RN
JENNIFER CHAMBERS,RN
DAWN DOBBS, LPN
MELANIE MURDOCK, CNA
GOAL: 1.1%
TIME FRAME TO COMPLETE: 1 YEAR
PI ACTIVITY ALIGNS WITH THE FOLLOWING STRATEGIC GOAL(S):
You goal must be a SMART goal: Specific. Measurable. Attainable. Realistic. Timely
People
Service
x
Safety/Quality
Growth
Financial
ROOT CAUSE: MISSED IDENTIFICATION OF PRESSURE ULCERS ON ADMISSION, LACK OF EARLY
IDENTIFICATION OF "AT RISK" PATIENTS COMING FROM THE EMERGENCY ROOM; NOT ALL
BEDS HAVE PRESSURE REDISTRIBUTION MATTRESSES- NEED TO MOVE PATIENTS FROM ONE
MATTRESS TO ANOTHER, DIFFICULTY USING HOVER MATT FOR VERTICAL TRANSFERS,
PRESSURE RELIEF CUSHIONS DISAPPEAR, EXPENSE OF OFF LOADING BOOTS, SKIN TEAM NOT
MEETING REGULARLY, BRADEN SCORE NOT UTILIZED FULLY.
PROCESS IMPROVEMENT SELECTED: BETTER IDENTIFICATION OF "AT RISK" AND "PRESENT
ON ADMISSION" FROM ED TO FLOORS. REVIEW OF DOCUMENTATION SCREENS TO HIGHLIGHT
"AT RISK" PATIENTS. RE-INSTITUTE SKIN TEAM. EARLY IDENTIFICATION OF "AT RISK"
PATIENTS AND IMPLEMENTATION OF PRESSURE ULCER PREVENTION STRATEGIES INCLUDING
PRESSURE REDISTRIBUTUION MATTRESSES.
IMPLEMENTATION PLAN (DATE / MONITOR PLAN):MONTHLY TRACKING OF ALL PRESSURE
ULCERS AND REPORT TO NURSE MANAGERS AND NURSING SERVICE. TWICE A YEAR
PREVALENCE AND INCIDENCE STUDY.
CHECK RESULTS: (TABULAR, GRAPHIC DISPLAY)
2012 Hospital Acquired Pressure ULcers
Number of patients
25
20
15
hospital acquired
10
pressure ulcers
5
0
stage II
stage IV
DTI
Pressure Ulcer Stage
IMPROVEMENT?
Incidence rate for pressure ulcers stage II or greater in 2012 was 1.6%
Incidence rate for pressure ulcers stage III or greater was 0.5%
NEXT STEPS Steps taken in 2012- change over to all pressure redistribution mattresses and
additions to hover matts, setting up storage rooms at each end of med/surg for storage and
education on the hovermatts came in the 4th quarter.
Incidence for October, November and December of hospital acquired pressure ulcers stage
II and greater was 0.8% and 0.3% for stage III and greater.
Steps to be taken in 2013- continue to work with skin team to identify areas of need. Two
members are putting together a poster education board on dressing types and in April
pressure ulcer treatment will be included as one of their monthly competencies. Reports to
nurse managers, nursing administration and PI will continue monthly. Prevalence study will
be completed on all units in March.