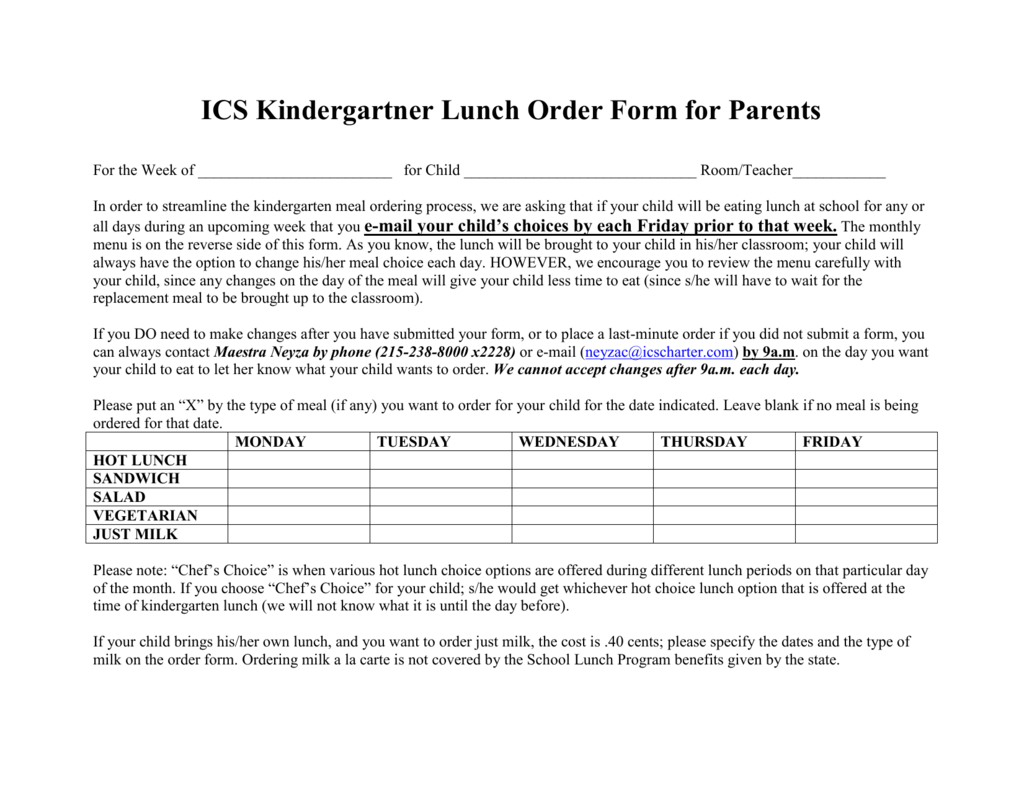 ICS Kindergartner Lunch Order Form for Parents
For the Week of _________________________ for Child ______________________________ Room/Teacher____________
In order to streamline the kindergarten meal ordering process, we are asking that if your child will be eating lunch at school for any or
all days during an upcoming week that you e-mail your child's choices by each Friday prior to that week. The monthly
menu is on the reverse side of this form. As you know, the lunch will be brought to your child in his/her classroom; your child will
always have the option to change his/her meal choice each day. HOWEVER, we encourage you to review the menu carefully with
your child, since any changes on the day of the meal will give your child less time to eat (since s/he will have to wait for the
replacement meal to be brought up to the classroom).
If you DO need to make changes after you have submitted your form, or to place a last-minute order if you did not submit a form, you
can always contact Maestra Neyza by phone (215-238-8000 x2228) or e-mail ([email protected]) by 9a.m. on the day you want
your child to eat to let her know what your child wants to order. We cannot accept changes after 9a.m. each day.
Please put an "X" by the type of meal (if any) you want to order for your child for the date indicated. Leave blank if no meal is being
ordered for that date.
MONDAY
TUESDAY
WEDNESDAY
THURSDAY
FRIDAY
HOT LUNCH
SANDWICH
SALAD
VEGETARIAN
JUST MILK
Please note: "Chef's Choice" is when various hot lunch choice options are offered during different lunch periods on that particular day
of the month. If you choose "Chef's Choice" for your child; s/he would get whichever hot choice lunch option that is offered at the
time of kindergarten lunch (we will not know what it is until the day before).
If your child brings his/her own lunch, and you want to order just milk, the cost is .40 cents; please specify the dates and the type of
milk on the order form. Ordering milk a la carte is not covered by the School Lunch Program benefits given by the state.