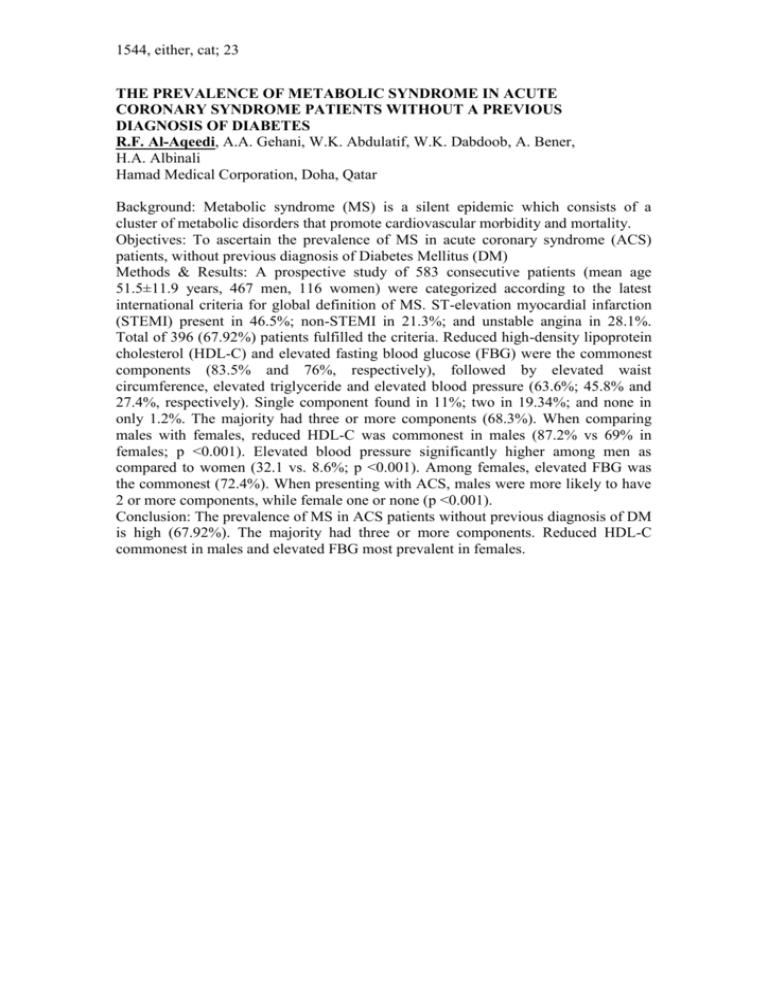 1544, either, cat; 23
THE PREVALENCE OF METABOLIC SYNDROME IN ACUTE
CORONARY SYNDROME PATIENTS WITHOUT A PREVIOUS
DIAGNOSIS OF DIABETES
R.F. Al-Aqeedi, A.A. Gehani, W.K. Abdulatif, W.K. Dabdoob, A. Bener,
H.A. Albinali
Hamad Medical Corporation, Doha, Qatar
Background: Metabolic syndrome (MS) is a silent epidemic which consists of a
cluster of metabolic disorders that promote cardiovascular morbidity and mortality.
Objectives: To ascertain the prevalence of MS in acute coronary syndrome (ACS)
patients, without previous diagnosis of Diabetes Mellitus (DM)
Methods & Results: A prospective study of 583 consecutive patients (mean age
51.5±11.9 years, 467 men, 116 women) were categorized according to the latest
international criteria for global definition of MS. ST-elevation myocardial infarction
(STEMI) present in 46.5%; non-STEMI in 21.3%; and unstable angina in 28.1%.
Total of 396 (67.92%) patients fulfilled the criteria. Reduced high-density lipoprotein
cholesterol (HDL-C) and elevated fasting blood glucose (FBG) were the commonest
components (83.5% and 76%, respectively), followed by elevated waist
circumference, elevated triglyceride and elevated blood pressure (63.6%; 45.8% and
27.4%, respectively). Single component found in 11%; two in 19.34%; and none in
only 1.2%. The majority had three or more components (68.3%). When comparing
males with females, reduced HDL-C was commonest in males (87.2% vs 69% in
females; p <0.001). Elevated blood pressure significantly higher among men as
compared to women (32.1 vs. 8.6%; p <0.001). Among females, elevated FBG was
the commonest (72.4%). When presenting with ACS, males were more likely to have
2 or more components, while female one or none (p <0.001).
Conclusion: The prevalence of MS in ACS patients without previous diagnosis of DM
is high (67.92%). The majority had three or more components. Reduced HDL-C
commonest in males and elevated FBG most prevalent in females.