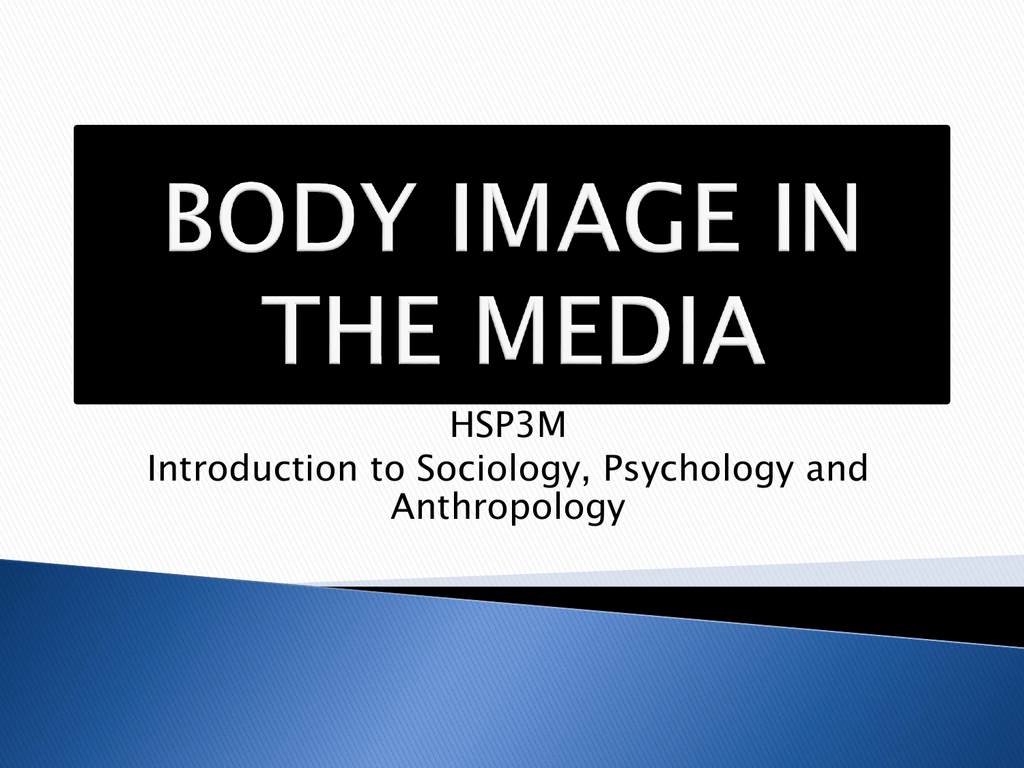 HSP3M
Introduction to Sociology, Psychology and
Anthropology



Social Comparison Theory: People will [at some
point in their lives] compare themselves and
significant others to people and images whom
they perceive to represent realistic goals to attain
(Botta, 1999).
We look to the media to define, shape and
explain the world around us (Bereska, 2004).
Many people internalize the ideals promoted in
the mass media and judge themselves
by these unattainable standards (Bereska, 2004).
" The ability to sift through and analyze the
messages that inform, entertain and sell to us
everyday. It is the ability to bring critical
thinking skills to bear on all media... it's the
instinct to question what lies behind media
productions— the motives, the money, the
values and the ownership— and to be aware
of how these factors influence content."


(http://www.media-awareness.ca/english/teachers/media_literacy/what_is_media_literacy.cfm)

www.people.com/people/tyra_banks
Explain whether or not it is realistic to
compare oneself to the images
portrayed in the media?
www.abercrombie.ca

To what extent could one argue that
media images portraying unrealistic
body images influence young people?




Males face a comparable
amount of pressure to
females when it comes to
body image in the media.
Focus less on weight and
more on masculinity
Males face pressures to be
LARGER and more MUSCULAR
without becoming fatter
(Bereska, 2004).
The average male model has
shed 12 lbs of fat and gained
25 lbs of muscle in the past
25 yrs.
http://www.snac.ucla.edu/pages/Body_Image/Body_Image.htm
http://i.models.com/model_culture/50topmalemodel
s/images/oliver.jpg
http://i186.photobucket.com/albums/x169/100malemodels/calv
inkleinman-garrettneff.jpg



The presence of THIN
male models has been
on the rise.
A wide range of body
sizes are more
acceptable for males
compared to females.
HOWEVER, there are
social consequences
for being overweight
for both males and
females.
(Bereska, 2004).
What can be identified as being some of the
social consequences that both males and
females suffer as a result of not living up to
the ideal body image presented in the media?

http://www.bwgreyscale.com/ads/guess.html


Portrayals of females in all forms of
media have become THINNER over the
last several decades (Bereska, 2004)
25 yrs ago the average model weighed
8% less than the average North
American Woman; Currently the
average female model weighs 23%
below her average weight.
(http://www.snac.ucla.edu/pages/Body_Image/Body_Image.htm).

The gap between women in the media
and the average women in society as
grown and will continue to grow
(Bereska, 2004).
http://55secretstreet.typepad.com/.shared/image.ht
ml?/photos/uncategorized/2007/09/12/hfredriksson
5.jpg
Average Female Model:
 5 Feet 9 Inches
 123 lbs
 Sixe 6-8
 Dangerously low body fat
Average North American
Woman:
 5 Feet 4 Inches
 144 lbs
 Size 12
http://thesituationist.wordpress.com/2008/09/02/
the-situation-of-body-image/
50 % OF FEMALES AND 35% OF MALES REPORT DISSATISFACTION
WITH THEIR BODY IMAGE.
(Bain, 2001)

What are some of the dangers that one could predict as
occurring as a result of the media portraying body image
ideals that are becoming increasingly thin for females and
extremely muscular for males?
http://femininebeauty.info/images
/skinny.models.jpg
www.abercrombie.ca
http://www.flickr.com/photos/[email protected]/37101
38648/
http://www.menshealth.com/cda/homepage.do
http://www.bwgreys
cale.com/ads/ralph_l
auren

http://www.abercrombie.ca/webapp/wcs/stores/servlet/division_11306_10901_12202_-1
How might body image in the media
affect males and females differently?