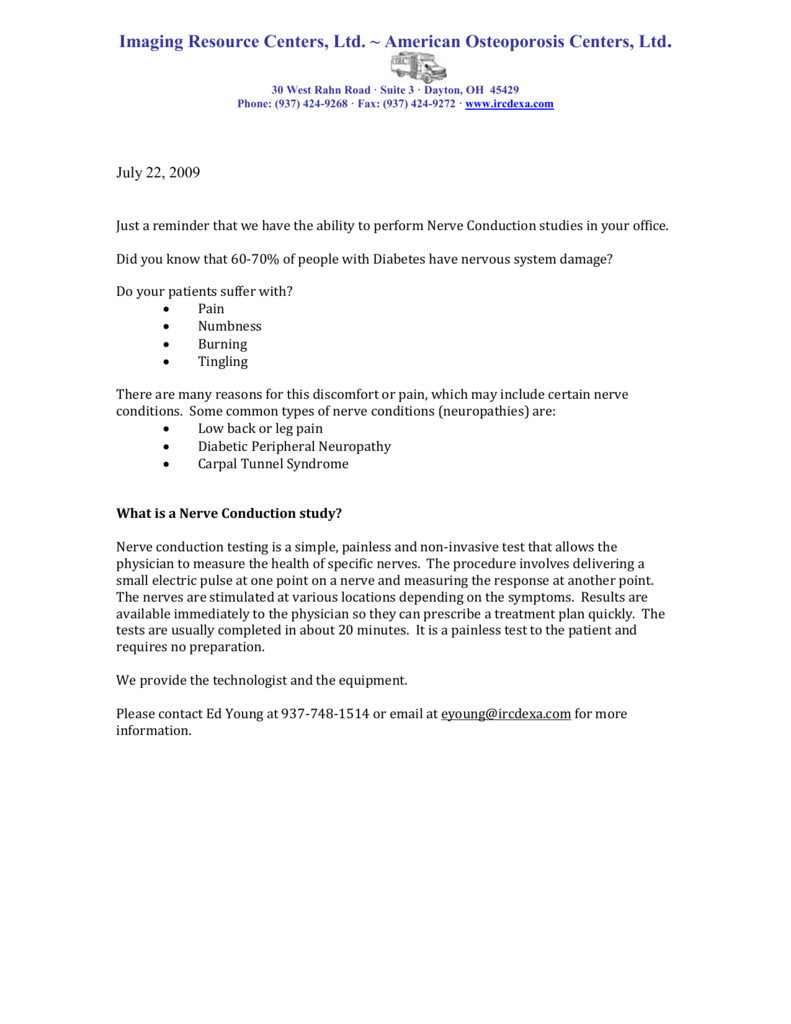 Imaging Resource Centers, Ltd. ~ American Osteoporosis Centers, Ltd.
30 West Rahn Road · Suite 3 · Dayton, OH 45429
Phone: (937) 424-9268 · Fax: (937) 424-9272 · www.ircdexa.com
July 22, 2009
Just a reminder that we have the ability to perform Nerve Conduction studies in your office.
Did you know that 60-70% of people with Diabetes have nervous system damage?
Do your patients suffer with?

Pain

Numbness

Burning

Tingling
There are many reasons for this discomfort or pain, which may include certain nerve
conditions. Some common types of nerve conditions (neuropathies) are:

Low back or leg pain

Diabetic Peripheral Neuropathy

Carpal Tunnel Syndrome
What is a Nerve Conduction study?
Nerve conduction testing is a simple, painless and non-invasive test that allows the
physician to measure the health of specific nerves. The procedure involves delivering a
small electric pulse at one point on a nerve and measuring the response at another point.
The nerves are stimulated at various locations depending on the symptoms. Results are
available immediately to the physician so they can prescribe a treatment plan quickly. The
tests are usually completed in about 20 minutes. It is a painless test to the patient and
requires no preparation.
We provide the technologist and the equipment.
Please contact Ed Young at 937-748-1514 or email at [email protected] for more
information.