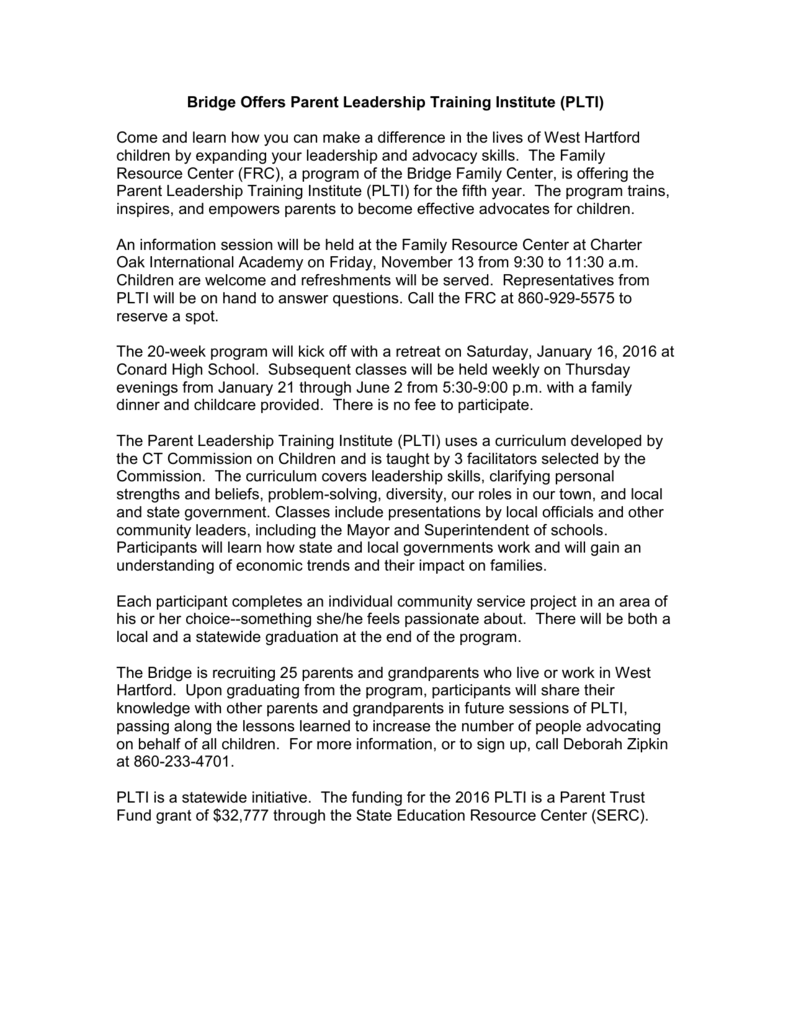 Bridge Offers Parent Leadership Training Institute (PLTI)
Come and learn how you can make a difference in the lives of West Hartford
children by expanding your leadership and advocacy skills. The Family
Resource Center (FRC), a program of the Bridge Family Center, is offering the
Parent Leadership Training Institute (PLTI) for the fifth year. The program trains,
inspires, and empowers parents to become effective advocates for children.
An information session will be held at the Family Resource Center at Charter
Oak International Academy on Friday, November 13 from 9:30 to 11:30 a.m.
Children are welcome and refreshments will be served. Representatives from
PLTI will be on hand to answer questions. Call the FRC at 860-929-5575 to
reserve a spot.
The 20-week program will kick off with a retreat on Saturday, January 16, 2016 at
Conard High School. Subsequent classes will be held weekly on Thursday
evenings from January 21 through June 2 from 5:30-9:00 p.m. with a family
dinner and childcare provided. There is no fee to participate.
The Parent Leadership Training Institute (PLTI) uses a curriculum developed by
the CT Commission on Children and is taught by 3 facilitators selected by the
Commission. The curriculum covers leadership skills, clarifying personal
strengths and beliefs, problem-solving, diversity, our roles in our town, and local
and state government. Classes include presentations by local officials and other
community leaders, including the Mayor and Superintendent of schools.
Participants will learn how state and local governments work and will gain an
understanding of economic trends and their impact on families.
Each participant completes an individual community service project in an area of
his or her choice--something she/he feels passionate about. There will be both a
local and a statewide graduation at the end of the program.
The Bridge is recruiting 25 parents and grandparents who live or work in West
Hartford. Upon graduating from the program, participants will share their
knowledge with other parents and grandparents in future sessions of PLTI,
passing along the lessons learned to increase the number of people advocating
on behalf of all children. For more information, or to sign up, call Deborah Zipkin
at 860-233-4701.
PLTI is a statewide initiative. The funding for the 2016 PLTI is a Parent Trust
Fund grant of $32,777 through the State Education Resource Center (SERC).