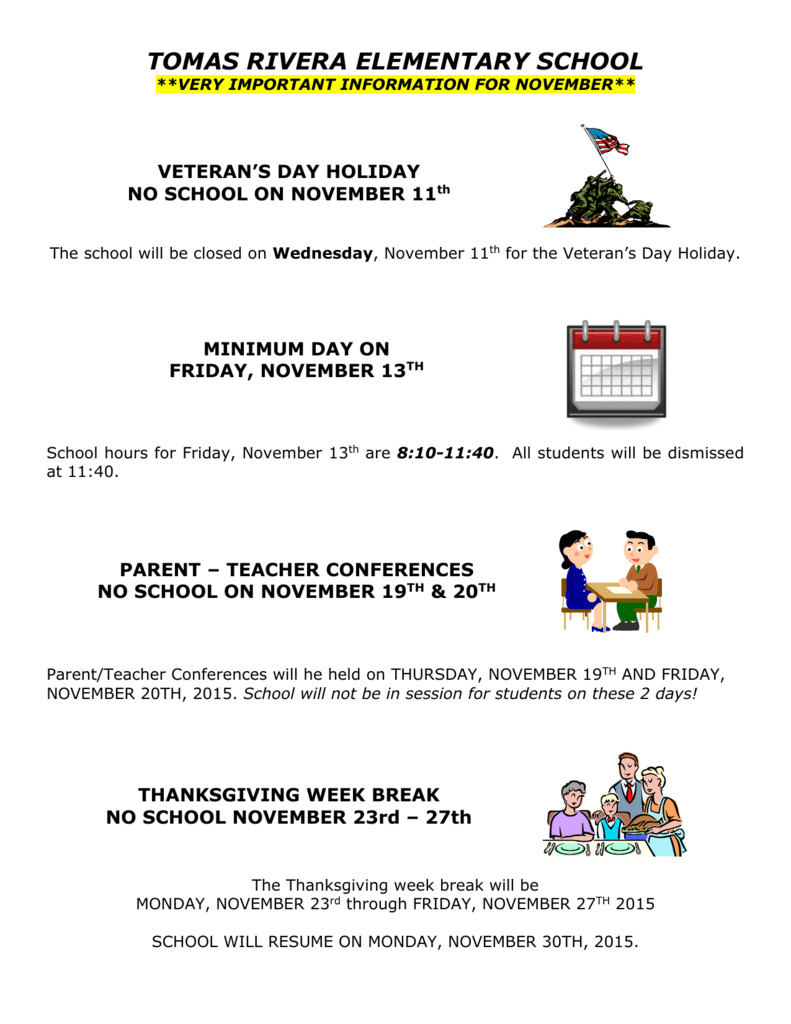 TOMAS RIVERA ELEMENTARY SCHOOL
**VERY IMPORTANT INFORMATION FOR NOVEMBER**
VETERAN'S DAY HOLIDAY
NO SCHOOL ON NOVEMBER 11th
The school will be closed on Wednesday, November 11th for the Veteran's Day Holiday.
MINIMUM DAY ON
FRIDAY, NOVEMBER 13TH
School hours for Friday, November 13th are 8:10-11:40. All students will be dismissed
at 11:40.
PARENT – TEACHER CONFERENCES
NO SCHOOL ON NOVEMBER 19TH & 20TH
Parent/Teacher Conferences will he held on THURSDAY, NOVEMBER 19TH AND FRIDAY,
NOVEMBER 20TH, 2015. School will not be in session for students on these 2 days!
THANKSGIVING WEEK BREAK
NO SCHOOL NOVEMBER 23rd – 27th
The Thanksgiving week break will be
MONDAY, NOVEMBER 23rd through FRIDAY, NOVEMBER 27TH 2015
SCHOOL WILL RESUME ON MONDAY, NOVEMBER 30TH, 2015.