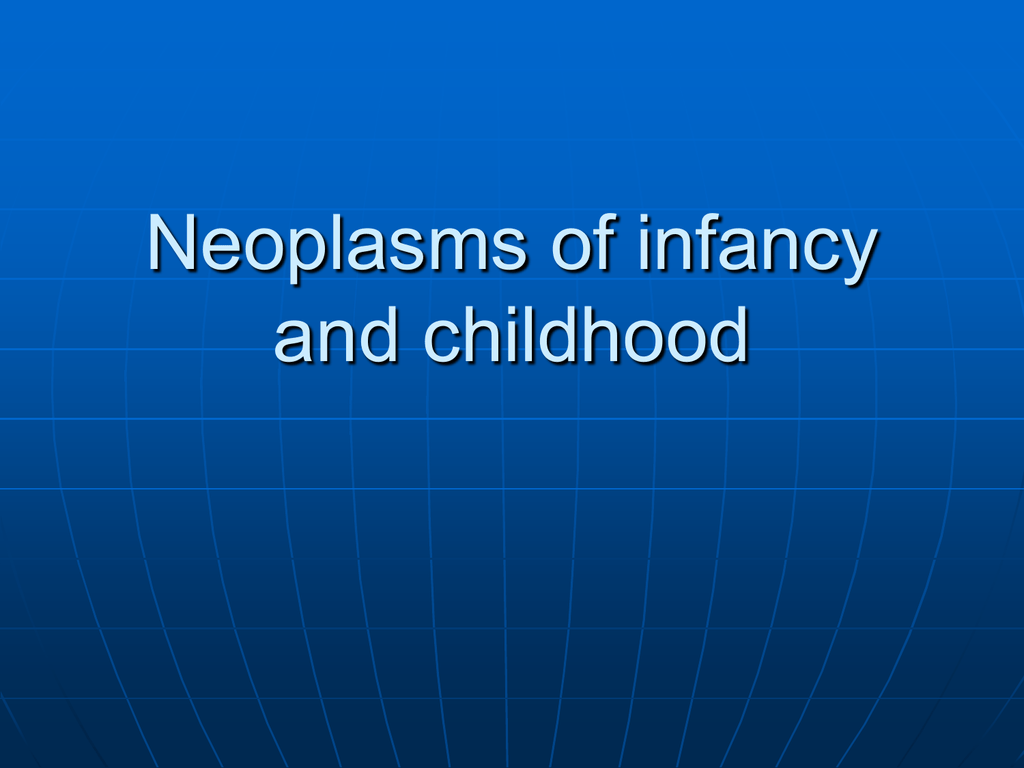 Neoplasms of infancy
and childhood
Neoplasms of infancy and
childhood



Benign>malignant
Incidence of malignancy:1-15 yrs 1.3 /10,000 /year but leading
cause of death after accidents in
the West. (developing countries??)
Most malignant tumours in
children arise from
hematopoietic,nervous and soft
tissues (adults –epithelial)
Difference between adult & Paed
tumours




Association between abnormal
development (teratogenesis) &
tumour induction.
Prevalence of constitutional genetic
abnormalities or syndromes that
predispose to cancer
Tendency of malignancy to undergo
differentiation
Improved survival
Benign tumours




Hemangiomas "port wine stain"
Lymphangiomas (cystic hygroma)
Sacrococcygeal teratoma
Naevi
Sacrococcygeal teratomas






Germ cell neoplasm
1:40,000 live births
Mass in the sacrum and buttocks
Composed of elements of > 1 germ
cell layer.mixture of elements.
Neural origin determines the
behaviour
< 2 months-benign.
Small,round, blue cell tumours



Primitive appearance (not anaplastic
or pleomorphic)
Sheets of small,round,blue cells
(with dark nuclei,scant
cytoplasm,indistinct borders.)
May show features of organogenesis
specific to the tissue of origin.
Neuroblastoma







Embryonal malignant tumour
Neural crest origin
Neoplastic neuroblasts
Site: adrenal medulla
&sympathetic ganglia
7-10% of solid paediatric
malignancies.
Sporadic occurance.
Rarely familial (bilateral,multifocal)
Pathology of neuroblastoma
Site :Paravertebral, Posterior
mediastinum, abdomen ,Adrenal 1/3
Gross appearance:
Nodular, of varying size
May be encapsulated or infiltrative
Cut section: grey-tan, soft and friable
Varigated,necrosis,hemorrhage,
calcificaton,cystic change
Gross appearence of
Neuroblastoma.
Microscopy of neuroblastoma
Sheets of small,round,blue cells with
dark nuclei,scant cytoplasm,indistinct
borders.
Mitosis++, Karyorrhectic debris +
Pleomorphism +/Homer-Wright rosettes, Neuropil.
Maturation: Schwann cell, stroma
&ganglion cell differentiation
Microscopy of neuroblastoma
Clinical features





Abdominal mass, fever
Blueberry muffin
Wide metastasis
Secrete catecholamines
Vanillylmandelic acid
(VMA)/Homovanillic acid (HVA)
screening.
Prognosis





Stage
spread to regional lymph
nodes,liver,lungs,bones etc
Age :< 1 yr.
Morphology –gangliocytic
differentiation better
MYCN (N myc) gene amplificationworse
Retinoblastoma






Malignant tumour of the eye in childhood
Neuroepithelial origin –posterior retina
Familial,- 60-70%, associated with germ
line mutation, heritable.
Sporadic:30-40%,somatic gene mutation.
Associated with Rb 1 gene
Secondary malignancy –osteosarcoma
RB gene






RB gene is on chromosome 13
RB gene function is the most critical
checkpoint in the cell cycle and allows
the cell to enter from
G1 to S
Tumour supressor gene
If both RB genes are abnormal i.e.
mutated or have a missing allele, it
permits unregulated cell proliferation.
Knudson's two-hit hypothesis
People with RB mutations are
susceptibe to malignancies especially
osteosarcoma
Morphology of retinoblastoma
Morphology of retinoblastoma



Gross: occular masses.
Microscopy: Sheets of
small,round,blue cells with dark
nuclei,scant cytoplasm,indistinct
borders
Flexner-Wintersteiner rosettes.
Behaviour




Spread through optic nerve or to
subarachnoid space to CNS, bone,
lymph nodes.
Cure with treatment
Spontaneous cure
Second malignancy
Wilms' tumour (Nephroblastoma)







Malignant neoplasm of embryonal
nephrogenic elements
Composed of embryonal elements
Prevalence :1:10,000
2-5 yrs
Good prognosis
Associated with congenital
malformations
Tumour resembles developing
kidney
Associated syndromes



WAGR –Wilms tumour, Aniridia,
Genitourinary anomalies,mental
Retardation
WT 1 gene
Denys-Drash syndrome: Wilms
tumour,intersexual
disorders,glomerulopathy. WT1
gene
Beckwith –Wiedemann
syndrome(BWS) :Wilms tumour,
overgrowth,
visceromegaly,macroglossia. WT2
Cut surface :bulging,pale tan
Histopathology of Wilms tumour




Components of
Wilms tumour
(triphasic)
Blastema
Immature
epithelial- abortive
tubules ,glomeruli
Immature stroma
(mesenchymal)
Clinical features








1-3 yrs
Unilateral (sporadic),bilateral
(familial)
Large abdominal mass
Hematuria
Pain abdomen
Hypertension
Intestinal obstruction
Pulmonary metastasis
In conclusion



Childhood tumors are different from
adult
Small blue round cell tumors
Associated with genetic
abnormalities.