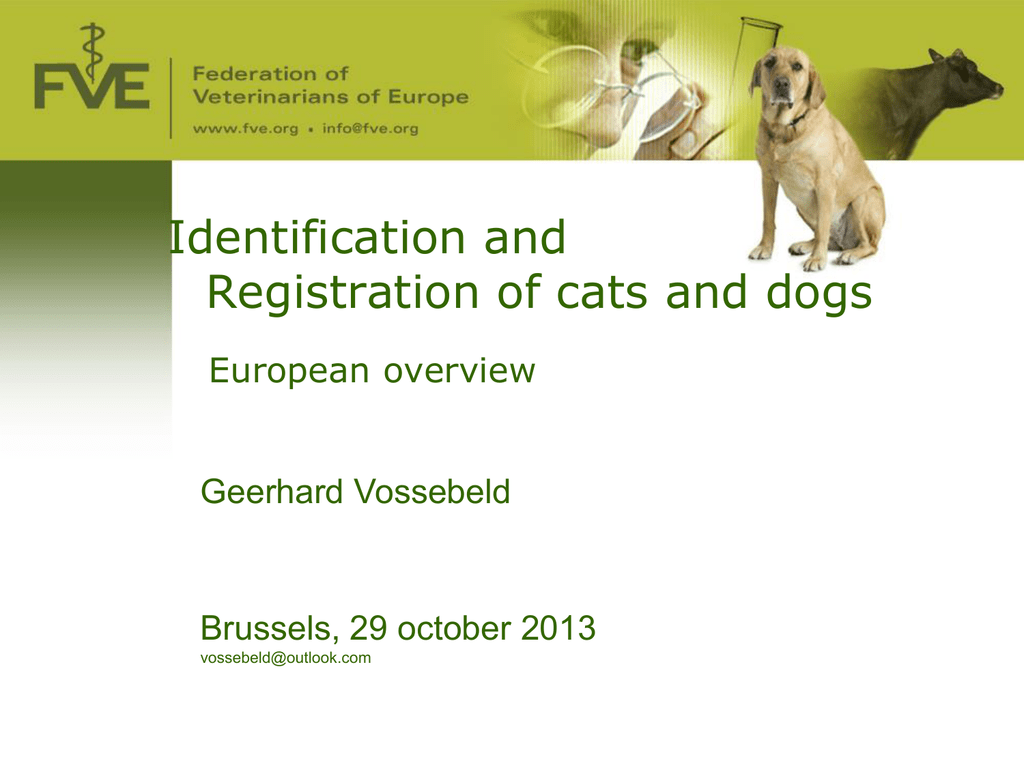 Identification and
Registration of cats and dogs
European overview
Geerhard Vossebeld
Brussels, 29 october 2013
[email protected]
Umbrella organisation
of veterinary organisations
 46 national organisations
 38 European countries
 More than 200.000 veterinarians
CALLISTO
Companion
Animals
multisectoriaL
InterprofessionaL
Interdisciplinary
Strategic
Think tank
On zoonoses
CALLISTO
Investigates zoonotic infectious diseases,
possibly transmitted by companion animals.
2012-2014
7 Expert Advisory Groups
International partners and institutions (University
of Copenhagen, IAHAIO, Erasmus Medical Centre,
WSAVA, FECAVA, ISZAM, Hebrew University of
Jerusalem, University of Bristol)
3 annual conferences
Networking and communication
www.callistoproject.eu
Policy actions across Europe
Response of 26 countries
Is there compulsory identification and
registration (I&R) in your country for all
DOGS?
Is there compulsory I&R in your country for
all CATS?
I & R dogs
Is there compulsory identification and
registration legislation in your country for
all dogs?
Yes
No
In process
Unknown
I&R dogs
Italy
Denmark
New Zealand
France
Sweden
Slovenia
Greece
Croatia
Belgium
Bulgaria
1991
1993
1996
1999
2001
2003
2003
2004
2004
2006
Latvia
Malta
Slovak Republic
Spain
Northern Ireland
Netherlands
Hungary
Iceland
Wales
England
2011
2011
2011
2011
2012
2013
2013
2014
2015
2016
I & R cats
Is there compulsory identification and
registration legislation in your country for all
cats?
Yes
No
In process
Unknown
I&R cats
Belgium
Bulgaria
Denmark
it
Estonia
governments
France
Greece
Iceland
Portugal
Slovak Republic
Sweden
2016, neutered and I&R
ìn process
several organisations are working on
organised by municipal
cats > 7 months, born after 1/1/2012
2012
2014
in process
2011
ongoing discussion
Central database Latvia
Register of Agricultural Data Centre database:
•
Species
•
Date of birth or age
•
Name
•
Gender
•
Description of the animal (breed, color, special features)
•
Microchip number / place of location
•
Pet animal passport number
•
Address
•
Owner
•
Date of the last vaccination against rabies etc.
Why I & R
•
•
•
•
•
•
•
•
•
•
Population statistics
Return lost dogs to owners
Reduce number of dogs in shelters
Better control in case of an infectious disease (eg. Rabies
Control of dogs regarding bite incidents
Control of dogs regarding vaccination and medical
treatments
Controlled breeding
Transport and travel with dogs and cats
Trade issues
....
Future I&R for cats and dogs?