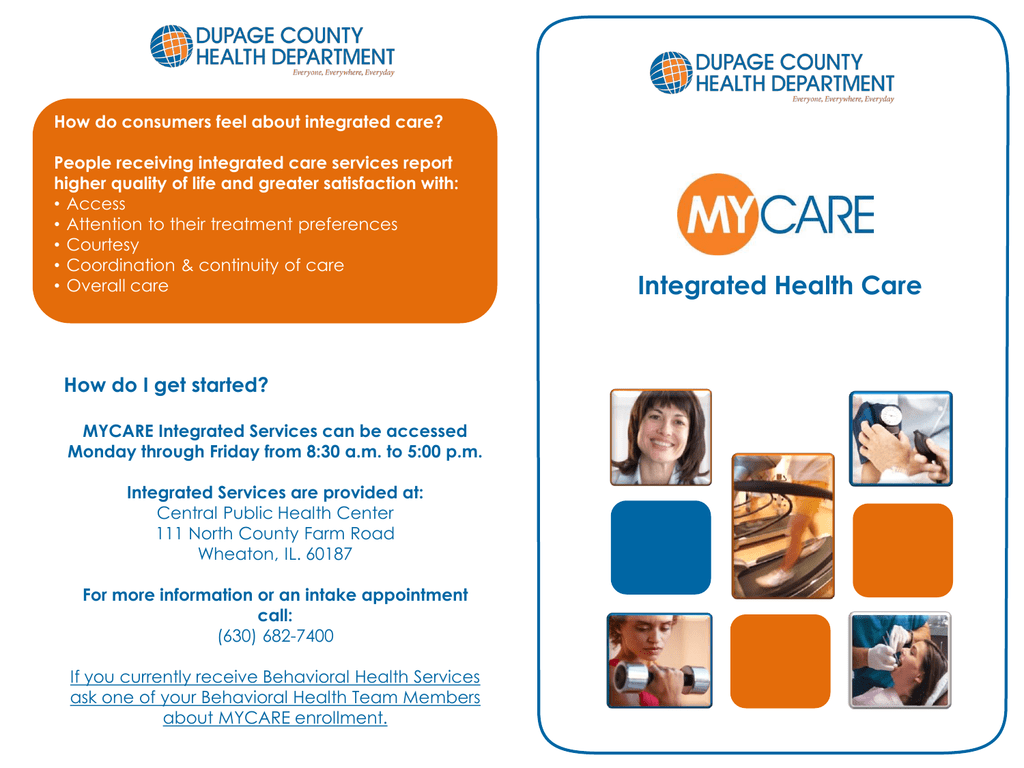 How do consumers feel about integrated care?
People receiving integrated care services report
higher quality of life and greater satisfaction with:
• Access
• Attention to their treatment preferences
• Courtesy
• Coordination & continuity of care
• Overall care
How do I get started?
MYCARE Integrated Services can be accessed
Monday through Friday from 8:30 a.m. to 5:00 p.m.
Integrated Services are provided at:
Central Public Health Center
111 North County Farm Road
Wheaton, IL. 60187
For more information or an intake appointment
call:
(630) 682-7400
If you currently receive Behavioral Health Services
ask one of your Behavioral Health Team Members
about MYCARE enrollment.
Integrated Health Care
Why Integrated Health Care?
• Integrated care focuses on wellness; with the
goal to treat physical and behavioral health
issues together while providing the most efficient
and effective results.
• Physical and behavioral health problems often
occur at the same time.
• Most people seek help for Behavioral Health
problems from their Primary Care Provider.
• One half of all care for common psychiatric
disorders happen in Primary Care settings.
• People with behavioral health issues experience
a statistically higher rate of common medical
disorders like diabetes, obesity, addiction to
nicotine, and high blood pressure.
Your MYCARE Coordinator will assess
your progress and offer support with
scheduled collection of the following
health indicators:
• Blood Pressure
• Body Mass Index
• Waist Circumference
• Breath CO
• Plasma Glucose (fasting) and/or
HgbA1c
• Lipid Profile (HDL, LDL, triglycerides)
• Daily Living Activity Scale
MYCARE Program Integrated Services Goals and
Objectives:
•
Improve the physical health status of adults with Serious
Mental Illness who have or are at risk for co-occurring
primary care illnesses and chronic diseases by providing
comprehensive primary care services including dental
care
•
Treat identified mental illnesses and/ or co-occurring
disorders by providing specialized mental health services
•
Promote self-management of physical and mental health
conditions and long-term by providing evidence-based
wellness services and connecting clients to community
care supports
MYCARE Program Services and Activities:
Integrated Health Treatment
• Onsite Primary Care Provider from VNA Health Care;
• Onsite DCHD behavioral health services and community
health services;
• Medically necessary referrals to qualified specialty care
professionals as required;
• Onsite urgent dental care and/or referrals for preventive and
restorative care with partnering dental programs; and
• Linkages to community support services for enhancing longterm health improvement and recovery .
Wellness Support
• Access to wellness programs including: Centering Diabetes,
Smoking Cessation, Nutrition and Weight Management and
(peer-led) Wellness Recovery Action Plan (WRAP) onsite at
DCHD.