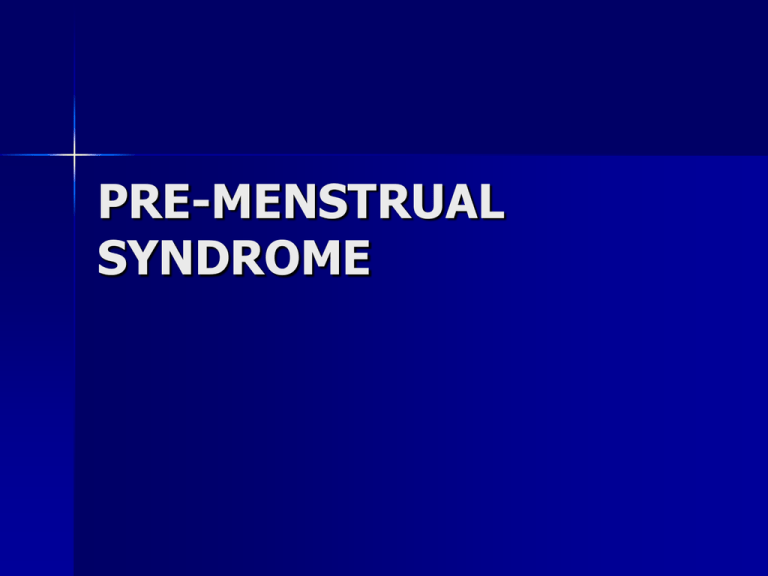 PRE-MENSTRUAL
SYNDROME
WHAT IS PMS:
 It
is a disorder characterized
by a set of hormonal changes
that trigger disruptive
symptoms in women two
weeks prior to menstruation.
What causes PMS:

Too little progesterone in
comparison to the level of
estrogen is the cause of PMS. This
imbalance is from poor ovulation
or no ovulation or stress causing
the first two conditions. Need to
supplement the progesterone
level, relieve stress, develop a
healthier life style and eating
TYPES OF PMS:
 PMS-A:
Anxiety, nervous
tension, irritability, and mood
swings.
 PMS-H: Hyper hydration, water
retention, abdominal bloating,
breast tenderness,weight gain,
swelling of hands and feet.
Types continued:
 PMS-C:
Cravings, for sweets,
salty foods, increased appetite,
headaches, fainting
 PMS-D: Depression, confusion,
fatigue, crying, forgetfulness
and insomnia.
PMS REPORTED BY
WOMEN WHO :
 Have
had children
 Had pregnancy complications
 Report minor pain and
cramping with periods
 Eat a high sugar and salt diet
 Don't exercise regularly
CONTINUED:
 High
stress
 After taking birth control or
HRT ( Hormone Replacement
Therapy)
DIET MAKES A
DIFFERENCE
 ELIMINATE:
Sugar, caffeine,
artificial sweetners, cigarettes
and alcohol.
 EMPHASIZE: Whole grains,
dried beans, nuts, fresh
veggies and fruit.
DIET CONTINUED:
 AVOID:
Salty and smoked
foods, dairy products. If
bloating is a problem, limit
fruit and eliminate fruit juices.
Treatment:
1. Eat small frequent meals 6x a
day to avoid low blood sugar
levels.
 2. Increase intake of fresh fruit
and veggies.
 3. Decrease intake of fat, sugar,
salt, caffeine and red meat.
 4. Exercise at least 20 minutes
3x/wk.

Continued:
 5.
Take PMS vitamins every
day
 6. Try to relieve stress in your
life.
 7. Stop Smoking!!!!