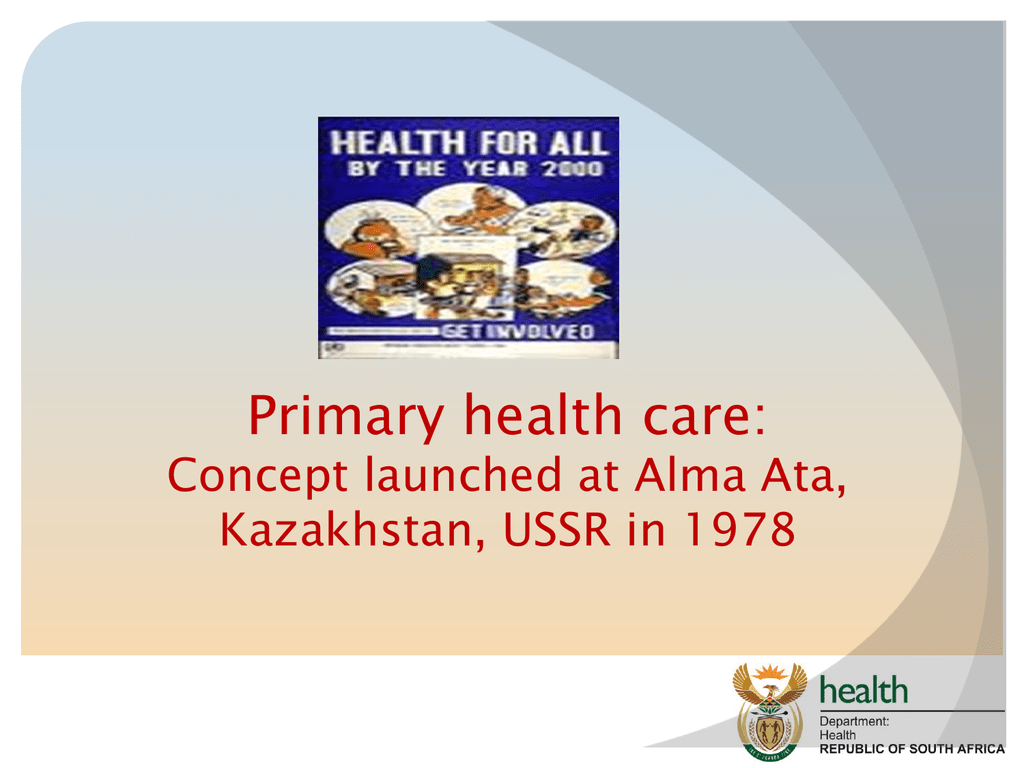 Primary health care:
Concept launched at Alma Ata,
Kazakhstan, USSR in 1978
What is the definition of primary
health care
 Essential health care based on practical,
scientifically sound and socially acceptable
methods and technology, made universally
accessible to individuals and families in the
community, through their full participation,
and at a cost that the community and
country can afford to maintain at every stage
of their development, in the spirit of selfreliance and self-determination.
 It forms an integral part of the country's
health care system, of which it is the central
function and main focus – and of the social
and economic development of the
community.
 It is the first level of contact with individuals,
the family and the community …. Bringing
health care as close as possible to where
people live and work and constitutes the first
element in the continuum of health care.
Principles
Set of principles and strategies for organising health systems that
would lead to "health for all" - health is a fundamental human
right :
1. Health promotion
2. Accessibility: Equity, social justice and universal coverage
3. Community participation and
priorities and interventions.
accountability:
in
assessing
risks,
4. Inter-sectoral action at local level to address the root causes of illhealth.
5. Appropriate use of technology
Selective PHC
•Came out of criticism that PHC was too broad and idealistic.
•Specific set of health care interventions
•limited number of high impact interventions to address the prevalent
diseases in a community
(GOBIFFF)
•Often targeted at poor areas
•Curative and promotive
Comprehensive
PHC
A strategy for organising health care systems and society to promote health
The eight basic elements are provided as a minimum
• Education about important health problems and
methods of preventing them
• Promotion of food supply and proper nutrition
• Adequate supply of safe water and basic
sanitation
• Maternal and child health, including family
planning
• Immunisation against major infectious diseases
• Prevention and control of locally endemic
diseases
• Appropriate treatment of common diseases and
injuries
• Provision of essential drugs
Equity
 Equity is different from equality as it is about fairness not
sameness
 Definitions
'equal access for equal need'
'equal utilisation for equal need'
 Individuals should contribute according to ability to pay, and
benefit according to their need
Social justice
• The fair and proper administration of laws
• All persons, irrespective of ethnic origin, gender, possessions,
race, religion are to be treated equally and without prejudice.
• Social justice generally refers to the idea of creating a society
or institution that is based on the principles of equality and
solidarity, that understands and values human rights and that
recognizes the dignity of every human being
• Institutions
distributed
are
justly
arranged,
resources
are
equitably
• Right and responsibilities observed for all health care workers
and users
Universal coverage
• Universal health coverage (UHC), is defined (by WHO) as ensuring that
all people can use the promotive, preventive, curative, rehabilitative
and palliative health services they need, of sufficient quality to be
effective, while also ensuring that the use of these services does not
expose the user to financial hardship.
• This definition of UC embodies three related objectives:
• equity in access to health services - those who need the services
should get them, not only those who can pay for them;
• that the quality of health services is good enough to improve the
health of those receiving services; and
• financial-risk protection - ensuring that the cost of using care does
not put people at risk of financial hardship
Inter-sectorial collaboration
 Improving the health of
the community needs not
only the health sector, but
also the involvement of
other
sectors
(e.g.
education,
housing,
agriculture).
 Need inter-sectorial action
to address root causes of
ill-health.
Community participation
• PHC requires and promotes
maximum
community
and
individual self reliance
• Community
participation
is
about
ensuring
meaningful
engagement
with
our
communities.
• People have the right – and
duty
–
to
participate,
individually and collectively – in
the
planning
and
implementation of their health
care
• Health services are accountable
to communities.
Community participation
• There are a number of terms used to describe working with
communities.
• Community action for health is the collective efforts by communities
directed towards increasing community control over the determinants
of health, and thereby improving health.
• Community engagement is where the community is empowered to
apply its' collective skills and resources to increase its' level of
influence and control over their own health. This might be to improve
the community's health needs and address the local determinants of
health.
• Community participation relies on health workers having a good
understanding of the communities, groups and individuals we work
with. Effective interventions rely on community participation.
Effective interventions are achieved when the community supports
the identified health needs, priorities, capacity and any barriers to
action.
Criticism of PHC include:
• Reductionist approach
•"Primitive health care",
• Simplified technology,
• Cheap- poor health care for the poor,
• 2nd class health care, etc
Primary health care is featured in SA
leadership, governance and policy frameworks
since 1994
ANC health plan and RDP
"the whole NHS must be driven by the Primary Health Care (PHC) approach.
1997 – White Paper on Transformation of Health System
'The health system will focus on districts as the major locus of
implementation, and emphasise the primary health care (PHC) approach
National Health Act (act 61 of 2003)
District Health System - the formalisation of the legal status of the District
Health System in the 2003 National Health Act (61 of 2003) which
establishes the District Health System along the boundaries of District
and Metropolitan Municipalities
PROGRESS SO FAR
Building
block
Health
financing
Progress
• Removal of user fees for public PHC
• Removal all fees (including at hospitals) for pregnant
women and children under the age of 6 years
Medical
products
• The development and implementation of an Essential
Drugs List
• Standard Treatment Guidelines for Primary Health Care
ensuring generally good drug availability, with few
exceptions, in the PHC system
Information
• The implementation of the District Health Information
System (DHIS).
Building
block
Progress
Human
1. Growth and diversification of primary health care providers
resources
beyond traditional categories such as nurses – Clinical
Associates
2. Increased number of mid-level workers such as pharmacy
assistants, new types of support staff such as data capturers,
and most importantly, the recruitment of a wide variety of
lay/community health workers (also referred to as lay
counsellors, community-based workers, care givers, home-based
carers), estimated at 65,000 in 2008
Service
delivery
1. Standard Treatment Guidelines for Primary Health Care.
2. The formulation of an essential "PHC package" which set norms
for the provision of comprehensive PHC in 2001.
3. New programmatic interventions, including expansion of
childhood immunisation and the prevention and treatment of
HIV/AIDS and tuberculosis.
4. Public health interventions creating an enabling environment for
PHC, such as tobacco control legislation and regional
cooperation in the control of malaria in endemic areas of the
country
 A clinic construction and upgrading
programme involving more than 1,600
facilities, and ensuring geographical
availability of services within 5 kilometres
to more than 90% of the population.
Why "re-engineer" primary health care?
Health outcomes generally worse than
they should have been, given the
financial investment
1. Life expectancy 53.5 (men) and 57.2 (women)
2. High infant mortality rate – 69 deaths in children under the age of 5
per 1,000 live births (and increasing! One of only 12 countries)
3. Number of women who die as a result of being pregnant – 160 per
100,000 live births. Up to 60% are avoidable
4. Number perinatal deaths – 31 per 1,000 births – up to 1/3rd are
avoidable
5. TB cure rate - 65%
6. 50% women and 75% of men with hypertension / diabetes do not know
that they have these conditions, only 14% treated properly
Problems with equity
Huge inequalities in health
• Between men and women
• Between urban and rural areas
• Between districts
• Between provinces
Content, coverage and quality of health care – still very
much depends on where you live.
Why have our achievements been poor?
Service delivery:
coverage, quality
and focus of PHC
Lack of focus on priority problems
Poor quality in the delivery of PHC - patients wait a long time – and
some are turned away, drugs run out, patients not treated with
dignity and respect, shortage of staff
Focus on curative services
Focus on primary care
Coverage poor - inequitable
Not enough focus on prevention
Governance and
legislation
Infrastructure,
money and people
Establishment of DHS has stalled – staffing, amalgamation of old
and new municipal systems. Provincialization in Gauteng!
Availability of staff - numbers of staff, inability to retain community
service posts, high attrition rates
Suitability of staff - competence and orientation towards PHC –
many health care workers not adequately prepared (Hospicentric)
Information
Lack of really good information to enable good decision to be
made and to monitor the performance of the PHC system
"..South Africa must overhaul its entire health
system and move towards primary health
care."
Minister of Health, Dr Aaron Motsoaledi; SA
Parliament, Wednesday, Jan 26, 2011 6.03 pm
SAPA
So what is re-engineering?
Three (four) streams
1)
District Clinical Specialists
teams
2)
Ward Based Outreach Teams
3)
School health services
4)
Contracting GP's to do
sessions in PHC facilities
•
A population orientation, focused on
meeting the priority health needs of
geographically coherent populations in a
comprehensive
manner
including
prevention, promotion and good quality,
essential care.
•
Patients are treated at the most
appropriate level of care based on a
defined core package of services.
•
An outcomes focus, aimed at reducing
mortality and morbidity from the major
causes of ill-health
•
Integrated, efficient and well supported
Primary Health Care teams, guided by
and accountable to communities
•
A well-functioning District and SubDistrict Hvehicle for delivery of PHC. ealth
System (DHS) is the
Ward –based outreach teams: using the principles of COPC
Comprehensive CHW roles
Maternal
Neonatal
Child Health
HIV & TB
Chronic Non – Violence &
communicable Injury
Diseases
Screening,
assessment &
referral
Pregnant women,
newborn & infants
HIV Testing,
regular CD4, early
HAART, TB
symptoms
Screen for
hypertension,
diabetes
Information &
education
Feeding, hand
washing, Oral
Rehydration
Therapy (ORT)
HOUSEHOLDS
Basic home
treatment
Diet, exercise,
lifestyle
Integrated approach to adherence
support
Psychosocial
support
Substance abuse,
domestic violence
ORT, worms, refer
pneumonia,
Vitamin A
Foot care
Victim support
First aid
COMMUNITY, SCHOOLS & EARLY LEARNING CENTRES
Assessments,
campaigns, &
screening
Immunisation, water
and sanitation,
nutrition, food
security
Condom
distribution, youth
programmes
Diet, exercise
Pedestrian safety
School health services
School health programme
 Launched in 2012 in Refiloe in Cullinan near Tshwane.
 The Integrated School Health Programme will offer the following
services:
• Eyesight, hearing and oral hygiene
• Immunisation (for foundation and intermediate phases)
• Deworming (for foundation and intermediate phases)
• Treatment of minor conditions especially skin conditions (all
phases)
• Counselling on sexual and reproductive health issues and offer of
services via mobile health units (all senior and FET learners, and
intermediate learners where required)
• Prevention of drug and alcohol use and abuse.
• Individually assess every learner once during each of the four
educational phases.
Progress
• 29 000 schools in the country
• Not possible to have a school health nurse in every school in
the short to medium term.
• Focus on schools in quintiles 1 and 2 (the poorest schools)
• Prioritise a selected range of services.
• As more resources become available the package of services
will be expanded to the full range of school health services as
outlined in the revised policy.
• Option to run outreach services from district / sub-district
with mobile units
Contracting of doctors to work in
primary health care facilities
• National Technical
managers)
Task
Team
(with
NHI
• Idea of contracting in and contracting out
discussed in 2012. Opted for contracting in (for
now) so that the image of the public sector –
and service delivery improves.
• Advert for GP's - 2013.
• Initially in NHI pilot districts
Some details
• GP's are contracted by NDoH
• SLA with district. Currently just covers delivery of
service but would like to move towards performance
based contract.
• Currently paid an hourly rate – R355 – regardless of
level of experience
• Also paid for travel and kilometres (to ensure that
rural areas covered.
Pillars of capacity building (slides
provided by Dr R Cooke)
Why is this important for DCST's
• All these initiatives are changing the context in
which DCST's are working.
• Collectively, they ALL aim to improve maternal
and child health outcomes.
• Therefore, important to consider how to ensure
that efforts are not duplicated and that
collaboration is maximised
• Ensure that synergies explored.