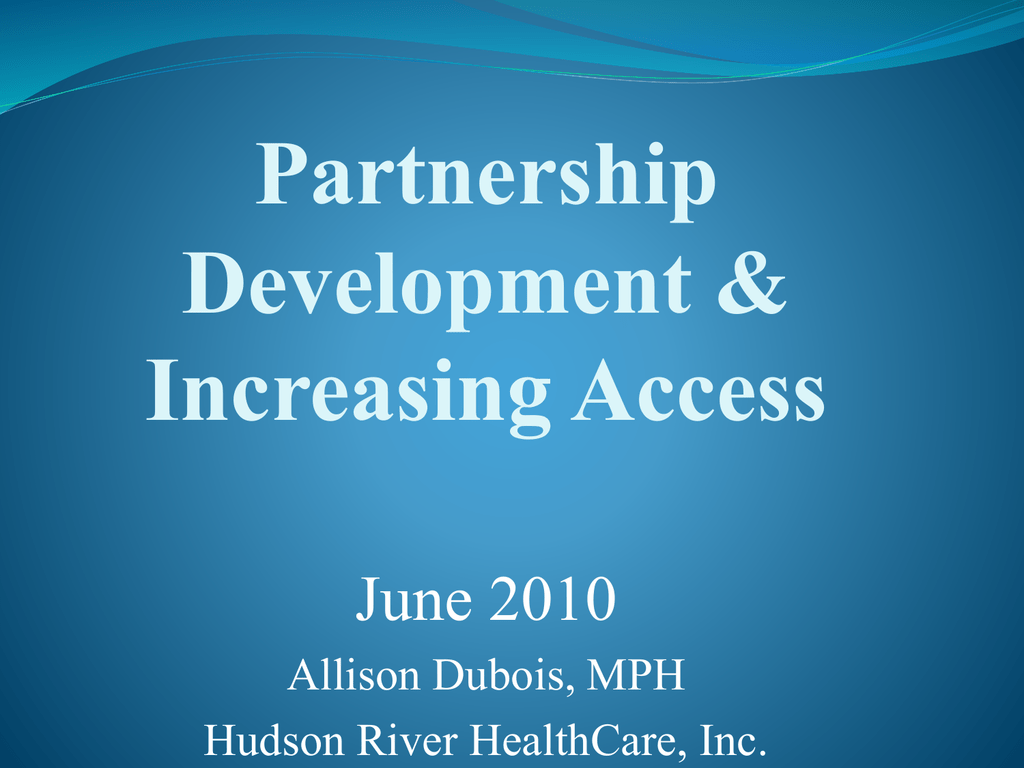 Partnership
Development &
Increasing Access
June 2010
Allison Dubois, MPH
Hudson River HealthCare, Inc.
Mission:
To increase access to comprehensive primary and
preventive health care and to improve the health
status of our community, especially for the
underserved and vulnerable.
Article 28 Federally Qualified Health Center
NCQA certified, JCAHO accredited, Planetree Health Care Organization
Community Health
Sites (16)
Pine Plains
New Paltz
Amenia
Walden
SULLIVAN
Monticello
Poughkeepsie (2)
Dover Plains
Beacon
Goshen
Peekskill
Health Center
Haverstraw
Yonkers
Migrant Health
Migrant Voucher program
Public Housing
Greenport
Riverhead
Organizational Overview
 Network of 16 sites (Migrant, Homeless, Public housing,





Ryan White, Community Health Center)
Secured NCQA Level 3 Medical Home Designation for
network of sites, adding additional revenue ($6/MA
patient/month)
Full electronic health record implementation across 16
sites by April 2009
Maintained provider productivity at 3600 visits/physician
Improved Medicaid and Medicaid Managed Care from
29% of visits to 39% of visits
Increased federal grants by over $3.5 Million in 5 years
Daily Challenges
Static
Funding
Medical
Home
The Growing
Uninsured
"Free Clinic" Image
Underserved communities
Partnership Priorities
 Increase services or improve services for our patients
 Enhance efficiencies or reduce duplication
 Expand to meet community need
 Increase funding
 Manage risk
Partnership Case Studies
 Healthy Communities Access Program (PCAP clinic)
 Voucher Program
 Technology (RHIO, EMR implementation, medical
home, meaningful use)
 Care Solutions – linkages for patients
 Legislative partnerships
HCAP
 Purpose of the grant: to create a formal the HCAP
consortium of community partners to increase access to
high quality, effective, efficient and coordinated healthcare
for uninsured and under insured individuals in the City of
Poughkeepsie, New York.
 Partners: FQHC, DOH, private practitioners, 2 hospitals,
homeless shelter, mental health provider, supportive
community services
HCAP Goals
 Coordinate and strengthen the overall "Safety net" services
for uninsured and underinsured individuals
 Bridge or eliminate organizational, financial and delivery
gaps and barriers that often create fragmented systems of
care for the uninsured and under insured
 Develop a more efficient, comprehensive and higher
quality system of care, regardless of ability to pay
 Link residents of Poughkeepsie to a medical home to
improve health outcomes
"Uninsured? That needn't be a problem. We can refer you
to a very fine doctor in Ottawa."
HCAP Projects & Successes
 Community Care Partners at our partner sites to provide




patients with assistance in navigating their health care
A pharmacy assistance program that will help bring access
to lower cost prescription drugs to residents of the city
Programs to improve the care for individuals with chronic
diseases including diabetes, heart disease and asthma
Additional dental services to the community
Ongoing partnership to coordinate care beyond funding
cycle
Additional Outcomes
 Prenatal focus
 Contract for prenatal services at the FQHC
 Exploration of transitioning 700 delivery hospital based
PCAP program into FQHC model
 Transition of DOH prenatal clinic to FQHC
 Specialty access agreements with hospital based clinics
 Community based, DOH sponsored community needs
assessment of new immigrants
Health Information
 Partnership with Regional Health Information Office
(RHIO) THINC
 Partner in implementation of electronic health record
across network of 16 sites
 Coordinated pilot for medical home implementation,
provided technical assistance and application support
HIT Funding partnership
 Partnership with FQHCs in the region to focus on care
management of diabetics utilizing technology
 Review the technology applications as a mechanism to
support care delivery
 Shared services for care coordination
 Shared data analysis and creation of benchmarks
 Shared expertise
 Online enrollment in public benefits
Care Solutions
Reframing of the cost of health
care & how we communicate it
Care Solutions
The Care Solutions Benefit is presented in a face-to-face
meeting with an Access Coordinator and provide
orientation to program:
 Create your medical home and selection of primary care
giver
 Assess all demographic information to verify it is
correct
 Render a Care Solutions ID card with picture
 Examine ways to make your care affordable ***
Critical Partnerships
 Medicaid managed care for facilitated enrollment
 Supportive services referrals
 Food pantries
 Housing support
 Soup kitchens
 Energy savings, transportation, etc
 Tracking mechanisms
 Cross referrals
"Unfortunately , you have what
we call 'no insurance'."
Voucher Program
 Virtual health center model to provide access to
migrant and seasonal farmworkers
 Partnership/contracts with community based
providers to provide access, wrap around services
provided directly
 Currently providing care to 4,000 farmworkers
through this model
 Mobile medical service delivery
Voucher Outcomes
 Increased awareness of larger community need
 Increased awareness of health care delivery landscape
for under and uninsured
Opportunities
 New health center location (Greenport) & additional
opportunities on the horizon
 New partnerships to expand and coordinate care
"Pardon
me, but could you tell us
where the public trough is?"
Legislative Partnerships
 Collaborative effort among Migrant FQHCs in NY to
secure dedicated state funding to support care for
agricultural workers
 Dedicated funding to provide specialty coverage for
farmworkers
 Joint education of elected officials
 Partner with the Farm Bureau, growers
Key take home messages
 Look for commonalities, despite history or lack of
history of partnership
 Let your champions be your cheerleaders
 Finding win-win opportunities
 Identifying low hanging fruit for partnership to build
trust that will open doors for other opportunities
 Cross pollinate
 Not all partners benefit proportionally
 Understand your risks and manage them to the best
ability possible
Questions?