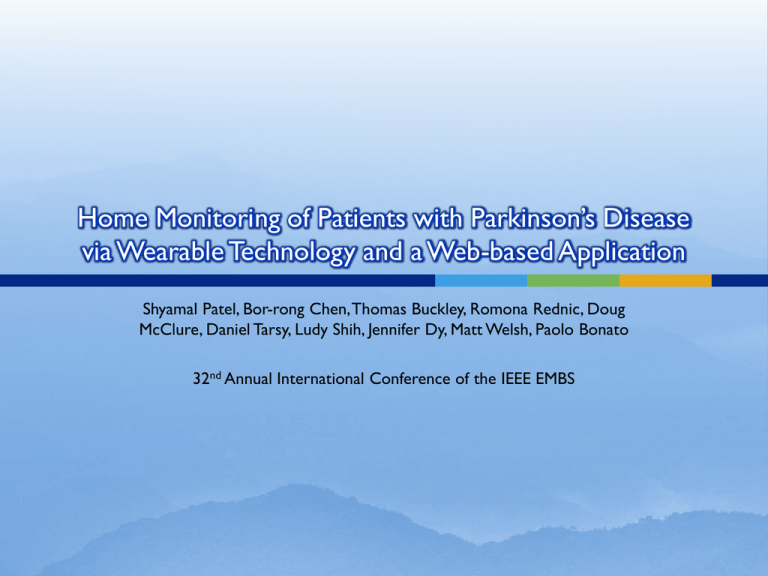 Home Monitoring of Patients with Parkinson's Disease
via Wearable Technology and a Web-based Application
Shyamal Patel, Bor-rong Chen, Thomas Buckley, Romona Rednic, Doug
McClure, Daniel Tarsy, Ludy Shih, Jennifer Dy, Matt Welsh, Paolo Bonato
32nd Annual International Conference of the IEEE EMBS
Introduction

Parkinson's Disease is the most common disorder
of movement, affecting about 3% of the population
over the age of 65 years and more than 500,000 US
residents.
Introduction

With current and on-going advances in sensor
technology it becomes possible to envision an
unobtrusive system for monitoring human health on
a more continuous basis.

This paper presents the development of a general
purpose remote monitoring system that can be used
for home monitoring of patients with different
conditions.
Introduction

It explored the use of wearable sensors to capture
movement features that are associated with changes
in the severity of motor fluctuations as they occur
during the intervals between medication dosages.

It used 8 accelerometers on the upper and lower
limbs to monitor patients while they performed a set
of standardized motor tasks from the Unified
Parkinson's Disease Rating Scale (UPDRS).
Introduction

There are several challenges associated with
monitoring patients in home.



Sensor Network
Data Security
Clinician-Patient Interaction
Sensor Network

A typical wireless body network (BSN) consists of
several miniature sensors with limited resources
such as storage, bandwidth, processing power and
battery capacity.

One of the key challenges of a BSN is to
efficiently manage available resources so that
high data quality is maintained while achieving
long battery life.
Sensor Network
Clinician-Patient Interaction

Interaction between patients and clinicians is
critical to the success of a home monitoring
application.

The requirements could range from simple video
conferencing to real-time access to the sensor
data.

Appropriate data processing procedures must be
available to derive clinically-relevant
information from the analysis of wearable sensor
data.
System Design

The implemented home-monitoring system involves
software services running at three tiers: central
portal server, patient's hosts, and clinician's
hosts.

To ensure both data security and high availability
of the remote health monitoring service, a wellprovisioned central portal server provides a
secure and reliable central location for
coordinating real-time data collection and video
services.
System Design
System Design

It developed the wireless BSN platform called
Mercury.

It supports long-term longitudinal data
collections on patients in the hospital and home
settings and to overcome the core challenges of
long battery lifetime and high data fidelity for
long-term studies where patients wear sensors
continuously 12 to 18 hours a day.
System Design
Result
Conclusion

It presented shows that a home-monitoring system that
leverages wireless, wearable sensor technology and a webbased application can be relied upon to gather clinically
relevant information for the management of patients with late
stage PD.

The system has the potential to simplify the process of
monitoring the effectiveness of the medication regimen and of
titrating medications when deemed necessary.