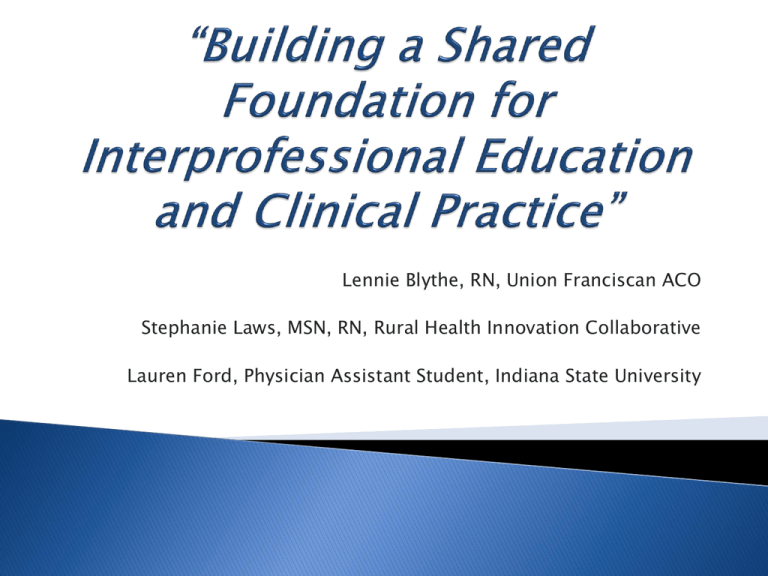 Lennie Blythe, RN, Union Franciscan ACO
Stephanie Laws, MSN, RN, Rural Health Innovation Collaborative
Lauren Ford, Physician Assistant Student, Indiana State University

On March 23, 2010, the Patient Protection
and Affordable Care Act (Healthcare Reform)
was signed into law.
Healthcare reform focused on two main
areas:
1. Care delivery
2. Reimbursement


•
•
"Value" focus: Payment increasingly tied to
quality and cost.
Centers for Medicare and Medicaid Services
(CMS)- hospital payments now dependent on
outcomes. Physician office payments affected
starting 2015.
Commercial- Increased payments to
providers dependent on meeting quality
standards.

Summary: Healthcare reform focuses on ways
to provide better care by giving providers
more information and focusing in on
quality/value….but how do we get there??
ACCOUNTABLE CARE ORGANIZATIONS
(ACOs)



An Accountable Care Organization is "an
organization of health care providers that agrees
to be accountable for the quality, cost, and
overall care of Medicare beneficiaries who are
enrolled in the traditional fee-for-service
program who are assigned to it."
ACOs are made up of groups of healthcare
providers and provider entities that agree to
work together to coordinate care for the patients
they serve.
Definition per the Center for Medicaid and Medicare Services (2012).

1.
2.
3.
There are three main goals of an ACO, often
referred to as the "Triple Aim"
Better health for the population
Higher-quality care
Lower costs of care

ACOs focus on providing better healthcare by improving quality and reducing
costs across the entire continuum through:

Improved care coordination

Reduced waste (e.g. duplicate testing)

Internal process improvement

Informed patient choices & engaging patients and their families

Chronic disease management

Actionable, timely data (via health information technology and data sharing)

Creation of partnerships across the continuum of care (preventative, acute, postacute)




The ACO is focused on Medicare beneficiaries. Individuals
with Medicare as a primary insurer can be "attributed" or
assigned to the ACO.
CMS attributes patients to the ACO. The ACO cannot
choose which patients are in the ACO.
Patients are attributed to the ACO based on providers. If
the provider they see for the majority of the primary care
based services joins the ACO, then there is a good chance
that the will be attributed to the ACO.
At this time only Medicare patients who have had
traditional Medicare (both Part A &B coverage) for at least
12 months can be attributed. Medicare Advantage
members cannot be in an ACO


The west central Indiana demographic (Terre
Haute MSA) ranked at or above the 75th
percentile doe Normalized SNF Days per
1,000.
Additionally, SNF readmissions within 30 days
post-hospital discharge comprised a
significant amount for conditions such as
pneumonia, CHF, and post-orthopedic care.
While the ACO has embraced many community
partners the following skilled nursing facilities
are the sites of our student-based project:




Meadows Manor North
Meadows Manor East
Providence Health Care
Springhill Village
Center for Health Wellness and Life Enrichment
Union Franciscan ACO
The rotation is designed to provide students with
autonomous, yet safe, learning opportunities that will
enhance the students' ability and confidence to
perform medical assessments; formulate appropriate
diagnoses or clinical suggestions based on findings;
interpret laboratory and other diagnostic studies;
complete comprehensive medical record reviews; and
complete medication inventories for assigned patients.

ACO GOALS:
•
•
•
•

Better population
health
Higher quality care
Lower costs of care
Decreased
readmissions through
enhanced continuity.
Decreased length of
stay at each nursing
home
STUDENT GOALS:




Enhanced knowledge of
ACOs
Enhanced clinical
confidence and
competence
Interprofessional
education/collaboration
Workforce readiness



Completing intake assessments for all assigned
patients.
Complete weekly rounds and required
documentation on assigned patients.
Communication with the assigned ACO Care
Coordinator.


1st Year Physician Assistant Students
Social Work Student (BSW candidate)
◦ 15 participated
◦ Completed 3 simulation experiences
◦ Completed surveys:
 Pre/Post ACO Knowledge Assessments
 Pre/Mid/Post Clinical Skills Confidence

Meadows Manor East

Meadows Manor North

Providence Health Care

Springhill Village

1st and 3rd Year Physician Assistant Students
◦ 58 students participating
◦ Split into 2 sessions
 To complete 2 simulation experiences
 To complete pre/post:
 ACO Knowledge
 Clinical Skills Confidence
 Weekly patient rounding
◦ Assigned to same 4 clinical sites

Additional student disciplines being
integrated:
◦
◦
◦
◦
Behavioral Health
Recreation Therapy
Nursing
Public Health

Session 1
Chelsea Elwood

Brianne Wagenman
Mike Finigan
Lindsey Graft
Lauren Ford
Erin Haaff
Session 2
Rachel Sanderson
Christopher Schmidt
Marcus Schwab
Sara Spring
Cynthia Shepard
Meredith Stackhouse

Session 1
Amal Beydoun
Joshua Chambers
Justin David
Colt Cansler

Session 2
Joe Bonomoni
Raymond (Ron) Contreras
Jessica (Brooke) Dailey
Emily McMahon
Laura Mitchell
Kate Pippins
Emily Marshall
Matt Nicholson
Sara Niles
Allison Pullar
Jordan Pothast

Session 1
Katherine Hill

Justin Jacobsen
LynnaireJastillano
Cody Lawnichak
Megan McGary
Stephanie Tobin
Session 2
Eleonor Sviridova
Cherisa Fletcher
Phil Swink
Markay Wilson
Joanne Vanderhyde
Atiq Zamani


Session 1
Jenifer Fortney
Chase Hayes
Carolyn Hanrahan
Amber Thomas
Eryn Hasenour
Sarah Hogue
Aaron Heaslet
Shelby Howard
Rachel Hewitt
Krista Irwin
Jennifer Simatovich
Ryan Strom
Jasmina Spahic
Annemarie Spiezia
Jay Swanson
Brittany Heiser
Brittany Stanek
Session 2
Allison Lipps
Michelle Ertl
Elaine Gilbert
Ruth Viehoff
Stephanie Murphy
Amanda Yeck
Kelly Schuder




Continued replication of project to additional
skilled nursing facility sites (rural).
Continued evaluation. (quality and cost)
Opportunity for research and publication as it
pertains to interprofessional student
experiences.
Policy change/management?