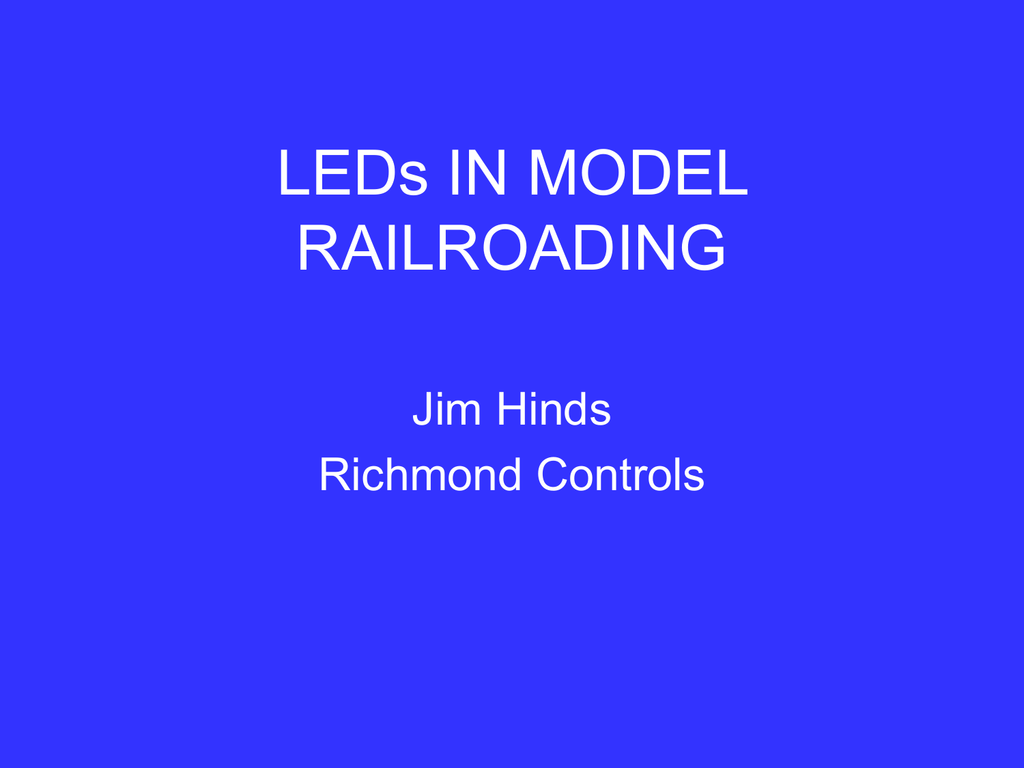 LEDs IN MODEL
RAILROADING
Jim Hinds
Richmond Controls
SIGNALS
LEDs are now available in Railroad Crossing
signals, three-color signals, and searchlight
signals.
Some modelers of eastern railroads have
fabricated TRACK PAN POSITION
INDICATORS using back-to-back blue and
white surface mount LEDs.
SIGNALS
What's NEW? Aqua green LEDs with a slight
blue tint.
Available first in one manufacturer's three-light
signal.
Available later in a triple-LED searchlight signal.
MARKERS
Easy for HO Scale and larger, replacing Tomar
marker lamps with white LEDs. Needs a
different driver package to replace "diodedrop" circuit.
Harder in N and Z Scale due to size. One
approach is two back-to-back surface mount
LEDs driven rapidly with alternating voltage.
MARKERS
Special drivers can offer constant intensity and
flicker-free operation. When used with LEDs,
flicker-free circuits can hold up the light
intensity for quite a while.
With LEDs, it is unlikely the user will ever have
to replace a burned-out light source.
RAILROAD CARS
Interior light modules are available in all scales
from several vendors. Modules range from
simple and cheap, to fully-featured and more
expensive.
Cost tradeoffs may involve features like constant
intensity, flicker-free operation, color,
brightness, even light distribution, power
source, and on/off control.
RAILROAD CARS
Exterior lights may include tail signs, markers,
and signal lights. Low LED currents help
extend the operation of antiflicker circuits and
batteries.
Some commercial offerings are designed to be
cut to fit, and others can be special ordered or
even ordered as a bag-of-parts kit to save cost.
RAILROAD CARS
Most scales have metal wheels for track power,
and Z Scale will be adding a supplier soon.
Some cars have built-in electrical pickup
(Kato, Walthers), and axle wipers are available
for others.
Some commercial offerings are designed to be
cut to fit, and others can be special ordered or
even ordered as a bag-of-parts kit to save cost.
FREDs
In most scales, FREDs have been very hard to
find because Sunrise Enterprises went out of
business. Replacements are in the works but
are slow in coming.
Track powered FRED flashers can be small
enough to put UNDER empty Z Scale and N
Scale cars like flatcars and gondolas.
FREDs
Some manufacturers just furnish an LED
mounted on the rear wall of a car like a boxcar.
Others offer a more prototypical mounting.
Ring Engineering has a system for HO Scale
where everything is built into a truck. That
can be readily done in HO and larger scales
using available flashers, if you can find a
FRED.
BUILDINGS
LEDs are wonderful for lighting buildings
because an incandescent color is available.
The LED is not likely to ever burn out if treated
nicely.
BUILDINGS
For rectangular areas like a ceiling, a handy
technique is the push several LEDs through
holes at the corners of a piece of thin plastic or
cardboard, wire everything together and test it
on the workbench, and drop it into place as a
false ceiling.
With 12 V power, four LEDs with one resistor
makes a great combination.
BUILDINGS
The same lighting strips that can be used in
passenger cars can also be used in buildings.
An example might be one over each stall in a
roundhouse.
For building lighting, much of the passenger car
circuitry (rectifier, antiflicker circuit, constant
intensity circuit) can be omitted to save cost.
VEHICLES
Special effects are available for vehicles as well
as for locomotives.
Emergency vehicles can display great variety.
Simple lighting like the clearance lights on 18wheelers and turn signals on trucks can cars
can be readily done.
Dual red/blue complex strobes on a Z Scale
police motorcycle aren't very difficult.
SCENERY ITEMS
An obvious target for lighting in N Scale and HO
Scale is the Athearn billboard.
Other items benefiting from lighting might
include
• Showcase Miniatures radio tower,
• Walthers' smokestacks, and
• Walthers Rocky Point lighthouse.
SUMMARY
The potential variety for layout lighting using
LEDs is huge.
Knowing that LEDs probably will not burn out
in your lifetime might make you more inclined
to build that refinery or drilling rig model and
cover it with lights.