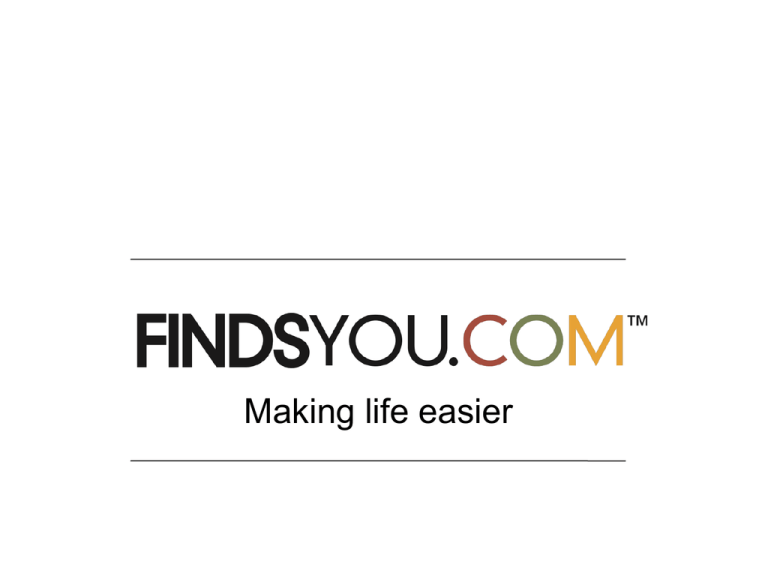 Making life easier
Finding things to BUY is HARD!
•
•
•
The web has grown up.
Big business and amalgamators dominate.
Massive amounts of irrelevant choices.
•
Daunting – too many places to look.
o Time-consuming.
o Frustrating – failed enquiries.
•
Incomplete –
o No humans, too much automation.
o Some sellers can't afford to be found.
o Some put off completely.
Total Market
Found
Missed
Advertise what YOU'RE BUYING.
Be FOUND by all the market
1.
2.
3.
Buyers advertise what they want to buy.
We Match to sellers stock/profile using algorithms, & inform matching sellers.
Buyers choose from their responses – no obligation.
Total Market
Web site
•
•
•
Buyers get more real choice. Greater reach.
Very little effort, making the market work.
Process is controlled & secure.
Approach
1.
Phase 1
a. Prove model in one category - UK Cars.
b. Prove model can transfer - UK Holiday Accommodation.
2.
Phase 2
Profits in UK Car sector.
Exploit the model in sectors other than cars.
•
•
1.5 years of R&D – £200k invested by founder.
This model did not exist. A lot of trial and error.
Successful 10 month trial in UK Car market.
Buyers
1
Free.
2
Source.
TRIAL RESULTS
Pay Per Click- for matches.
Partnerships for traffic – in talks now.
Social media & Apps.
Car buyers
•
•
•
Where we fit.
3
•
•
•
4
•
•
Funnel conversion
6%
Buyer Recruitment cost
£5
They tell us what they want to buy.
Additional service - works differently
They may search too.
47% Female, 20% New Cars.
UK Car Buyer market
•
•
•
Total buyers.
FY breakeven.
8m p.a. (2m new)
55,000 p.a.
18,000
Results robust over all 10 months.
Six times better than expected.
Reflects popularity of service.
Sellers - Dealers
£30 subscription per month.
1
•
•
•
2
•
•
Low churn.
Low cost barrier for more buyer choice.
Barrier to emulators.
TRIAL RESULTS
3,000
Recruitment.
Dealers recruited
on a free basis.
Direct.
Telesales.
Dealers paying
1,400
Where we fit.
or agreeing to pay in 6 weeks at end
of trial.
Current marketing – for inbound sales.
When no inbound calls – FindsYou for
outbound sales.
"Using FindsYou is a no brainer"
3
•
•
Allen Scott – Marketing Director Inchcape
The seller market.
4
•
•
Total dealers.
Breakeven.
15,000
4,000
Phase 2: UK Cars – Key Metrics
Car Dealers Costs
£30
Monthly Subscription Cost.
•Spend average £2,000 p.m on Classifieds.
•Lead cost a fraction of lead gen services.
£1 - £2
Cost per Lead.
ROI is off the scale..
£5
FindsYou Profitability
• 75% gross margin, and will improve.
• 6 times better than expected.
Cost of Acquiring a Buyer.
Proven, robust & will trend downwards.
£20
Gross Revenue
Proven demand, Will trend upwards.
Gross Revenue based on metrics for buyers needed for average dealer subscription.
Competition
Classified Advertising
• Autotrader
• eBay Motors
• Motors
350k cars. Leader. Monopoly pricing.
200k cars.
160k cars.
• We're different for both dealers and buyers.
• No copying - they'd lose existing revenue as
users migrate.
Lead generation
Numerous small to medium players.
• We offer choice – Lead Gen does not.
• We offer better selling opportunities for dealers.
• Advantage over Lead Gen in any market.
New Entrants
• Consumer insight
• Owned IP & algorithms
• First mover.
= Big barrier.
= Barrier.
We are a new and unique activity for buyers and sellers.
Phase 2 UK Cars: Forecast
Using only proven metrics
£000
Year One
Year Two
Year Three
Total Revenues
710
2,058
2,978
Total Costs
911
1,398
1,622
EBITDA
-201
660
1,355
Downside risk.
• Dealers join slower than expected.
Upside Potential.
•
•
•
•
Dealers join quicker than expected.
Private sellers.
Site performance increases.
Alliance deals and natural traffic.
Phase 2: Next Steps
Partnerships
UK Cars
Jobs
Tradesmen
Hyper Local
Others
Related UK
Sectors:
Non UK Cars
Other areas in car
sector:
After sales
Classics
Commercials
Motorbikes
Trade Only.
Europe
America
Asia
Mid East
Russia
New Sectors
New sectors say:
Social
Causes
Accommodation.
Domestic
property
Commercial
property
Venue Hire.
Other
Opportunities
Licensing/Franchising
Students
Health
Others
Flex – Private Sellers and Dealers
Year 3 EBITDA
Private sellers per month
Dealers
15,000 per month is 6% of private sellers p.a.
12,200 dealers is 80% of total dealers.
Ignores all other variables.
Current Web Sites
UK cars
UK Accommodation
Team
Guy Walker – CEO
CFO/COO
CFO/COO
Price Waterhouse, Yule Catto plc – Audit and Corp Finance.
Marketing & Media businesses. Turnarounds and building by acquisition
and organic growth.
Initiative Media Inc. Re-engineer for profits - $125m p.a. positive swing.
Matt Seaman – COO
Dixons Retail, BSkyB, ITV. Sales and management.
Director
Virgin, Freeview; Management of business units.
COO
Top Up. Exec team that made £60m+ for backers.
Nick O'Connor –Sales/Promotion/Digital
TeleWest, ITV Digital, Head of Trade marketing. Gained 70% market share.
MD
Kizoom. Managed for growth and exit.
Director
Caboodle – All marketing and development.
Jim Lee – Sales & Motors Management
Sales within and media sales to the motor trade.
Founder member Motors.co.uk – classified ad company.
Publisher
WhatCar.
Media Sales
Haymarket Motors Division.
Funding - Use of Funds
Seeking £300k out of £500k
EIS Pre-approved.
Lead investor in place.
£200k Committed.
Use of Funds
Sales to Dealers
Sales to Buyers
Overhead and Tech
Exit
Trade sale in 3-5 years.
To struggling media business with weak
digital model. Many such businesses exist.
Valuation on Exit
10 X EBITDA should be easily achievable.
45%
30%
25%
Where what you're looking for
1. Very popular & proven model for buyers and sellers.
–
–
Makes life easier – people use things like this.
How the web should work
2. First mover, ready to move.
–
–
Unique position in all markets.
Immune from giants – barriers against emulators.
3. High potential returns.
–
–
–
Scalable and Applies to many markets and geographies.
Network effect. Ideal for mobile applications.
Profitable model.