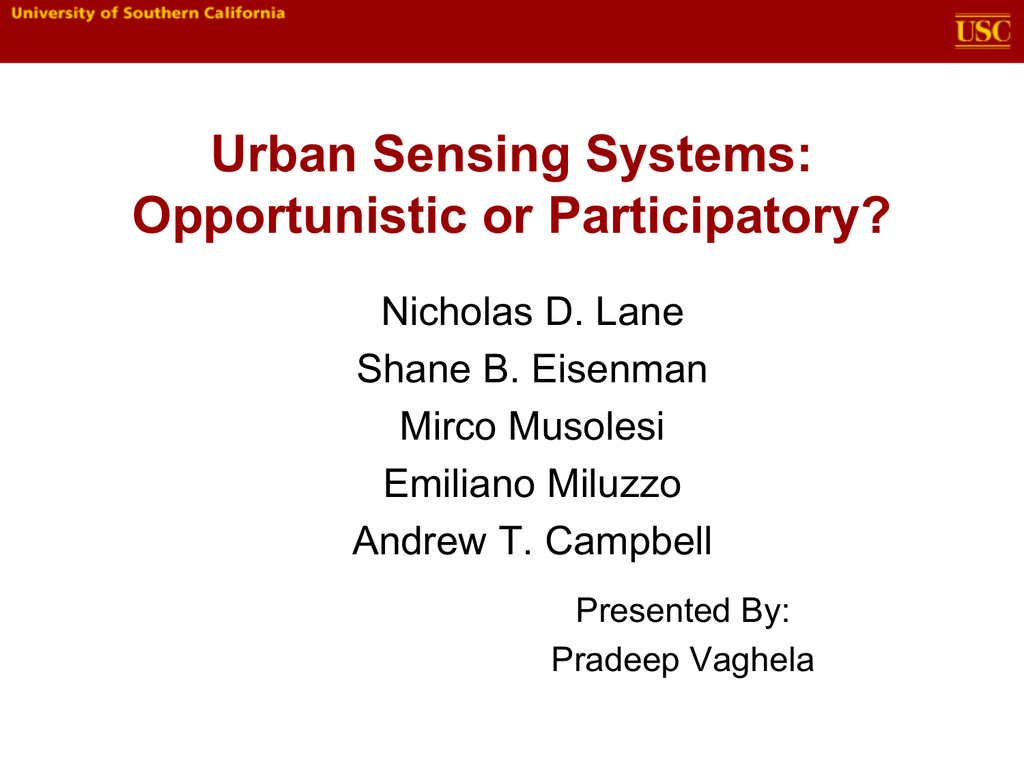 Urban Sensing Systems:
Opportunistic or Participatory?
Nicholas D. Lane
Shane B. Eisenman
Mirco Musolesi
Emiliano Miluzzo
Andrew T. Campbell
Presented By:
Pradeep Vaghela
Outline
Introduction
Evaluation Model
Related Work
Conclusion
Introduction
• Urban Sensing Systems: large scale systems to
sense the environment through making use of
static or mobile sensors
• "People Centric Sensing" – Using mobility of
people and their mobile devices
Introduction
Reference:Mesh Networking , The rise of people centric Sensing- MetroSense Group
Introduction
Metrosence - A new wireless sensor edge network
based on the concept of "people-centric sensing" at
a large scale (campus, town, metropolies)
Various projects: CenseMe-facilitate the sharing of
"presence" information among friends.
AnonySense project, we are working to ensure the
security, trust, and privacy of people-centric data
Architecture of People centric
sensing system
•Query submission-sensor type and
sensing condition
•Device selection- which resources
to fulfill the query mobile phones or
Wi-Fi access points
•Sensor sampling- when to sample
•Data analysis, sharing presentation
Introduction
Custodians of the mobile devices play vital role
Participatory- active owner
Opportunistic- passive owner
Introduction- Participatory
Sensing
•Custodian involved at significant
decision stages such as – what data to
share, privacy mechanism
•Example: DietSense( CENS-UCLA)
Introduction- Opportunistic
Sensing
•Device is utilized whenever application
requirements are met
•Privacy and transparency are importance
issues
•Example : Pothole Petrol
•Participatory or Opportunistic ?
An evaluation model
•Quantitative evaluation of the choice of the
participatory model against opportunistic one
•Notation. M – total no of devices in the
system
•Paccept_query
•Puser_adapt
•Pcontext_match
•Phave_sensor
An evaluation model
Participatory Success Probability,
Opportunistic Success Probability,
Opportunist is better when,
An evaluation model
•Quantitative evaluation through Google street view
like application
Phave_sensor = 0.8( 80% of the cellphones have camera
Pcontext_match = 838/(365*24*60)
Pquery_accept = 0.3( contact rate using first call attempts
Puser_adapt = 0.2 ( again using contact rate)
An evaluation model..
An evaluation model..
An evaluation model..
(a) Opportunistic good when constituent model
probabilities are in favor. Also performance
degrade slowly
(b) Increasing the number of devices only amplifies
the positive aspect of the opportunistic approach
Therefore, given uncertainty in the user population
size and user participation probability supporting
opportunistic sensing is well motivated.
Related Work
•
•
•
Most system represent a middle ground
Opportunistic- Cartel
Urban Sensing project CENS demands more
human intervention in the sensing loop. In
DietSense , user takes photograph of the food
Conclusion
•
•
Two potential roles of sensor custodians in urban
sensing systems are compared.
Opportunistic sensing design more easily supports
large scale deployments and application diversity.
Critique and Questions?
How reliable probabilities are ?