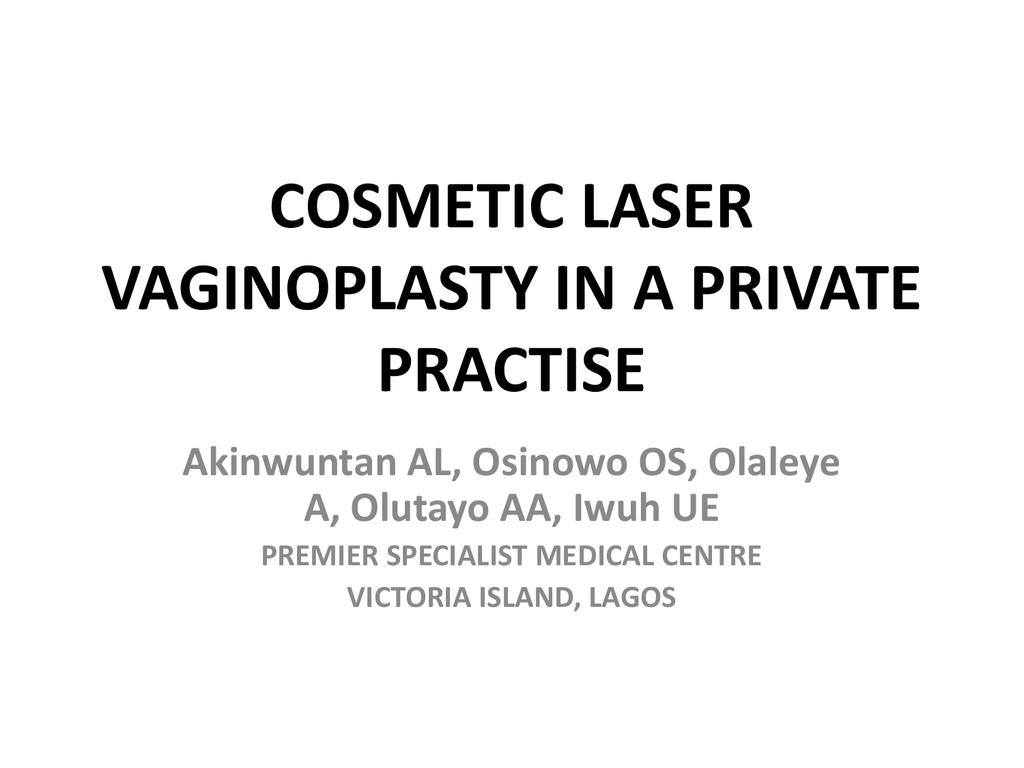 COSMETIC LASER
VAGINOPLASTY IN A PRIVATE
PRACTISE
Akinwuntan AL, Osinowo OS, Olaleye
A, Olutayo AA, Iwuh UE
PREMIER SPECIALIST MEDICAL CENTRE
VICTORIA ISLAND, LAGOS
Introduction
• Laser surgery is one of the new approaches in
surgical management of patients
• Its use in medical practice in Nigeria is rare
hence the reporting of this in a private
hospital setting
• The device is a PhotoMedex LaserPro Diode
Laser
THE DEVICE
PATIENTS
• PATIENT 1
– 35YEARS
– PARA 2
– 1ST DEGREE VAGINAL PROLAPSE
• PATIENT 2
– 39 YEARS
– PARA 4
– 2ND DEGREE PROLAPSE + CTSTOCOELE
Objective:
To report the use of laser for
vaginoplasty
Methods
• The indication for its use was for anterior
colporrhaphy and posterior colpoperineorrhaphy
(vaginal rejuvenation) in two women with
prolapse of the anterior and posterior vaginal
walls
• Incisions were made using laser at appropriate
wavelength using the 810 device
• Repairs were done traditionally
• Appropriate protective eye wears are worn
during the procedures
Results
• Two women with a mean age of 36 years had
cosmetic vaginal repairs.
• Average number of children was 3.
• Mean duration of surgery was 72 mins
• Average blood loss of 300mls
• The duration of hospital stay was 2 days and
both patients resumed back to work the
following week.
Conclusion
• The advantages of laser over traditional cold
knife or cautery include
– better precision by the surgeon
– less blood loss with better haemostatsis
– less tissue damage hence less scarring with better
healing
– faster post operative recovery and earlier return
to work
• The major disadvantage is the cost.