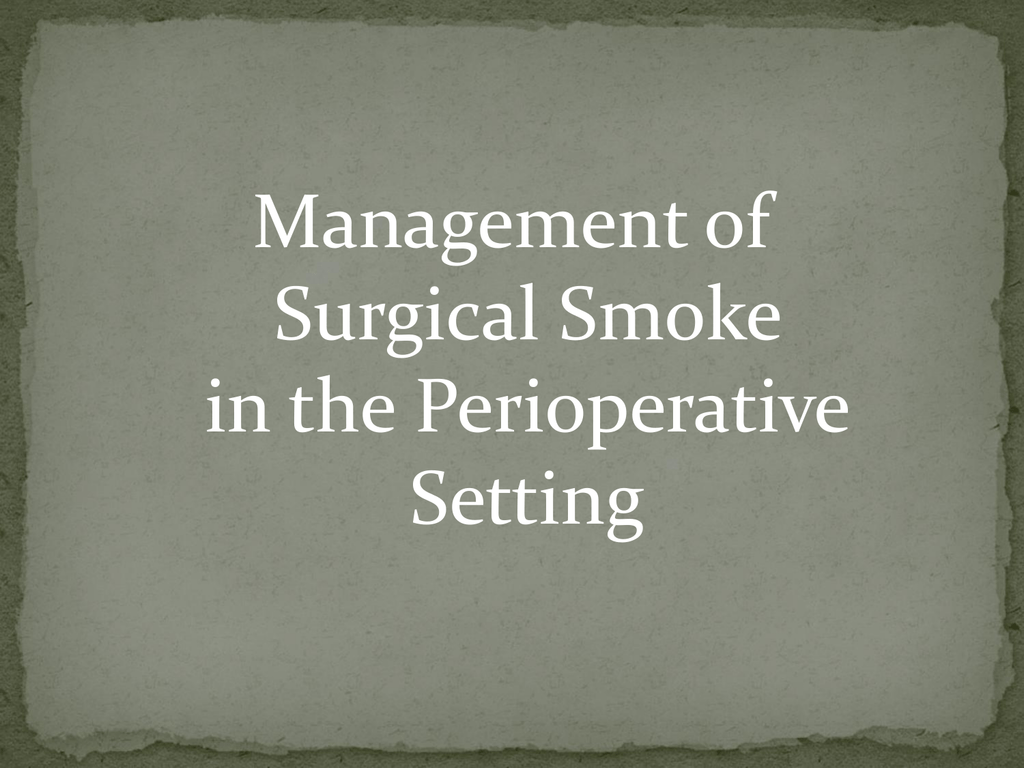 Management of
Surgical Smoke
in the Perioperative
Setting
2
•Equipment not
available
•Surgeons'
resistance or
refusal
•Noise
•Cost
•Ergonomic difficulty
of equipment
•Bulkiness
--Watson, 2010
•Distraction
•Physician
•Equipment is Noisy
•Complacent staff
-- Ball, 2010
•Excessive noise
--Edwards & Reiman, 2012
Individual
Innovativeness
Characteristics
(Perioperative staff
characteristics)
Perceptions of
Attributes
(Staff perceptions of smoke
evacuation recommendations)
Organization
Innovativeness
Characteristics
(Organization's
characteristics)
Age
Relative Advantage
Education level
Compatibility
Descriptors (locale,
type)
Experience
Complexity
Size
Knowledge
Trialability
Complexity
Training
Observability
Formalization
Presence of respiratory problems
Barriers to practice
Interconnectedness
Leadership support
Barriers to practice
No
compliance
Full
compliance
Compliance with research-based
smoke evacuation recommendations
* Based on Roger's Diffusion of Innovations model. Reprinted with permission from Kay Ball, PhD, RN, CNOR, FAAN.
Key indicators of compliance:
 Education
 Leadership support
 Easy to follow policies
 Regular internal collaboration
(Ball, K . 2010)
150 different chemicals identified in surgical smoke (Pierce, et al. 2011)
 Smoke plume and aerosols contain 95% water vapor
 Water vapor is itself not harmful, but acts as a carrier
 Gaseous toxic compounds
 Bio-aerosols
 Dead and live cellular material (including blood
fragments)
 Viruses
 Carbonized tissue
 Bacteria
150 Chemical constituents of plume include:
 Acrolein
 Benzene
 Carbon Monoxide
 Formaldehyde
 Hydrogen cyanide
 Methane
 Toluene
 Polycyclic aromatic hydrocarbons (PAH)
 Carbonized tissue
 Blood
 Intact virus and bacteria (HIV, HPV,
Hepatitis)
77% of Surgical Smoke Particles
are
less than
1.1 microns
Human Immunodeficiency Virus
Human Papilloma Virus
Hepatitis B
Others
 Tobacco Smoke
= 0.15 micron
= 0.055 micron
= 0.042 micron
= 0.1-3.0 micron
 Surgical Smoke
= 0.1-5.0 micron
 Bacteria
= 0.3-15.0 micron
 Lung Damaging Dust
= 0.5-5.0 micron
 Smallest Visible Particle = 20 micron
 Smoke is evenly distributed throughout the operating
room
 Smoke particles can travel about 40 mph
 When ESU is activated, the concentration of the
particles can rise from 60,000 particles/cubic feet to
over 1 million particles/cubic feet
 It takes 20 min after the activation of the ESU for the
concentration will return to the baseline level (Nicola,
et al. 2002).
"Each year, an estimated 500,000 workers, including
surgeons, nurses, anesthesiologists, and surgical
technologists, are exposed to laser or electrosurgical
smoke."
Laser/Electrosurgery Plume. Occupational Safety and Health Administration (OSHA) Quick Takes.
United States Department of Labor
http://www.osha.gov/SLTC/laserelectrosurgeryplume/index.html (accessed Dec 5, 2012)









Eye, nose, throat irritation
Headaches
Nausea, dizziness
Runny nose
Coughing
Respiratory irritants
Fatigue
Skin irritation
Allergies
 Using the CO2 laser on one gram of tissue is
like inhaling the smoke from three
cigarettes in 15 minutes.
 Using ESU on one gram of tissue is like
inhaling smoke from six cigarettes in 15
minutes.

(Tomita et al., 1989)
Perioperative staff have twice the
incidence of many respiratory
problems as compared to the
general population. (Ball, 2010)
 Allergies
 Sinus infections/problems
 Asthma
 Bronchitis
Soft contact lenses can absorb toxic gases
produced by surgical smoke.
Recommendation made by an OSHA safety violation not related to plume, 1990
44-year old laser physician developed
laryngeal papillomatosis
Biopsy identified the same virus type as
anogenital condyloma
Hallmo, et al (1991)
 Levels of carboxyhemoglobin of patients who
underwent laparoscopic procedures using laser were
significantly elevated. (Ott, 1998)
 Carbon monoxide levels increase in the peritoneal
cavity and exceed recommended exposure limits.
(Beebe et al 1993)
 AORN
 ANSI
 ECRI
 NIOSH/CDC
 OSHA
 Joint Commission
"Potential hazards associated with surgical
smoke generated in the practice setting
should be identified, and safe practices
established."
Recommended practices for electrosurgery. In: Perioperative Standards and Recommended Practices. Denver, CO: AORN,
Inc;2013:125-141.
Recommended practices for laser safety in the perioperative practice settings. In: Perioperative Standards and
Recommended Practices. Denver, CO: AORN, Inc;2013:143-156.
Recommended practices for minimally invasive surgery. In: Perioperative Standards and Recommended Practices. Denver,
CO: AORN, Inc;2013::157-184.
Airborne Contaminants:
Shall be controlled by the use of ventilation (ie., smoke
evacuator). Respiratory protection for any residual
plume escaping capture.
 Independent, nonprofit organization
 Researches the best approaches to improving the
safety, quality, and cost-effectiveness of patient care
 Electrosurgery smoke is overlooked
 The spectral content of laser and ESU smoke is very
similar
https://www.ecri.org/ accessed 12/13/12
 The smoke evacuator or room suction hose
nozzle inlet must be kept within 2 inches of
the surgical site
 The smoke evacuator should be ON
(activated) at all times when airborne
particles are produced
 Follow Standard Precautions
General Duty Clause:
Employer MUST provide a safe
workplace environment!
 The hospital minimizes risks associated with selecting,
handling, storing, transporting, using, and disposing of
hazardous gases and vapors.
 Note: Hazardous gases and vapors include, but are not
limited to, glutaraldehyde, ethylene oxide, vapors
generated while using cauterizing equipment and lasers,
and gases such as nitrous oxide.
Environment of care. In Comprehensive Accreditation Manual: CAMH for Hospitals. The
Official Handbook. Oakbrook Terrace, IL Joint Commission; 2009: EC-6-EC-6.
Smoke Evacuation Methods
in the Perioperative Setting
 In-line filters
 Smoke evacuator systems
 Laparoscopic filtering devices
 Simple
 Evacuate less than five cubic feet per minute (CFMs)
 Effective for small amounts of smoke
 Use and change as recommended by the
manufacturer's instructions
 Use standard precautions when changing and
disposing of in-line filters
To wall suction >
From the patient>
Example of an ULPA filter
 (add picture)
31
 Irrigation/Aspiration System
 Active System
 Passive System
Strategies for Success
 Communication with Surgeon
and Perioperative Team
members
 Plan for Smoke Evacuation
 Equipment and Optimal
placement of equipment
 Patient and Team member
Smoke Protection Methods
Relevant information
about smoke
evacuation and
equipment used
 Education and Competency
 Equipment Service Reports
We claim to be a "smoke-free" campus…
…so why aren't we?