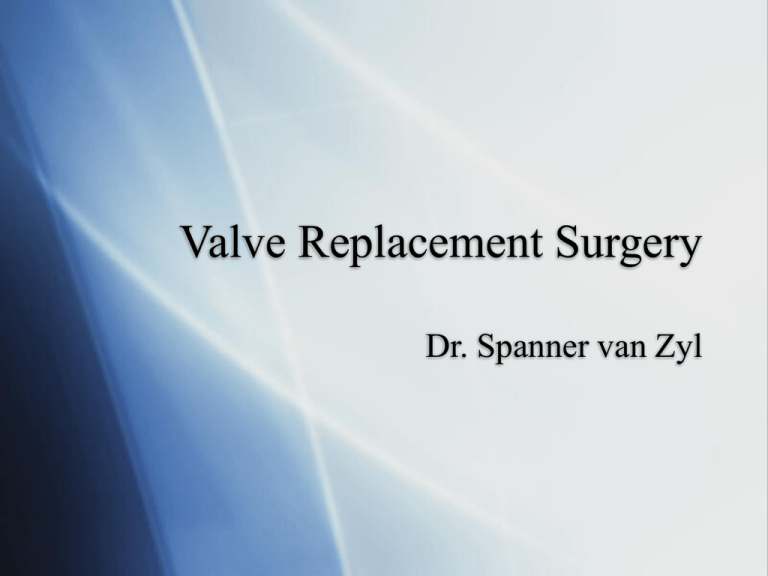 Valve Replacement Surgery
Dr. Spanner van Zyl
First Aortic Valve Replacement
 Dr. Murray performed first Aortic Valve
replacement on a 22 year old male patient in
1955
First Aortic Valve Repair
 May 1956- Dr. Lillehei repaired an Aortic
Valve in a female patient on the heart-lung
machine
Mitral Valve
 Mitral Valve has a very complex anatomy
 First implant was done in early 1960's in
USA
Aorta
 First Aortic prosthesis implant performed on
a patient in March 1960 in Florida, USA
Double Valve Surgery
 First Double Valve Implant was performed
in November 1961 in Pittsburgh,
Pennsylvania, USA
Anatomy of Aortic and Mitral
Valves…
Types of Valves
 Mechanical
 Tissue
Mechanical Valves







Star-Edwards
Barnard-Goosen
Lillehei-Kaster
Bjork-Shiley
St. Jude Medical
Carbomedics
ATS
Tissue Valves
 Homographs
 Porcine
 Pericardial
Dr. Denton Cooley
Texas,USA
 "…About 6 months earlier this patient had
had a porcine graft in the aortis annulus in a
city in Lousiana. The poor bewildered
mother, knowing that her son had received a
pork graft, asked me what type of valve we
would now use. I told her we would use a
Bjork Valve. She said, 'what kind of animal
is a Bjork?'"
Problems with Valves
 Mechanical- anticoagulation (blood
thinners)
 Tissue Valves- flow gradients
The End
Thank you!