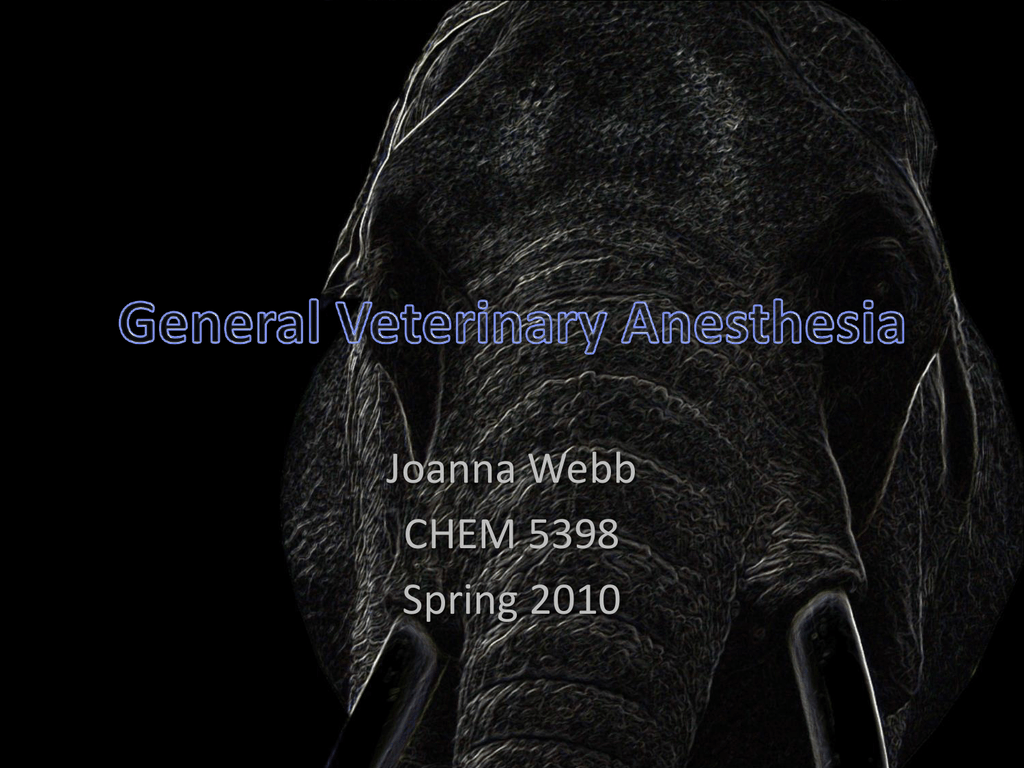 Joanna Webb
CHEM 5398
Spring 2010
•
•
•
•
History of Anesthesia
Methods of Administration
Mechanisms of Action
Companion Animal Drugs
• Amnesia
– Loss of memory
• Immobility
– Stay still
• Analgesia
– Pain relief
• Homeostasis
Blaze ppt. TCSVM
Common:
Inhalation
Intravenous
Intramuscular
Less Common:
Rectal
Oral
Nasal
Intraperitoneal
• Used to think all anesthetics worked the same
way
• The gas disrupted cell membrane lipids
• Flaw: enantiomers of the same anesthetic
have unique actions but the same physical
properties (i.e. isoflurane)
• Therefore, anesthetics must bind to specific
proteins
• Hyperpolarize neurons
• Anticholingeric: suppresses nervous system
communication
• Alpha-2 adrenergic receptor
agonist/antagonist: suppress norepinephrine
binding/release to receptor
• Cardiovascular depressant
• Respiratory depressant
•Ach is a main neurotransmitter of
the autonomic NS of PNS
•In the CNS, excitatory actions
http://www.youtube.com/watch?v=VByEDXsRIFI&feature=related
• Diethyl ether, nitrous
oxide, chloroform
• Halothane
• Isoflurane
• Sevoflurane
http://www.dreveterinary.com/catalog/images/coaxial_lg_5.jpg
http://www.asbestos.co.za/images/alveoli.jpg
•
•
•
•
First anesthetic discovered
Nontoxic to organs
Unpleasant smell
Decreases possibility of action potential by
decreasing rate of rise to an end-plate
potential
• Colorless and odorless
• Hepatotoxin
• Severe CV depressant
– Cardiac arrhythemia
– Aka Sudden Sniffer's
Death
• Blocks flow of K+ out of
the cell
www.inchem.org/documents/ehc/ehc/ehc163.htm
• Binds to GABA receptor:
enhances inhibitory synapses
– Lets more Cl- into the cell
• Competitive glycine inhibitor:
agonist for N-methyl-Daspartic acid (NMDA) receptor
• Pre-medicate with a
barbiturate
• Dog: 2.0-2.5% isoflurane
concentration (in oxygen)
• Horse: 3.0-5.0% isoflurane
concentration (in oxygen)
• Can keep it on a low
concentration throughout the
procedure
•
•
•
•
Newer, more expensive than isoflurane
Dogs: Induce with 7.0% sevoflurane
Maintenance level is 3.3-3.6% with pre-medication
3.7-4.0% maintenance concentration without premedication
• Common pre-meds: benzodiazepine or phenothiazine
• Isoflurane is safer because patient does not require as
much anesthesia, can be kept lighter
– Higher cardiovascular stability
Pre-anesthetics
• Mild sedative, analgesic
• Acepromazine
– Combine with NSAID or opiod
• Medetomidine
• Atipamezole
Induction anesthetics
• Dissociative
– Ketamine
– Tiletamine
• Benzodiazepines
– Diazepam
– Zolazepam
• Propofol
• Barbiturates
• Partition into the highly lipophilic tissues of
the brain and spinal cord
• Produce rapid anesthesia
• Immediate low concentrations of anesthetic in
blood stream causes the drug to leave the CNS
and enter the peripheral tissues via the blood
• Effect can wear off in about 10 minutes unless
continuously infused
•
•
•
•
•
Ace is provides strong sedation and antiemetic effects
Phenothiazine
Give with a NSAID or opiod to provide anagesic effects
6-8 hours of activity
Anticholinergic, antihistamine, antispasmodic, and
alpha-andrenergic blocking
• Medetomidine is an NSAID
– Strong sedative, strong analgesic
– Alpha-2 adrenergic receptor agonist
– 45-90 minutes
• Atipamezole
– Reversal agent
– Alpha-2 adrenergic receptor antagonist
– Administer a new analgesic after reversal since ALL effects of
medetomidine are reversed
Norepinephrine
Medetomidine
Atipamezole
• Ketamine inhibits excitatory
synapses
S (+)
– Dissociate: cataleptic state
– Eyes open, limb movements
involuntary
• Serotonin, dopamine
– High analgesic effects
– Hypnotic state
• Increases intracranial pressure
and blood flow
• Marketed as a racemic mixture
• Partially water soluble pKa 7.5
• Highly lipophilic
R (-)
• Alpha-2 andrenergic
receptor agonist
• Binds to GABA receptor
– Gamma-aminobutyric acid
>20%: anxiolysis
>30-50%: sedation
>50%: unconsciousness
• Opens Cl- channel,
hyperpolarize membrane,
so inhibitory
• Given with ketamine to
produce better anesthetic
effects
Diazepam
• Pentobarbital
• Derivative of barbituric acid (has no CNS activity)
– Oxygen or sulfur at 2 position
– Adds to CNS depressant activity
• Commonly used in rats: research
• Marketed as pentobarbital sodium powder
– Soluble in water or alcohol, forms clear solution
• Inhibits excitatory and enhances inhibitory CNS
signals
Barbituric acid
Pentobarbital
•
•
•
•
•
•
•
•
•
•
http://www.metrohealthanesthesia.com/edu/ivanes/ketamine2.htm
http://www.inchem.org/documents/ehc/ehc/ehc163.htm
http://vetmed.duhs.duke.edu/guidelines_for_pentobarbital.htm
http://metrohealthanesthesia.com/edu/ivanes/benzos1.htm
Blaze, C.A. (2009). Veterinary anesthesia and analgesia introduction. Microsoft Powerpoint. Tufts
Cummings School of Veterinary Medicine.
Chloroform. 2010). Wikipedia. Retrieved (2010, April 4) from
http://en.wikipedia.org/wiki/Chloroform#Production
Dickinson, R, Peterson, B.K, Banks, P.B., Similis, C, Martiin, J.C.S., Valenzulela, C.A., Maze, M, Franks,
N.P. (2007). Competitive inhibition at the glycine site of the N-methyl-D-aspartate receptor by the
anesthetics xenon and isoflurane: evidence from molecular modeling and electrophysiology.
Anesthesiology, 107(5): 756-767.
Muir, W.W. (2008): Intravenous anesthetic drugs: dissociative anesthetics. DVM360. Retrieved
(2010, April 5)
End plate potentials. (2009). Wikipedia. Retrieved (2010, April 4) from
http://en.wikipedia.org/wiki/End-plate_potential
University of Minnesota. Guidelines for the use of anesthetics, analgesics and tranquilizers in
laboratory animals. Accessed 15 February 2010. <
http://www.ahc.umn.edu/rar/anesthesia.html#Selection>
• Goodman and Gilman's Pharmacological Basis
of Therapeutics, Chapter 13, pp. 341-363
• Draw the structure of propofol, the most commonly used
anesthetic in the US.
• Propofol is not water soluble, thus has to be constituted in an
emulsion-like mixture of soybean oil, glycerol, and egg phosphatide.
Circle the structural features responsible for its water insolubility.
• Halothane, isoflurane and sevoflurane are commonly used
inhalation anesthetics. Draw their structures
• Draw and label the R and S stereoisomers of ketamine.
• Which stereoisomer of ketamine has more psychic emergence?
Which stereoisomer contributes more analgesic and anesthetic
effects?
• Thiopental (pentobarbital), thiamylal, methohexital are all
derivatives of barbituric acid. Draw their structures and that of the
parent structure barbituric acid.