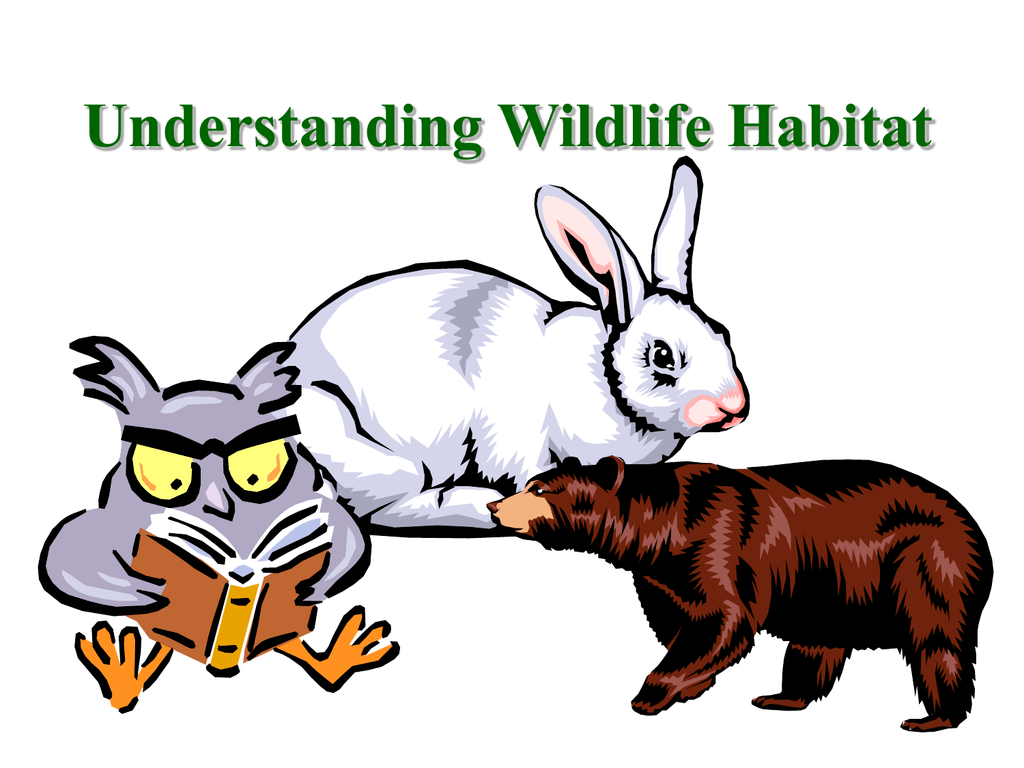 Understanding Wildlife Habitat
What is Wildlife Habitat?
The kind of place where an…
–
–
–
–
Animal
Bird
Fish
or plant live in a natural state.
Elements of Habitat
• COVER
• FOOD
• WATER
• SPACE
These elements must be
kept in a favorable balance
for Wildlife to survive.
Balance means…
• Elements are available in adequate amounts
• Are of high enough quality to meet the needs of
animals
• Are distributed where animals need them
Carrying Capacity
• Number of animals a habitat can support
over a given period of time
• Not a constant number
• Changes as the condition of the habitat
changes
Providing Cover
•
•
•
•
•
•
•
Breeding area
Nesting area
Hiding place
Resting place
Safe place to sleep
Feeding area; and
Travel route
How can we help??
•
•
•
•
Growing vegetation
Provide structures
Learn cover needs
Plant trees and shrubs of various sizes and species
• Nest boxes for wood ducks
• Conifer plantings for ruffed grouse
**Provide vegetative travel lanes between types of cover
Providing food
• Animals must eat
– Get food by grazing
– Killing
– Eating other animals
• Bird feeder (small scale)
• Larger feeding stations
Can be harmful?
• If not done properly
• Animals (deer) may become too dependant
• May encourage overpopulations
Alternative to feeding…
• Encourage growth of natural sources of
food
• Plant trees
– Wild apple trees
• Crops
– Wild rice
• Plant crops that provide both food and
shelter for animals and birds.