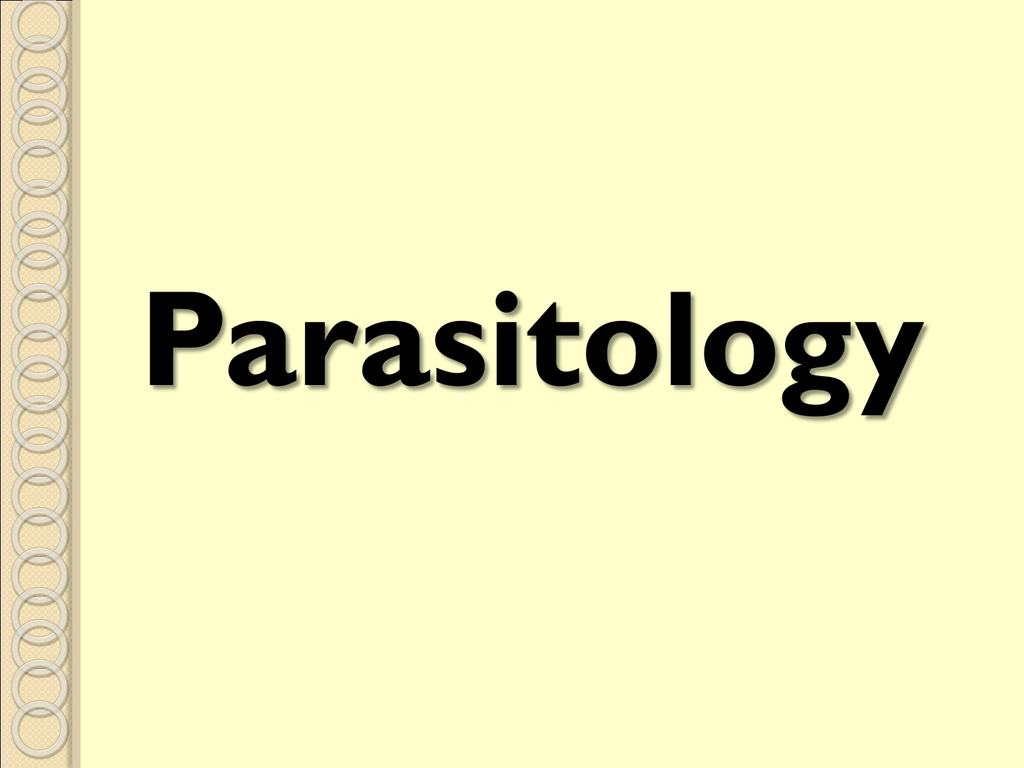 Parasitology
Introduction
Parasitology: It is the science that deals with
organisms that live on or within
other organisms (Hosts).
 Mainly in this course branch we
study the parasites which live on
the expense of man.
The
relationship between two living
organisms
may be one of the
following:1
Mutualism
2
Symbiosis
3
Commensalisms
4
Parasitism
Continue
 Mutualism:Mutual benefits is derived from
the
association
of
these
organisms
Benefit
Benefit
two
Continue
Symbiosis:
Mutual benefit , and the two organisms
can not live independently (physiological
relationship).
Benefit
Benefit
Continue
Commensalisms:One
partner
benefits
(commensal)
while the other (host) is unaffected.
It may be called a non-pathogenic
parasite.
Benefit
No harm ,No benefit
Continue
Parasitism:One organism (parasite) lives at the
expense of the other (host) which
usually suffer from the association. It is
called a pathogenic parasite.
Benefit
Harm
Parasitism
Parasite
Host
Types of Parasites
Continue
1. Ectoparasite:-
Live outside the body of the host
(infestation). e.g. Lice
2. Endoparasite:Live inside the host (infection).
e.g. most of human parasite
Continue
3. Facultative Parasite:-
Capable of leading both a free-living and
a parasitic existence (live parasitically or
none parasitically).
4. Obligate Parasite:-
Completely dependent upon its host
and can not lead a free life.
Continue
5. Temporary Parasite:-
Parasitic only during part of its life
cycle.
6. Permanent Parasite:Live parasitically during the whole life
cycle.
Continue
7. Incidental Parasite:-
Can establish itself in a host in which it
does
not
ordinary
(occur in abnormal host).
8. Pseudoparasite:-
A certificate mistaken as a parasite.
live
Continue
9. Specific Parasite:-
Occurs in one particular host.
10.Pathogenic Parasite:-
Causing injury to the host.
Continue
11. Coprozoic Parasite:- [copro= faeces]
Parasite passes the alimentary canal
without
infection
faeces after release.
or
contaminant
Types of Hosts
Continue
1. Definitive Host (final or terminal):-
Harbours the adult
or
mature
parasite.
In
which
parasite
sexually if it applicable.
can
reproduce
Continue
Definitive Host
І
Main Host
ІІ
Secondary Host
ІІІ
Accidental Host
Continue
I.
Main Host:In which the parasite occur more
frequently and reach maturity.
II.
Secondary Host:In which the parasite occur less
frequently and growth is retarded.
Continue
III.
Accidental Host:In which its occurrence and development is
very difficult.
Continue
2. Intermediate Host:-
Harbours the immature stage of the parasite
(larval stage) that reproduce asexually into
infective stage.
3. Reservoir Host:-
Animal that harbours the same species of
parasites as man and constitute a source of
infection to him.
Factors Affecting
Prevalence & Geographical
Distribution of the
Parasites
Continue
1.
Availability of suitable hosts and
their habits.
2. Immune status of the hosts.
3. Easy entry & exit of the parasite
to and from the host.
4. Regional habits.
5. Socio-economical status.
Continue
6. Education
[knowledge about parasites reduce
the infections rates]
7. Environmental sanitation
[water, food, waste disposal,…..]
8. Suitability of the environmental and
climatic conditions.
Continue
9. Control
of
intermediate
hosts,
treatment of infected cases….ect.
10. Nature of life cycle [e.g. parasites
with simple life cycles have more
distribution than with complicated
cycles].
General Modes of
Parasites Transmission
Continue
1.
Congenital
(through
placenta)
e.g. malaria
2. Direct
Leshmania,
Contact.
[e.g.
Tichomonas
&
arthropods,
Entamoeba
gingivalis ].
3. Indirect
contact (in contaminated
objects). [e.g. amoebic cyst, helminthes
egg as of H. nana , Taenia , Entrobius].
Continue
4. In
food
as
most
parasites
are
intestinal and their infective stage
reach food either:
• In flesh: [e.g. T. saginata & T. solium].
• In contaminated water [e.g. vegetable
with protozoa cyst & helminthes egg].
•
Contamination
by
[e.g. mechanically by housefly].
•
Contamination by food handler.
insects
Continue
5. In
water:
water
drinking
with
helminthes
containing
contaminated
protozoa
egg
the
or
cyst
using
intermediate
or
water
host,
infective stage [e.g. Schistosomiasis].
6. Contaminated soil [e.g. Ancylostoma].
7.
Animals
[e.g.
Toxoplasmosis (cat)]
dog
worm
(dog),
Continue
8. Arthropods:
- Transmission occurs either:• Mechanically [e.g. faecal cyst & eggs to
food by house fly].
• Biologically
[e.g.
malaria
&
filariasis
( by mosquitoes), sleeping sickness (by
Tsetse
(by sand fly)]
fly)
&
Leishmaniasis
Continue
 Praziquantel
is very safe, taken as a single or
divided dose according to the worm type.
 Dose
is calculated according to the patient weight.
 Praziquantel
is swallowed, not chewed; as it is very
bitter in taste.