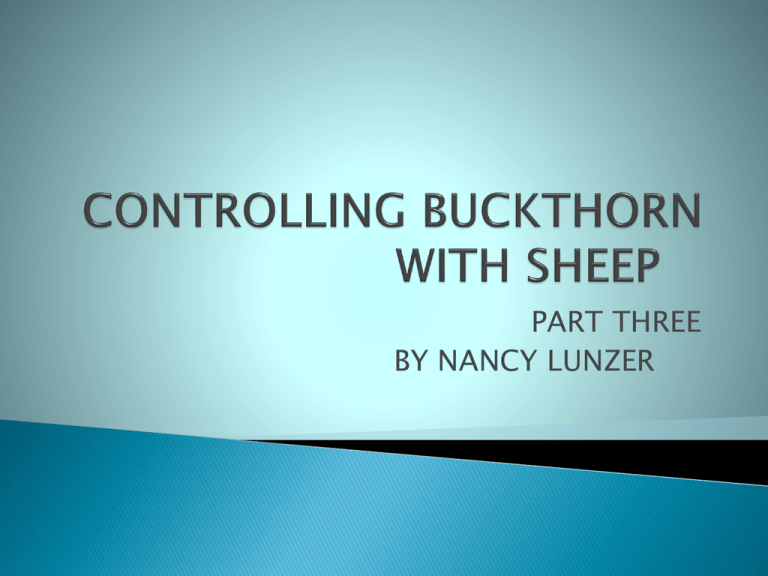 PART THREE
BY NANCY LUNZER





FECAL EGG COUNTS CAN DETERMINE
AMOUNT OF PARASITE INFESTATION
THESE SHEEP HAD A MILD INFESTATION AND
WERE WORMED TO PREPARE FOR BREEDING.
A RE-CHECK WAS DONE 3 WEEKS BEFORE
LAMBING AND NO PARASITE EGGS WERE
FOUND AND NO WORMING WAS NEEDED
FECAL TESTING HAS ALREADY REDUCED THE
USE OF WORMERS ON THIS FARM
REDUCED USE OF WORMERS WILL PREVENT
PARASITE RESISTENCE TO WORMING AGENTS




A SPECIAL THANKS TO SARE FOR MAKING THIS
PROJECT POSSIBLE
AND A SPECIAL THANKS TO TONY MILLER, OF
THE MINNESOTA DEPARTMENT OF NATURAL
RESOURCES FORESTRY DIVISION, MORA
MINNESOTA WHO OVERSAW THIS PROJECT FROM
ITS ONSET IN 2010.
AND A SPECIAL THANKS TO NATE TEIG OF
AMERY, WISCONSIN WHO HAS BEEN A GREAT
RESOURCE FOR THE MANAGEMENT OF THE HAIR
SHEEP.
AND A SPECIAL THANK YOU TO SCOTT WAGNER
WHO WORKED ON EVERY ASPECT OF THIS
PROJECT TO MAKE IT A SUCCESS.